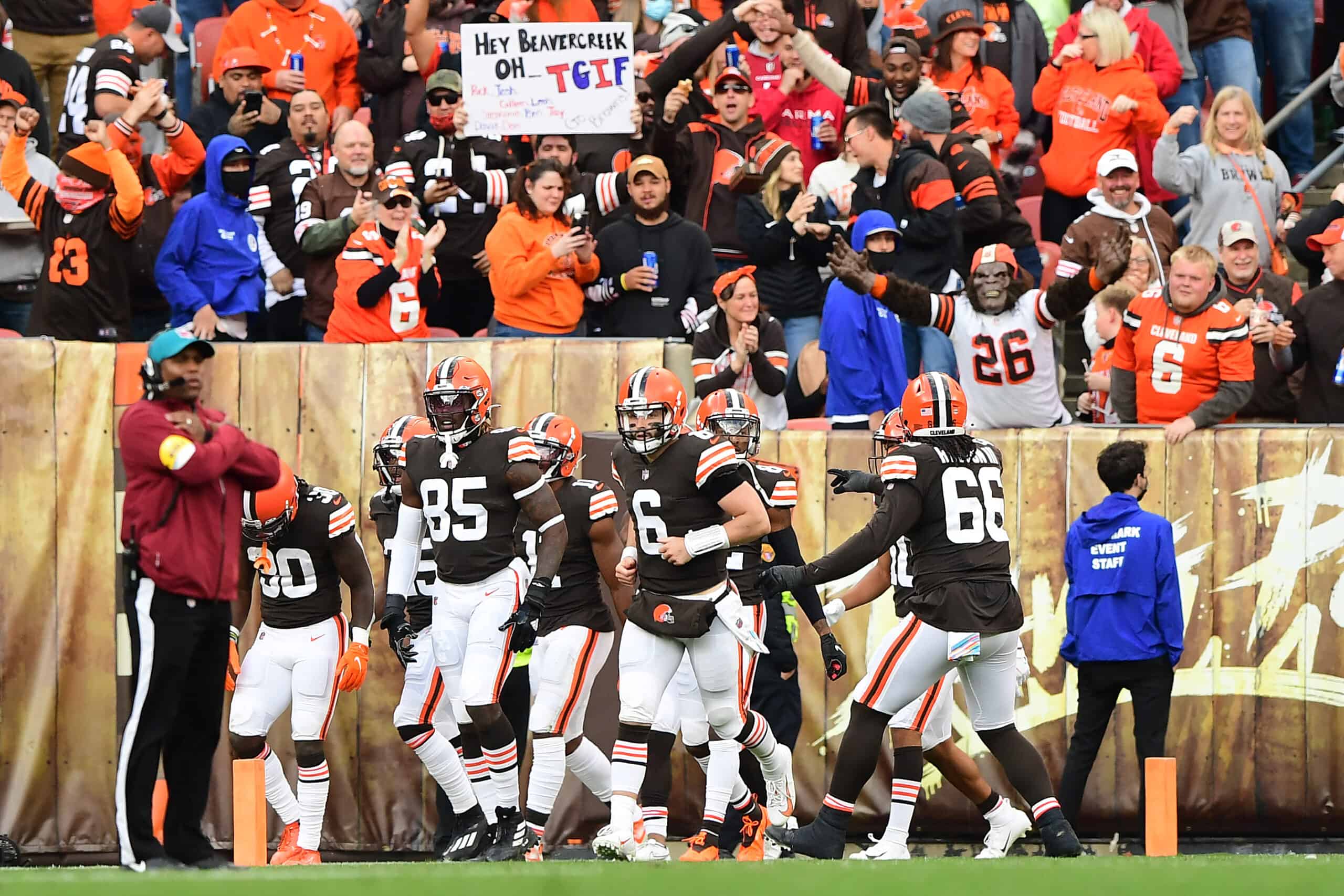 The Cleveland Browns offense did not function as well as it should have in 2021.
Trying to pinpoint the root cause of this problem involves looking at each player while removing those who suffered from serious injuries that limited their playing time.
The disclaimer is that many players could make this list, but here are the three whose stock is down to the point that they may be traded, released, or replaced.
1. Rashard Higgins
Rashard Higgins was missing in action this season.
No one can explain why this was the case.
The Browns offense was hurting literally and figuratively all year long; it seemed like a golden opportunity for Higgins to step in and be the guy to lift this team.
It never happened.
The statistics indicate he appeared in 15 games which in itself is a shocker.
He had 24 catches for 275 yards and 1 touchdown.
That lone touchdown happened in Week 5 in the loss to the Los Angeles Chargers.
Rashard Higgins 🔥pic.twitter.com/LIZOYsSWFN

— PFF CLE Browns (@PFF_Browns) October 10, 2021
Hopefully one of these days someone can solve the mystery of why Higgins was not available or utilized in 2021.
2. Austin Hooper
Austin Hooper is a veteran and blocks and provides leadership in the tight end room.
That is all well and good, but football is about statistics, and Hooper's numbers were bad in 2021.
In 16 games, he has 38 catches out of 61 targets for 345 yards and 3 touchdowns.
In an offense that is set up to use multiple tight end schemes, this is not good.
Unfortunately, Hooper was notorious for his dropped passes more so than his receptions.
Austin Hooper is single handedly killing the Browns.

One of the highest paid TEs in the game. Comical.

— Nick Karns (@karnsies817) January 4, 2022
3. Chase McLaughlin
Honestly, the entire Browns special teams unit could be inserted here along with Coach Mike Priefer.
More was wrong than right this year starting with why Donovan Peoples-Jones was returning kickoffs, but I digress.
Chase McLaughlin proved to be unreliable in the big moments.
This is the opposite of what is expected of an NFL kicker.
One example was the game against the Raiders.
This was a home game, and the Raiders called a timeout as McLaughlin was kicking the 47-yard attempt.
It was good but did not count.
Of course, he missed the second attempt, and the Browns went on to lose the game by the score of 16-14.
Chase McLaughlin makes first 47-yard FG but #Raiders iced him with a timeout. Second try gets deflected and is short & left.

Halftime: #Raiders 10, #Browns 0.

— Daryl Ruiter (@RuiterWrongFAN) December 20, 2021
If this just happened one time during the season, it may have been okay.
However, it was a recurrent theme of inconsistency with McLaughlin which may be part of the reason the Browns opted to go for it so many times on fourth-down when they were in a position to attempt a field goal.
I no longer have any confidence in Chase McLaughlin.. the browns officially need a new kicker

— MoreForYouCleveland (@MoreForYou_CLE) December 20, 2021
Conclusion
No one from the Browns defense was selected.
Though the defense had their moments of mediocrity, they were the cornerstone of this team and kept them competitive throughout the season.
Andrew Berry's efforts to build the defense for the 2021 season were successful.
Now he has to go back to the drawing board for the offense and special teams units for 2022.