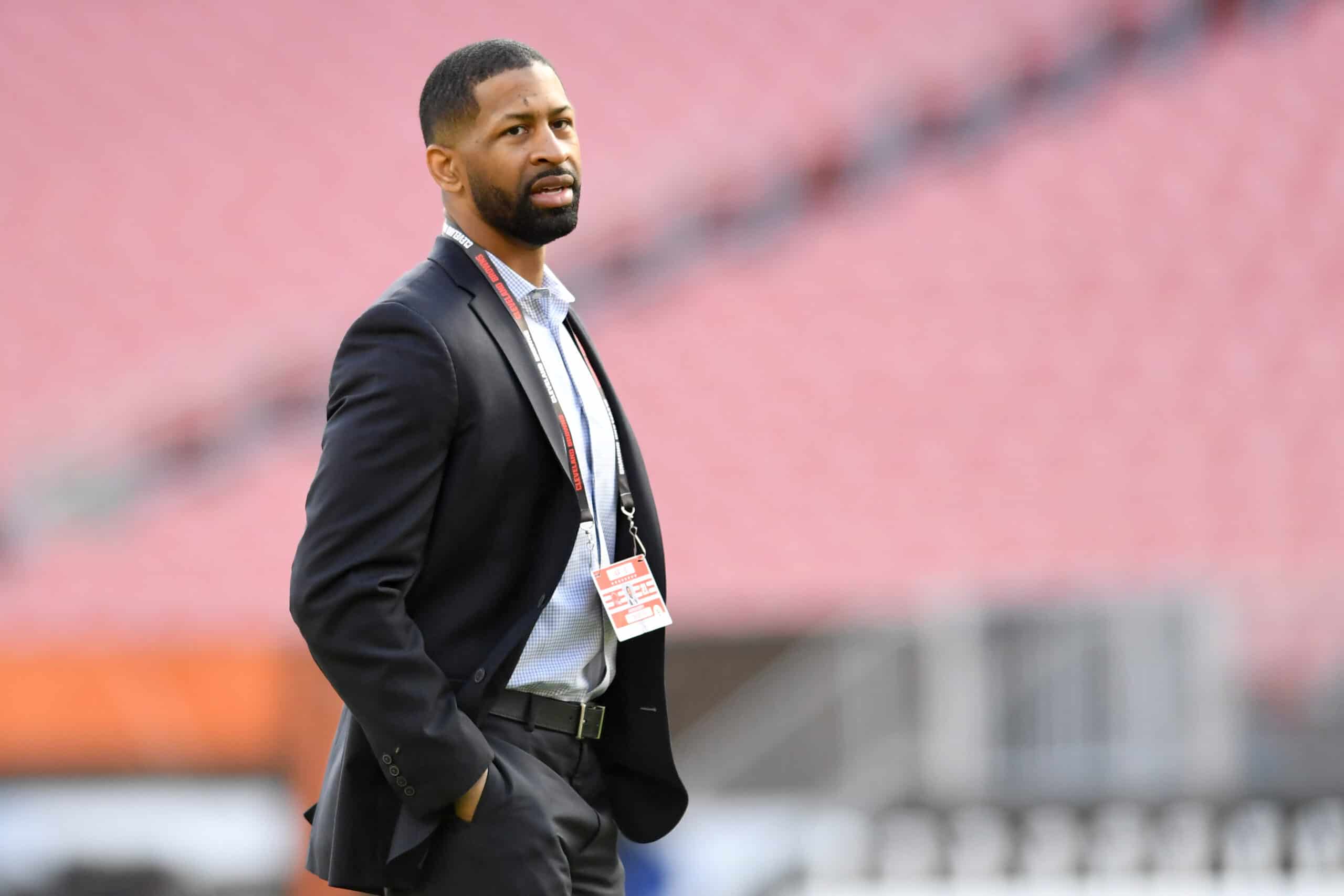 Andrew Berry tends to set and attack serious priorities each offseason.
Back in 2020, the Cleveland Browns GM rebuilt the offense and put the league on notice the team would contend.
And heading into 2021, the defense had a completely new look, with 8 new starters from free agency and the draft.
What will be the priority heading into next season?
Berry outlined reasons he's optimistic for the 2022 season

— Cleveland Browns (@Browns) January 11, 2022
Cleveland has several important free agents to deal with, injured players, and several big holes on the roster.
Despite a subpar showing, it is unlikely Berry drafts or signs a whole new special teams unit.
Although a kicker and punter are probably high on his "to do" list.
Here is what we think are Andrew Berry's 3 most important decisions heading into 2022.
1. Does the Quarterback Room Need Re-Working? 
Berry's biggest quarterback question has little to do with Baker Mayfield's current status.
Mayfield, coming off multiple injuries and with $19 million guaranteed, is locked in at QB-1 for now.
But the 2023 season will be here soon, and there are questions about Mayfield to be addressed.
Last year taught the Browns they can not expect Mayfield to play every game, every season.
#Browns GM Andrew Berry told reporters that he "fully expects" Baker Mayfield to be their starting QB next season. They look forward to him getting healthier this offseason and seeing him bounce back in 2022.

— Ari Meirov (@MySportsUpdate) January 11, 2022
And while Case Keenum is 2-0 in relief, can he take over for a long spell if Mayfield goes down?
The question is complicated by Keenum's salary, which represents the 2nd-biggest potential cap savings target.
Should Berry look for someone younger, more mobile, and with a stronger arm to back up his starter?
And would he promise that player a legitimate shot at the starting job, or leave a Mayfield extension in play?
2. How Much Does Berry Invest in Kicking? 
Andrew Berry would love to give Kevin Stefanski a reliable kicker and a better punter before next season.
Chris Blewit is signed to a futures contract, but there is no active roster kicker or punter on the Browns right now.
There are 7 free agent kickers (out of 12 overall) who hit over 90-percent of field goals last season.
Nick Folk and Younghoe Koo lead the list, but their current teams will probably make reasonable offers.
#KohlsElite Chase McLaughlin of the Browns smashes a 57-yard field goal.#KohlsKicking // @KohlsHighlights
pic.twitter.com/HMIACDey0V

— Kohl's Kicking Camps (@KohlsKicking) September 26, 2021
In order to steal someone of that stature, should Berry throw extra cash their way- in excess of $1 million?
Or would he use a late draft pick to bring in an inexperienced, but strong-legged type from the college ranks?
Cincinnati's rookie kicker and Baltimore's GOAT combined to win 8 games on late field goals this season.
Cleveland lost a game after a botched punt.
3. How To Address Wide Receiver Needs 
Way back before the 2022 season kicked off, Cleveland thought they had a top-flight wide receiver room.
Odell Beckham and Jarvis Landry looked healthy and Mayfield's favorite, Rashard Higgins, re-signed with the team.
Anthony Schwartz would need some grooming, but Donovan Peoples-Jones was ready to build off 2020.
As a bonus, Demetric Felton looked more like a wide receiver than a running back.
Holy smokes. Baker Mayfield launches a Hail Mary and Donovan Peoples-Jones comes down with it! pic.twitter.com/EucELAu2lq

— Ari Meirov (@MySportsUpdate) October 17, 2021
Beckham left, Landry's mad, Higgins is in the doghouse, Schwartz can't catch a deep ball, and Felton can't break a tackle.
Stefanski tried to make Peoples-Jones into a WR-1, but he is far better fighting for shorter passes than going deep.
It reminds me of when Berry signed 6 defensive free agents in 2020 and realized he had to do it better in 2021.
Berry will rebuild the receiver's room, but will it be a splashy free agent, draft pick, or trade target that steps in at WR-1?