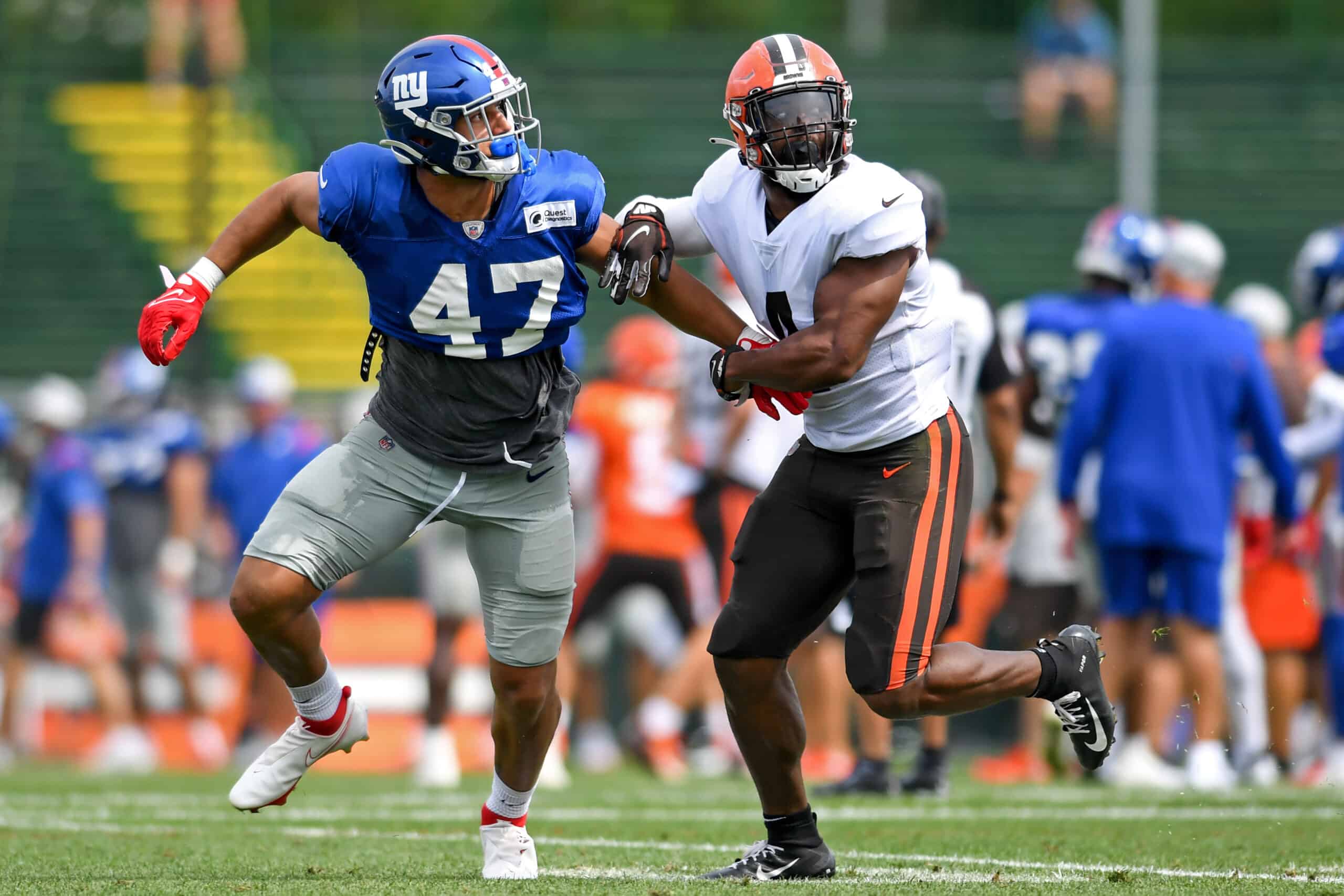 The histories of the Cleveland Browns and the New York Giants are strangely intertwined.
Odell Beckham Jr. came from the Giants, and Coaches Stefanski and Judge were briefly high school teammates.
Giants' head coach Joe Judge: "I wouldn't put a ceiling on anything Kevin is doing." Judge and #Browns head coach Kevin Stefanski knew each other as teenagers playing football in the Philadelphia area. pic.twitter.com/pBFLSzwQXc

— Jeff Schudel (@jsproinsider) August 19, 2021
Former Browns coach Freddie Kitchens was back in Berea as the Giants senior offensive assistant, and Nick Chubb was eager to see him.
#Browns RB Nick Chubb excited to see former coach Freddie Kitchens. "That's my guy," he said. "He's my first NFL running back coach. The biggest thing from him that I remember is every day I stepped on the field he said, 'Make today your best day.' That stuck with me forever."

— Tom Withers (@twithersAP) August 19, 2021
It was not a surprise given the background that these teams decided to hold joint practices together.
Today was the first session.
If you are wondering how it went or which team looked better, that is hard to say.
Take a look at the social media reactions from various sources and see for yourself.
NY Giants fans gotta be sick if they are watching joint practice today 😂😂

— Tommy ⛳️🏌🏼‍♂️ (@dj_strip) August 19, 2021
Things got a little chippy after this pass. #Browns JoJo Natson seeing a lot of contact from Giants CB Rodarius Williams and DB Chris Johnson. pic.twitter.com/imiGGSGPdx

— Camryn Justice (@camijustice) August 19, 2021
"All hail the New York Giants." – King Julius pic.twitter.com/0QNgwGMdv5

— Hayden Grove (@H_Grove) August 19, 2021
#Browns Baker Mayfield to David Njoku. 2/2 so far. pic.twitter.com/byV77EPmQi

— Camryn Justice (@camijustice) August 19, 2021
Daniel Jones starring down recievers… smh. He'll never learn. https://t.co/BmOr15Eq8c

— Football Guy (@TCTalksBalls) August 19, 2021
The Cleveland Browns had a little success and stopped putting in the work smh. https://t.co/ttQ3t2H7Dx

— Colb (@___Colb___) August 19, 2021
Pretty good Day 1 for Browns against New York Giants.https://t.co/Rez6XL7t9c

— Tony Grossi (@TonyGrossi) August 19, 2021
What We Know
Giants running back Saquon Barkley did not participate in all of the activities as the team is still easing him back from ACL surgery.
Also recovering from ACL surgery is Odell Beckham Jr.
He was limited to bike and sideline work.
John Mara, co-owner of the Giants, was looking forward to seeing Beckham with whom he still has a good relationship.
"I think it's a trade that will work out well for both sides. Obviously, the players that we added have been big contributors for us. I expect Odell to have a great season. I still have a great relationship with him, I've texted with him. I'm looking forward to seeing him next week."
Sterling Shepard also had positive comments about OBJ.
New York Giants WR Sterling Shepard is appreciative of his time with Odell Beckham and Victor Cruz, saying he "learned a lot" from the duo. https://t.co/Wglbaemfnr

— TheGiantsWire (@TheGiantsWire) August 19, 2021
Conclusion
Joint practices are a great way to break up the monotony of training camp.
It also allows both teams to see how their preseason preparations are going in comparison to the other team.
Friday's joint practice will be structured differently.
There will be fewer reps and more emphasis on red zone work in the leadup to their preseason game on Sunday afternoon at FirstEnergy Stadium.