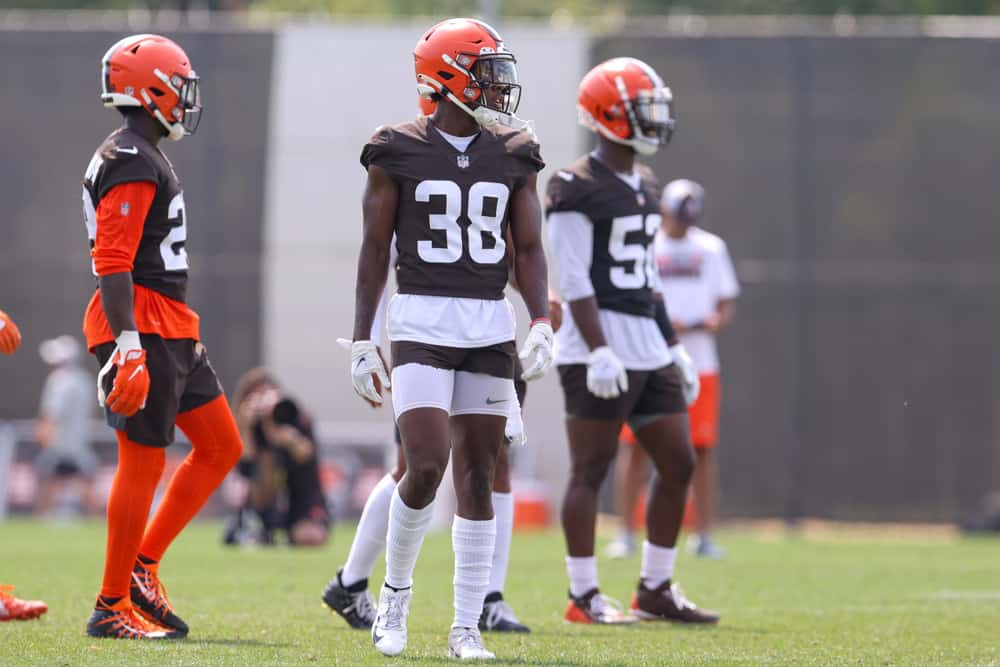 As expected, Day 15 of Cleveland Browns training camp was lighter.
Coach Stefanski indicated earlier in the week that both Tuesday and Wednesday's practices would be that way because the New York Giants would be in town Thursday and Friday for joint practices.
#Browns Kevin Stefanski: Tuesday and Wednesday will be lighter practice days building up to joint sessions with Giants on Thursday and Friday.

— Scott Petrak ct (@ScottPetrak) August 15, 2021
Here are the news and notes from Day 15.
1. Myles Garrett
Despite dealing with what we hope is a minor hamstring issue, Garrett still elicited loud fan cheers as he arrived on the field.
Myles Garrett rides on his royal chariot, pumping up the crowd. #BrownsCamp pic.twitter.com/9QrXUULNFq

— cdotcombrowns (@cdotcombrowns) August 18, 2021
His presence looms large even when he is not on the field.
I would love to have this in my front yard. #BrownsCamp #Browns pic.twitter.com/Ak2qOT8ozP

— Yvette (@yvettemlaboy) August 18, 2021
2. Grant Delpit
Speaking of injuries, and we really wish we were not, Grant Delpit aggravated the same hamstring he was nursing back to health on his second day back on the field.
A speedy recovery and a healthy 2021 season are what fans want for Delpit.
Browns safety Grant Delpit re-injures his hamstring on 2d day back from long layoff. via TLOD https://t.co/ZgFuJIn5NR

— Tony Grossi (@TonyGrossi) August 19, 2021
3. Wide Receiver Drills
There was a drill to test the hands and ball control of the wide receivers.
The Browns WRs are working on securing the ball, with a coach using boxing gloves to punch the ball out after the catch. #BrownsCamp pic.twitter.com/owAs8yLDLo

— cdotcombrowns (@cdotcombrowns) August 18, 2021
4. Last Free Open Practice For Fans
The fan energy at Browns training camp over the past two weeks has been infectious.
Wednesday was the last scheduled open practice.
It is clear the Dawg Pound has missed watching the team in person.
Also obvious was how much the players enjoyed having the fan presence and interaction that was lacking in 2020.
Families made a day out of it, and they even caught a glimpse of Bernie Kosar, sort of.
Great day at #brownscamp @BernieKosarQB #browns pic.twitter.com/MY211E42Ow

— Chris Gresock (@chris_gresock) August 19, 2021
Don't be scared baby, he is in on our side. #BrownsCamp pic.twitter.com/2TkGChxGp2

— Yvette (@yvettemlaboy) August 18, 2021
Great memories were made and shared.
Looking Ahead
As mentioned, the New York Giants will have joint practices with the Browns on Thursday and Friday.
Giants quarterback Daniel Jones has not participated in a joint practice so far in his career.
A lot of the Browns younger players have not either.
Coach Stefanski has set the expectations for the sessions to be competitive but not violent.
"Really, it is not any different than when we are out here today and how we have been out here. We get some really good work in, and we take care of each other. It is because we respect each other. It is no different when the Giants come in here…We want to make sure that we work, we work hard and we compete against each other, but we are always going to be taking care of each other and making sure that it is a safe, controlled environment."
Is he talking about this because the Giants already had a team brawl during one of their practice sessions?
Massive fight here at #Giants camp. Corey Clement busted a big run, Logan Ryan leveled Evan Engram late. Somehow Daniel Jones ended up on the bottom of the pile.

Joe Judge lines whole team up on the goal line, and now the entire team running 100-yard gassers.

— Matt Lombardo (@MattLombardoNFL) August 3, 2021
Rest assured, that will not happen at Berea this week.