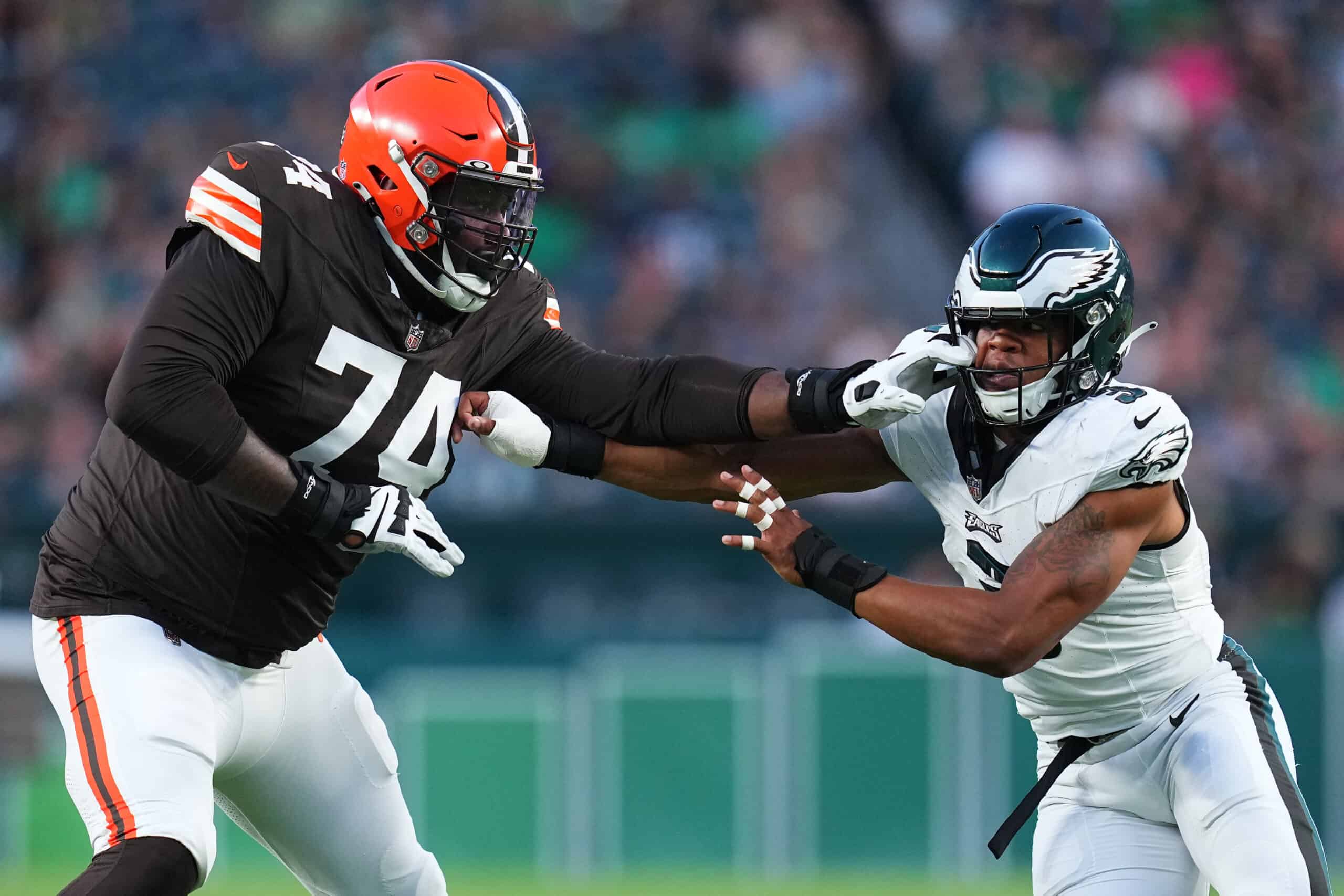 The NFL preseason is a time for rookies, backups, and recently signed free agents to show they belong on a roster.
So far in the 2023 preseason, the Cleveland Browns are 1-1-1, and a number of new names are indeed making a name for themselves.
Rookie tackle Dawand Jones, otherwise known as "Big Thanos" due to his huge 6'8", 375-pound frame, has stepped up.
Viewed by most teams as a project when entering the 2023 NFL Draft, the fourth-rounder has learned the tools of the trade well from offensive line coach Bill Callahan.
After three preseason contests, Jones has been on the field for 111 pass-blocking snaps and has allowed exactly zero sacks according to JPAFootball.
𝗧𝗥𝗘𝗡𝗗𝗜𝗡𝗚: #Browns rookie LT Dawand Jones is looking like a mid round steal for Cleveland so far

111 pass blocking snaps and he has allowed ZERO sacks.

Browns offensive line is looking good. pic.twitter.com/L73EZQZ0XB

— JPAFootball (@jasrifootball) August 20, 2023
Currently, Jones is listed second on the depth chart behind starting right tackle Jack Conklin.
Should he continue to improve, he may be an answer at left tackle should Jedrick Wills struggle again this year.
Not only has Jones shown up in August, but so too have a number of other Browns.
Current NFL pre season leaders:

Passing yards: Dorian Thompson-Robinson.

Receiving yards: Austin Watkins.

Interceptions: Ronnie Hickman. pic.twitter.com/mMXjgr4HEU

— Nick Karns (@karnsies817) August 19, 2023
Rookie quarterback sensation Dorian Thompson-Robinson leads the NFL in the preseason with 348 passing yards, three yards better than Green Bay's Sean Clifford.
DTR has taken care to work through his progressions and not force throws, something NFL scouts noted he needed to improve before the '23 draft.
His stats include two passing touchdowns, zero interceptions, and three memorable blocks including two on the same play against Eagles' safety Terrell Edmunds.
Thompson-Robinson is also fifth in the league in passer rating with 102.4.
Austin Watkins Jr. leads the NFL this month in receiving yards with 245, far ahead of second-place pass catcher Ronnie Bell's 172 yards for San Francisco.
After entering the NFL in 2021 as an undrafted free agent, Watkins bounced around the league and most recently played with the Birmingham Stallions of the USFL.
Birmingham won the USFL title this year against the Pittsburgh Maulers.
Watkins also has 15 receptions and two receiving scores.
On defense, Cleveland safety Ronnie Hickman leads all preseason defenders with three interceptions.
Hickman and Jones were teammates at Ohio State, although Hickman went undrafted.
The Browns signed him as a free agent and he played well against the Washington Commanders on August 11 with two interceptions.
#Browns safety Ronnie Hickman, who picked off his 3rd pass in last 2 games vs. #Eagles, has been cleared from a concussion after being evaluated for one Thursday night.

— Mary Kay Cabot (@MaryKayCabot) August 18, 2023
He then had a pick against Philly before leaving the contest with a concussion.