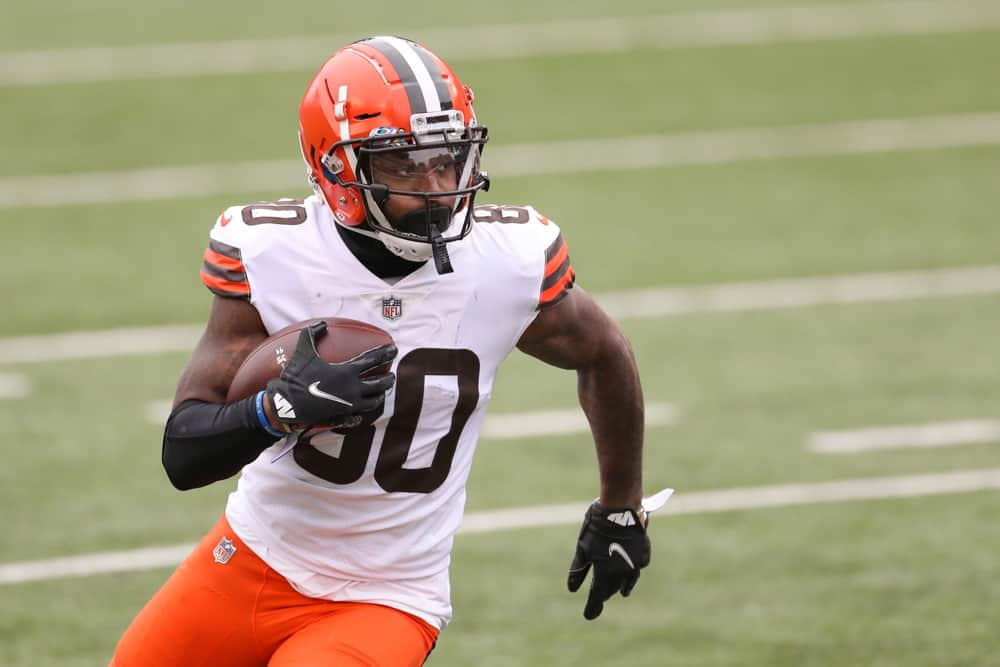 The Cleveland Browns offense came out hot during the Week 13 win over the Tennessee Titans.
They scored 38 points in the first half during their 41-35 shootout win on Sunday.
Sadly, the Browns were only able to score three points in the second half, but nonetheless they move to 9-3 on the year.
There were a handful of star performances to pick from in this one.
Although, it wasn't perfect for Cleveland as there were still a couple of players who failed to get anything going on Sunday.
Stud: Baker Mayfield
This one seems the most obvious, so we'll get through it right away.
Quarterback Baker Mayfield had an excellent performance versus the Titans on Sunday.
Mayfield managed to throw four touchdown passes during the first half.
He becomes the first Browns quarterback to accomplish that task since 1951.
QB @bakermayfield is our first QB since Otto Graham (December 2, 1951) to score 4 touchdowns in the first half. pic.twitter.com/ByzSSjtEIF

— Cleveland Browns (@Browns) December 6, 2020
Honestly, Mayfield was the biggest reason why the Browns came away with the victory.
He completed 25 of 33 passing attempts for 334 yards with four touchdowns and zero interceptions on Sunday.
Mayfield has now played five straight games without throwing an interception.
He is certainly making an argument for a contract extension this offseason.
Dud: Kareem Hunt 
For one of the few times this season, running back Kareem Hunt was actually stopped by an opposing defense.
It's pretty rare that a defense is able to hold the dual threat back in check, but the Titans were able to accomplish that task.
Hunt rushed the ball 11 times for a season-low 33 yards on the ground in the win.
He also hauled in three receptions for 24 yards through the air.
It wasn't the best performance from Hunt this week, but fans can't be too upset with him.
Hunt has been fairly reliable this season, so expect a rebound performance in the near future.
Stud: Jarvis Landry
Browns fans have been eagerly waiting for the emergence of wide receiver Jarvis Landry this season.
He finally had a breakout game in Week 12 with eight receptions, 143 yards, and his first touchdown on the season.
While some might have considered it a fluke performance, Landry was able to prove those people wrong on Sunday.
Landry caught eight of his 10 targets for 62 yards and one touchdown in the win over the Titans.
That wasn't all, Landry also completed a six-year pass to Mayfield on a trick play.
Jarvis Landry is a natural QB 😤pic.twitter.com/9wljtku1ea

— Everything Cleveland (@EverythingCLE_) December 6, 2020
It's nice to see Landry finally returning to the player he looked like last season.
The Browns desperately need Landry to step up with Odell Beckham Jr. out for the rest of the year.
Landry was a key contributor in this win and hopefully this type of performance will continue happening.
Dud: Austin Hooper
The Browns signed tight end Austin Hooper to a massive contract this offseason.
He was expected to be a significant part of this offense, but that has not happened yet.
Hooper has been a non-factor in this Browns offense for quite awhile.
In three of his last four games, Hooper has seen two targets or less per contest.
In Week 13, Hooper hauled in both of his targets for 24 yards.
It's amazing how little the Browns involve Hooper in their offense.
Fans can likely expect similar results for the rest of the season by Hooper.
Stud: Rashard Higgins
Lastly, wide receiver Rashard Higgins deserves credit for his performance on Sunday.
He had a breakout game in Week 7, but hasn't been able to do much damage since then.
However, that changed this week when he destroyed the Titans secondary.
You know who is having a good day? Whoever represents Rashard Higgins 💰 pic.twitter.com/EbhBC8Dnqk

— Justin Michael (@JustinTMichael) December 6, 2020
Higgins caught six of his nine targets for 95 yards and one touchdown in the win.
It was a nice outing by Higgins who was finally able to do some damage again.
Who knows if he'll have the same type of impact versus the Baltimore Ravens secondary next week.
However, he played well here and hopefully that type of play continues.