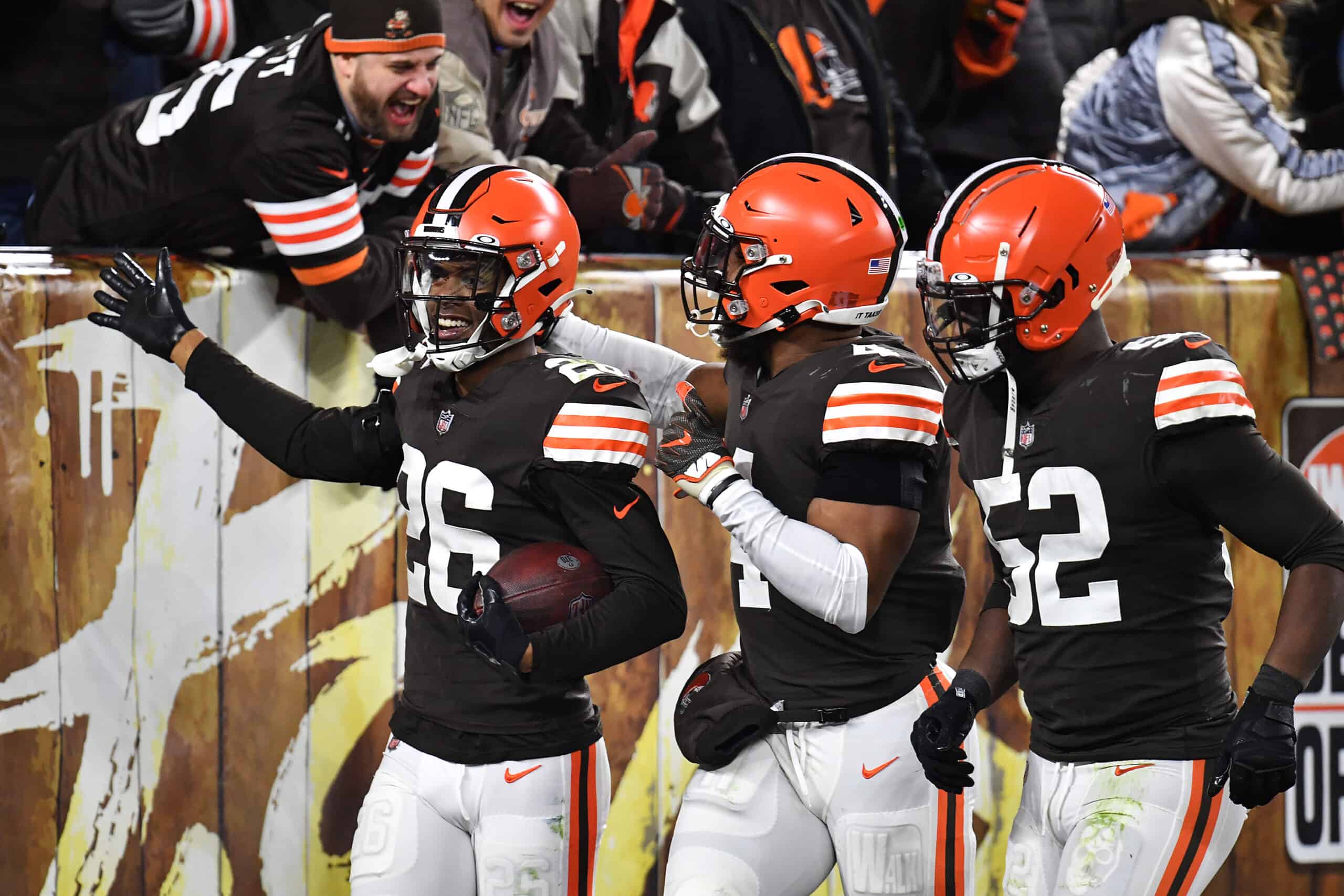 The Cleveland Browns 2021 season is a wrap.
The Browns finished 8-9 in a season filled with unmet expectations.
Here are the studs and duds for the season.
Studs: 5 Browns Pro Bowl Players
The Browns have five players going to the Pro Bowl.
Each one is deserving of the honor and was a bright spot this season.
They are Nick Chubb, Wyatt Teller, Joel Bitonio, Myles Garrett, and Denzel Ward.
The first four are secured with contract extensions; whereas, the Browns need to make it an offseason priority to extend Ward who otherwise will be playing under his fifth-year option in 2022.
You guys can go to Vegas to support Nick Chubb, Denzel Ward, Wyatt Teller, Joel Bitonio and Myles Garrett in the Pro Bowl this year!

Otherwise, it seems the Raiders are only destined to play in Cleveland. #Browns

— Hayden Grove (@H_Grove) January 9, 2022
Dud: Baker Mayfield
There are so many varying opinions on Baker Mayfield and his abilities.
The simple reason he makes the dud list is that he got hurt in Week 2 and that was the turning point in the Browns season.
His numbers were terrible, and it is unclear if that was because of injuries or bad decision-making on the field, or a little bit of both.
.@ninko50 couldn't believe Baker Mayfield will make $19M next season 😳

"That is ridiculous to pay somebody that much money to be terrible!" pic.twitter.com/OzVGwQTQvQ

— Get Up (@GetUpESPN) January 7, 2022
We will never fully understand why the Browns were so reluctant to rest the injured Mayfield and let Case Keenum play more games.
Mayfield's injury and the Browns' apparent mismanagement of it were duds.
Studs: Rookies Played Well
The Browns got two future stars in Greg Newsome II and Jeremiah Owusu-Koramoah.
The team's first and second draft picks of the 2021 NFL Draft jumped in and got to work immediately.
Both made big plays this season and have tremendous upside going into their second seasons.
the Browns season might have been disappointing but Greg Newsome II & Jeremiah Owusu-Koramoah weren't.

Andrew Berry >>>>>

— Mollis (@BurdsIVue) January 8, 2022
Duds: Browns Special Teams
#Browns finish the year ranked 18th in offensive efficiency, 12th in defense and 24th in special teams

— Jake Trotter (@Jake_Trotter) January 10, 2022
Week 1 was an awful foreboding for the Browns special teams unit.
When punter Jamie Gillan inexplicably did not punt the ball against the Chiefs, it changed the course of the game.
In addition, the Browns cannot find a stable and steely nerved kicker.
Playoff teams rely on special teams to help them win games.
In the case of the Browns, special teams lost close games for them.
#Browns special teams has been a consistent nightmare.

— Nick Pedone (@NickPedone12) January 9, 2022
Studs: Depth Players Who Delivered
2021 was another year where fans became very familiar with the Browns depth chart.
Between injuries and COVID-19, fans were attuned to the players who were not starters and were perhaps on the practice squad for part of the season.
When called upon, they delivered in a big way.
Most notably were Case Keenum and D'Ernest Johnson.
This tandem carried the load in 2 of the Browns' 8 wins this season.
Both embraced their roles and were fun to watch on and off the field.
#Browns QB Case Keenum has questions for RB D'Ernest Johnson 😂🤣😂 pic.twitter.com/984OULa9le

— Daryl Ruiter (@RuiterWrongFAN) January 9, 2022
Another player who also performed in a big way was M.J. Stewart.
He was consistently involved in big plays in many games this season.
MJ Stewart has stepped in really well in the secondary#Browns

— 🇬🇧🌰British Buckeye🌰🇬🇧 (@BarkingMadSport) January 4, 2022
Duds: Players And Their Family Members On Social Media
Last, but not least, one of the biggest duds of the Browns season was the players and their family members on social media.
We heard way too much from Odell Beckham Sr.
Kareem Hunt's dad also spoke up.
Then, there were some posts from Emily Mayfield.
Perhaps the most disappointing was Baker Mayfield who used his social media footprint to lash out at the local Cleveland media.
Hopefully, Andrew Berry can figure out a way to curb this behavior in the seasons to come because it was very distracting and embarrassing.