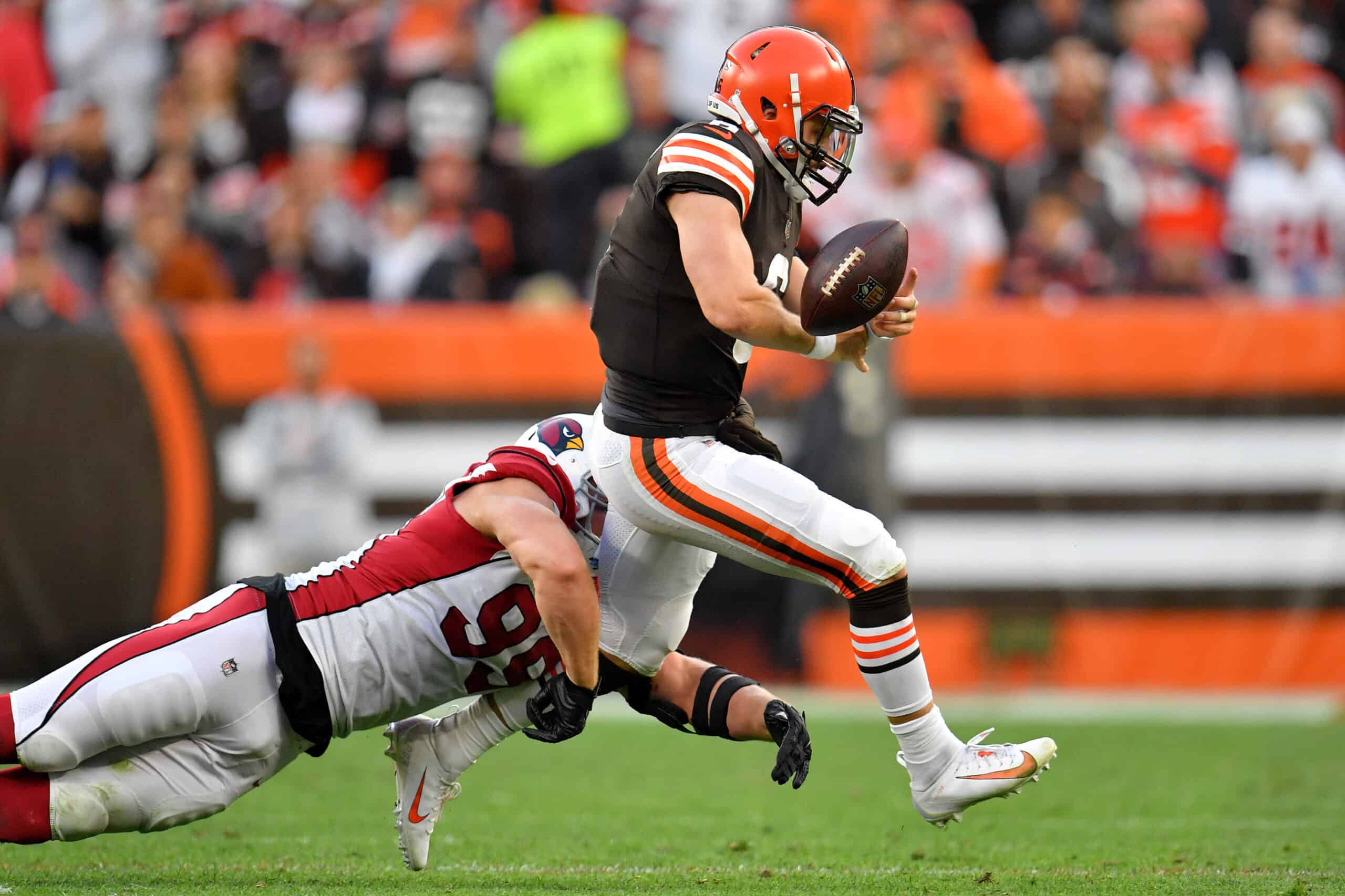 At first glance, it might be easier to post a team roster than look for duds in the Cleveland Browns' latest loss.
Kevin Stefanski's troops came out flat, and except for a few flashes, were outclassed for 4 quarters.
Sure, the Arizona Cardinals came in undefeated and a fashionable pick to finish as NFC champions.
FINAL. pic.twitter.com/Anc7bz1dpY

— Cleveland Browns (@Browns) October 17, 2021
But the Browns are supposed to be pretty good, too.
As Stefanski noted after the game, 3-3 makes them pretty average, and they'll have to get better.
And they have time to do just that, with 11 games to turn it around and finish strong.
Here are some studs and duds from the Browns' loss to the Cardinals.
Stud: Donovan Peoples-Jones 
Cleveland's young wide receiver had been criminally under-utilized prior to this game.
Peoples-Jones might be the Browns' best contested-ball receiver, with speed and strength to go with his height.
The few catches he had prior to Week 6 were all tough sideline grabs.
He started this game the same way, but it was his touchdowns that make him the studliest of studs Sunday.
OH MY DPJ 😱

📺: #AZvsCLE on FOX pic.twitter.com/buppWkf59h

— Cleveland Browns (@Browns) October 17, 2021
On his first touchdown, DPJ got open near the goal line and proceeded to run through a would-be tackler to score.
Then, of course, came the Hail Mary pass at the end of the first half.
For a while, it looked like Peoples-Jones heroics would propel the Browns into a second-half comeback.
But alas, it was not to be.
Dud: Baker Mayfield 
There might be some who point to Baker's toughness and grit after he fought through more shoulder issues.
But Mayfield came out throwing high and occasionally behind receivers as he did 2 weeks ago.
And he pulled the ball down and took another sack on fourth down with a receiver all alone in front of him.
He consistently held the ball like a loaf of bread while scrambling, losing two fumbles.
Baker Mayfield landed awkwardly on his shoulder on this play

Prayers up 🙏🙏
pic.twitter.com/xBd9UVnMQW

— PFF (@PFF) October 17, 2021
He earned a third turnover with a terrible interception that sailed over Rashard Higgins.
And when he decided to force a play at the end of the third quarter, he passed on throwing a jump ball to David Njoku.
He also could have thrown deep, hoping to get a penalty or a big play, but instead ran for 3 yards and slid.
Mayfield's decent statistical day and 100+ Passer rating will fool only his admirers into thinking he had a good game.
Studs: Myles Garrett & Jadeveon Clowney 
There weren't a lot of good things happening on the defensive side of the ball.
But Myles Garrett and Jadeveon Clowney kept Kyle Murray nervous most of the game.
With a little help from a 5-man interior line rotation, they held Murray to 6 yards on 7 rushes.
Garrett and Clowney each had a sack, but it wasn't from their pure power or speed.
Jadeveon Clowney just showed why he will always have a high-paid job waiting for him no matter the numbers. Special explosion to track down Kyler Murray for the sack.

— Jeremy Fowler (@JFowlerESPN) October 17, 2021
The Browns' edge rushers pulled up early and controlled Murray's escape routes all day.
Murray saw the same strategy from the 49ers last week but still ran into the pressure all game.
All told, the pressure and containment from the edges helped secure 3 QB hits and 5 tackles for a loss.
And it should have helped the secondary more than it did.
Dud: Joe Woods
Speaking of which, if the Cleveland Browns did such a great job containing Murray, what happened?
How did the Cardinals score 37 points with 4 touchdown passes and no turnovers?
For one thing, the front four received no help again in the form of a blitz.
Arizona's offensive line had their hands full with the base pass rush.
#Browns Myles Garrett: "We're not rushing like we're supposed to, we're not covering like we're supposed to."

Said they aren't living up to the defense they should be.

— Camryn Justice (@camijustice) October 17, 2021
It wouldn't have taken much to tilt the play into a sack or a riskier pass with a fifth rusher.
But if there was no fifth rusher, Woods must have had the wide receivers double-teamed, right?
It didn't look like it on TV, with the corners constantly alone against AJ Green and Deandre Hopkins.
Woods must realize by now that his loose zones aren't working very well for this player group.
Stud: Kareem Hunt 
If circumstances were different, Kareem Hunt might have sat out this week's game.
He missed most of the practice sessions with a knee injury.
Nick Chubb was declared out on Saturday, and Hunt was a true gameday decision.
And we wonder if Hunt would have played with a healthy Chubb in the lineup.
When I spoke to Kareem Hunt, he insisted that, despite the pain, "I can definitely still be effective. I wouldn't be out there if I didn't think so." #browns

— Kimberley A. Martin (@ByKimberleyA) October 17, 2021
Arizona keyed on Hunt right from the start, intent on letting Mayfield beat them through the air.
But Hunt played most of the snaps and got almost all the carries right up until he got injured again.
He averaged a credible 4.7 yards per carry and added 3 catches for 12 yards.
It was a subpar, but gutsy performance from the remaining half of the Browns trusty rushing duo.
Dud: Kevin Stefanski
To be fair, Cleveland's offense played without their starting tackles and their leading rusher.
But there had to be some better answers than a 36:15 pass-run play selection ratio against a bad run defense.
Stefanski used D'Ernest Johnson last year with good effect, and he has an exciting rookie in Demetric Felton.
But Johnson got one carry after Hunt was injured, and Felton had 2 pass targets, and no rushes.
#Browns HC Kevin Stefanski: "Credit the Cardinals. We got beat. Their players and coaches did a nice job. We're a 3-3 football team and we looked like that."

— 92.3 The Fan (@923TheFan) October 17, 2021
In fact, the only rush not attributed to Hunt was a poorly executed reverse to Anthony Schwartz.
Unless you include 3 scrambles from Baker Mayfield, under pressure all game.
Despite that pressure, Stefanski left Mayfield to operate from the pocket on almost every obvious pass play.
For a reigning coach of the year, Stefanski was predictable and unimaginative throughout the game.
And he did not give his team the best chance to beat Arizona.