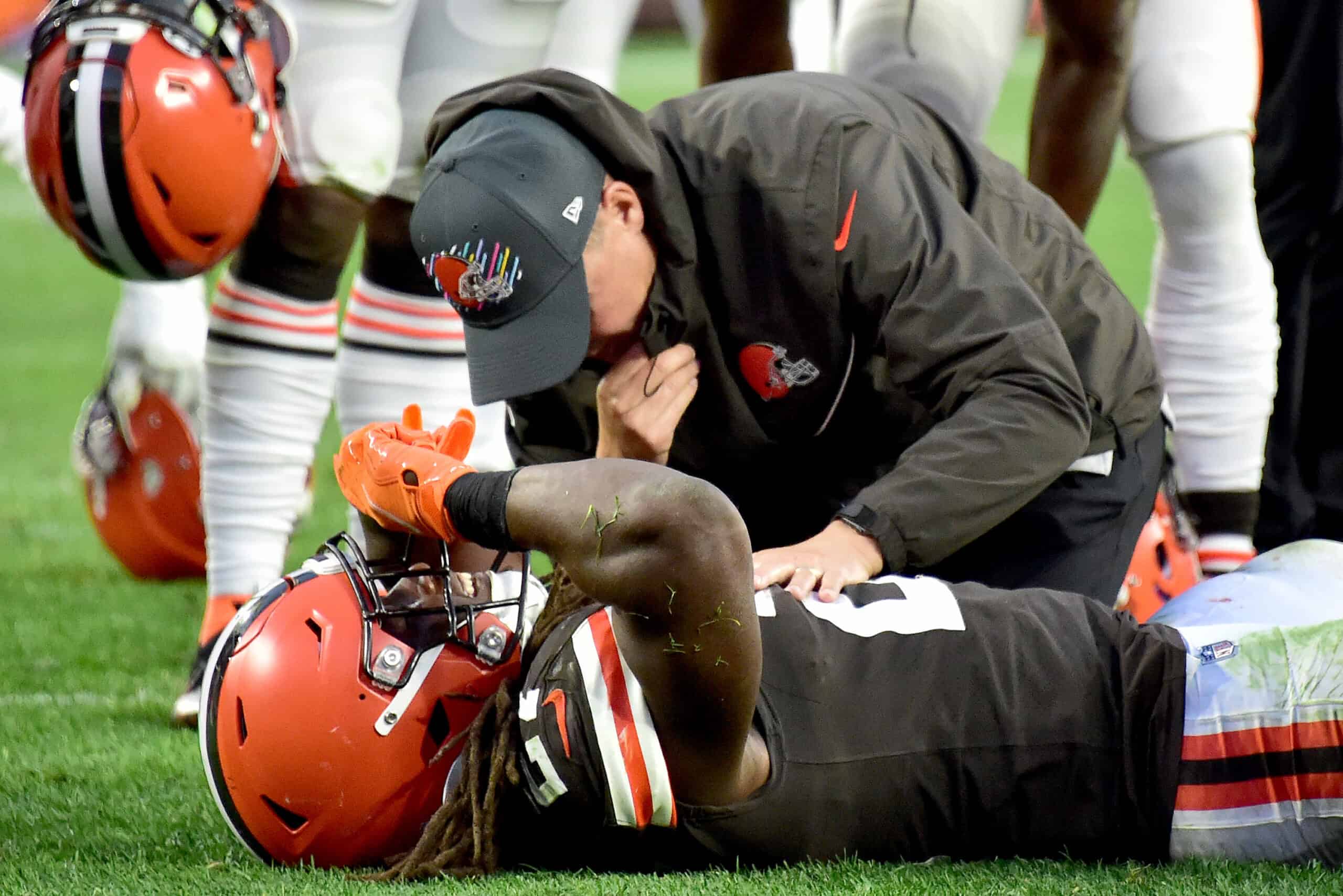 The Cleveland Browns saw running back Kareem Hunt grab his leg in a non-contact play during the loss to the Arizona Cardinals tonight.
Things went from bad to worse when Hunt was loaded on a cart and driven into the locker room.
Kareem Hunt is being carted off of the field. pic.twitter.com/PKt3COkxzX

— FOX Sports: NFL (@NFLonFOX) October 17, 2021
Hunt is a tough guy in every sense of the word so the belief was he had to be in a lot of pain to leave on a cart.
Some feared an ACL or Achilles injury which would be devastating and season-ending.
Sums up the day for the @Browns. pic.twitter.com/8M0lg26r8w

— Albert Breer (@AlbertBreer) October 17, 2021
After the game, Coach Stefanski provided an update on Hunt's condition.
#Browns head coach Kevin Stefanski told reporters that RB Kareem Hunt suffered a calf injury, NOT Achilles.

— Doug Kyed (@DougKyed) October 17, 2021
This is the best news possible on a bad news night.
Hunt reportedly has a calf injury.
While that does not sound as devastating and hopefully is not, it is a bit ironic that Nick Chubb is sidelined with a calf injury.
For a running back, a calf injury is still pretty serious for obvious reasons.
Facing Denver Without Chubb Or Hunt
It is a real possibility that the Browns will be without both Nick Chubb and Kareem Hunt on Thursday night against the Denver Broncos.
D'Ernest Johnson and Demetric Felton will need to fill their shoes.
The running attack for the Browns this year has not been easy.
Chubb and Hunt have grinded hard to get what they have.
The easy wide open runs are few and far between.
This means that Johnson and Felton have their work cut out for them.
Let's hope both Chubb and Hunt are on the mend and if they cannot go, the Browns draw up some good plays for Johnson and Felton to maximize their opportunity.
At this point, the fate of the Browns cannot get much worse.
The team looks broken, dejected, and worn, and we are only in Week 6.
Week 7 is coming fast so there had better be a turnaround, or this team could dangerously fall behind what is expected of them.