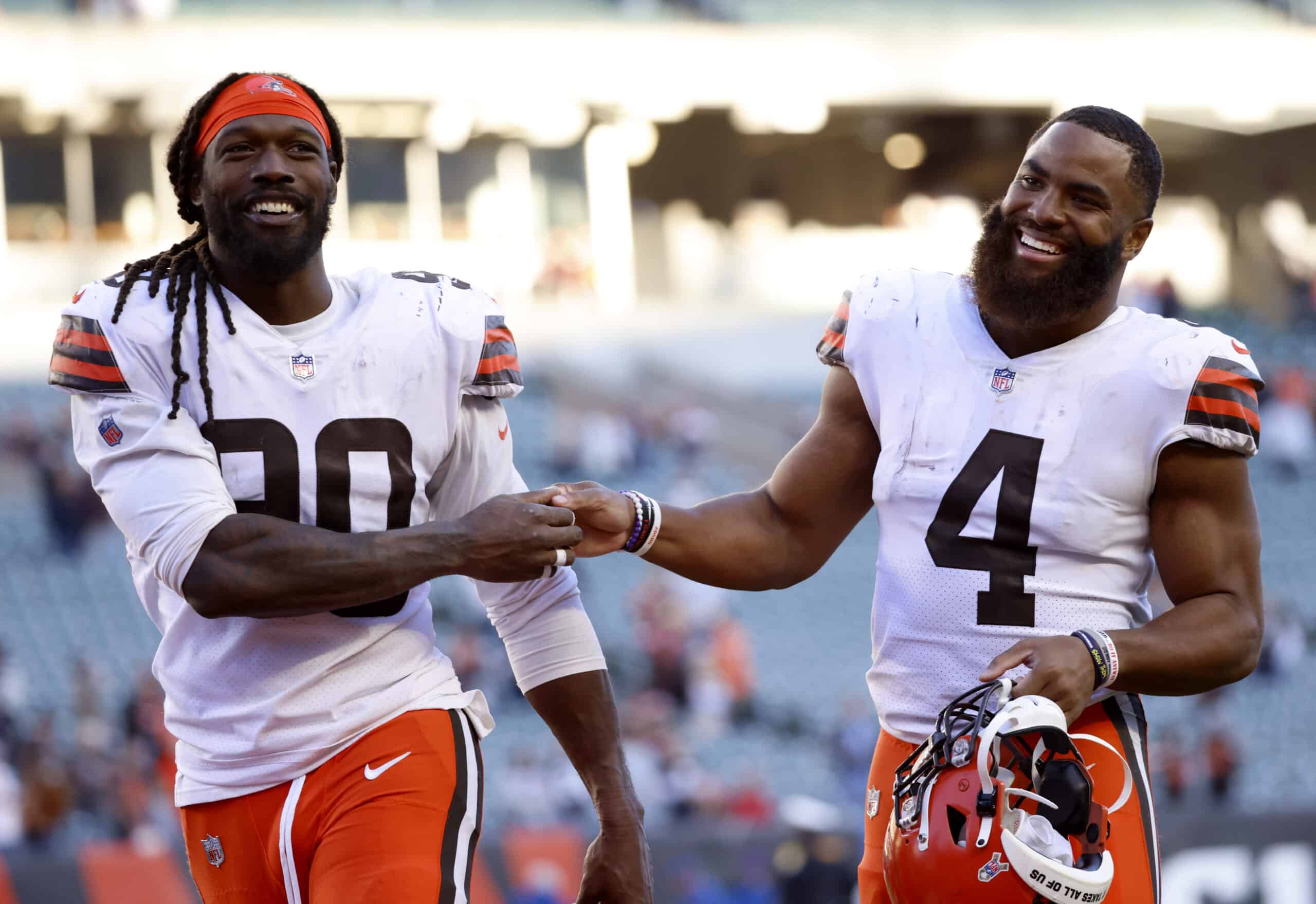 Finally, the Cleveland Browns offense came alive again.
They were able to put together 41 points during the Week 9 win over the Cincinnati Bengals.
This was a huge road victory for the Browns that will go a long way for the team.
Not all the Browns' problems are solved, but this was certainly a push in the right direction for this team.
Let's take a look at the studs & duds from the Browns' victory.
Stud: Nick Chubb
Well, Browns running back Nick Chubb is back to being an elite player.
Last week, Chubb rushed for 61 yards in a fairly decent game against the Pittsburgh Steelers.
A week later, Chubb turns in a monster performance against the Bengals in Week 9.
He rushed 14 times for 137 yards and two touchdowns in the win.
NICK CHUBB. 70 YARDS. GONE. #Browns

📺: #CLEvsCIN on CBS
📱: NFL app pic.twitter.com/O6OqTQfXvI

— NFL (@NFL) November 7, 2021
It seemed like there was nothing the Bengals could do to stop Chubb on Sunday.
He finished with nearly 10 yards per carry in what was an outstanding performance.
That game marks the third time this season that Chubb has rushed for over 100 yards in a single game.
Honestly, there's a good chance it won't be the last time it happens this season.
Dud: Jarvis Landry
The assumption was that wide receiver Jarvis Landry would pick up the slack with Odell Beckham Jr. off the roster.
Sadly, that was not the case during the Week 9 victory.
Instead, Landry finished with three receptions on five targets for 11 yards.
The Browns certainly expect much more from the five-time Pro Bowl receiver.
This season, Landry has posted two games with 65 receiving yards or more.
Most of the time, Landry has been a dud and that was the case again in Week 9.
The good news is that Landry is healthy and will hopefully adjust well to life without OBJ.
Stud: Baker Mayfield
There was a ton of speculation on how quarterback Baker Mayfield would play on Sunday.
Mayfield completed 14-of-21 passing attempts for 218 passing yards with two touchdowns and zero interceptions in the win.
The 26-year-old was making accurate passes and playing like a franchise quarterback in Week 9.
.@bakermayfield has a cannon 💪

The #AFCNorth is stacked pic.twitter.com/dQrtPMVf3b

— Johnny Maffei (@johnnymaffei45) November 8, 2021
It has been a fairly rough start to the 2021 campaign for Mayfield.
However, he has turned in back-to-back solid performances for the Browns.
Hopefully, this is a sign that Mayfield is back and ready to lead this team.
Maybe it's too early to tell, but Mayfield did look good against the Bengals on Sunday.
Stud: Anthony Walker
The Browns defense deserves some love as well for Sunday's performance.
Most notably, linebacker Anthony Walker who put together a show on Sunday.
Walker finished with a team-high 12 tackles and one sack in the victory.
He was all over the place and made a significant impact on the defensive side of the ball.
Those 12 tackles were also a season-high for Walker who has recorded 10 tackles on two other occasions this season.
The 26-year-old is well known for his elite tackling ability.
He showed it on Sunday and the Browns are hopeful that he can continue doing it on a weekly basis.
More outings like this could earn Walker an extension in Cleveland this offseason.