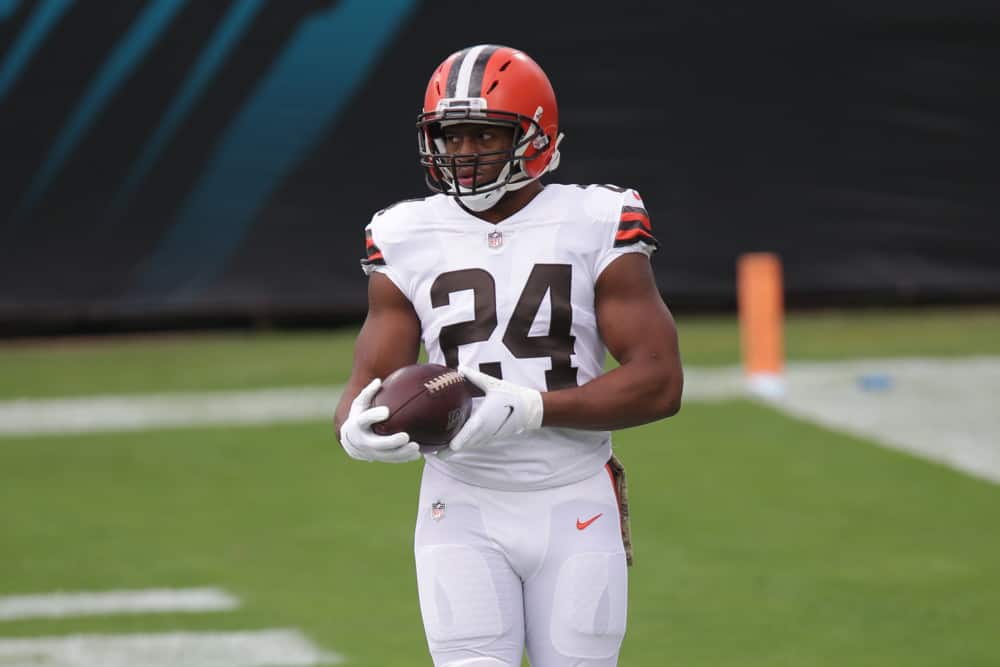 Nick Chubb might be the preseason favorite to finally win the NFL rushing title.
But another aspect of his game might push the Cleveland Browns' star into the MVP conversation.
Running backs coach Stump Mitchell recently spoke to reporters about Chubb's receiving ability.
"He was always good at it. But he never got the opportunity. He's good at everything he does and if he's not, he works to improve on that."
Mitchell said he thought Chubb dropped only one ball last season.
#Browns Stump Mitchell said Nick Chubb has always been good catching the ball, just hasn't had the opportunity. pic.twitter.com/5ssjoSkx28

— Fred Greetham (@FredGreetham9) August 6, 2023
That might have been a generous assessment, as Pro Football Reference charged him with 4 drops.
But that followed 2 seasons (and 36 receptions) in which he did not drop a single pass.
More importantly, Chubb has a career 75% reception rate and averaged 9.6 yards after catch in 2022.
With Kareem Hunt on the roster, Chubb was on the sideline for most passing downs over the past 3 seasons.
But it is not certain that Jerome Ford or another running back will spell Chubb on third downs this year.
Did Mitchell Reveal The 2023 Offense?
Much has been discussed about Kevin Stefanski's re-tooled offense for 2023.
But Stefanski is leaving much of the design up to his franchise quarterback, Deshaun Watson.
Back in 2020, when he won the NFL passing title, Watson targeted running backs a healthy 17% of the time.
That amounted to 90 passes to the rushers, including 46 to his RB-1 David Johnson in only 12 games.
Chubb saw 49 targets from Baker Mayfield in the tragic 2019 season, catching 36 for 278 yards.
Nick Chubb, what a catch 👀pic.twitter.com/fq4b17p2z7

— LeadingNFL (@LeadingNFL) November 25, 2018
And he managed to tack on 1494 rushing yards that year, too.
Without a true pass-catching RB-2, Chubb could see 50 or more targets in a more efficient attack.
That is more than the last 2 seasons combined, and he could even double his 63 targets since Stefanski came on.
Stefanski remains the person most likely to keep Chubb from achieving such lofty targets.
After 3 years of careful management, it remains to be seen if he cuts Chubb loose from a restrictive touch count.