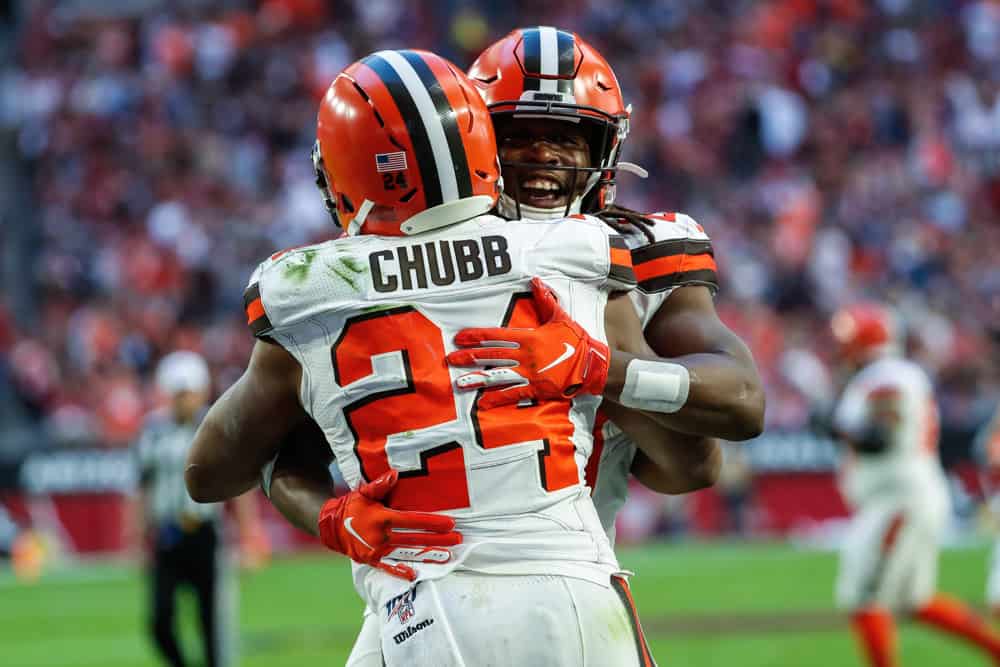 Everyone knows that Cleveland Browns running backs Nick Chubb and Kareem Hunt are a superstar team.
Each is a RB1 in his own right on any other team, but both like the teamwork and partnership in Cleveland.
It's Nick Chubb and Kareem Hunt by a country mile. https://t.co/Yuav9esEWJ

— Michael Hauff (@TheFFRealist) June 25, 2021
It is successful because each helps the other.
Here is how and why Hunt helps Chubb be more successful.
Hunt Is A Dual Threat
Kareem Hunt had 5 receiving TDs in 2020.

He tied Alvin Kamara for the most by an RB in the NFL. pic.twitter.com/KUmFthXZZg

— Nick Karns (@karnsies817) April 2, 2021
Kareem Hunt is a wide receiver in a running back's body.
He can line up in the backfield or on the line to make catches and then use his lower body speed and strength to wrack up more yards after the catch.
If Hunt lines up in the backfield with Chubb, defenses are left to wonder what is about to happen.
This can divert the attention away from Chubb who does not need a very big hole to bust through the line of scrimmage and make a big rushing gain.
Hunt Is The Perfect Complement
The Browns backfield doesn't get talked about enough.

Nick Chubb had 12 TDs in only 12 games. 4th most in the NFL.

Kareem Hunt had 5 rec TDs The most for a RB in the NFL.

All while splitting the backfield.

— Establish The Run (tone setter) (@JEDRICKWlLLS) June 18, 2021
In addition to his versatility, Hunt can come on the field to give Chubb a rest for offensive snaps.
Because both are such capable runners, the opposing defense does not get to rest.
Hunt's abilities in the passing game are often discussed, but they should not overshadow his rushing skills which enable him to take a handoff and run through and around defenders
2021 Offensive Playbook Will Feature More Plays With Both In Huddle
In 2020 because of COVID-19 and the lack of time to work with new Coach Kevin Stefanski and OC Alex Van Pelt, Chubb and Hunt were not on the field together for as many plays as we expect in 2021.
Kareem Hunt also was RB1 for the four games while Nick Chubb was out with an injury.
All signs indicate the offensive playbook will be expanded several ways post COVID-19 with one of those being more designed plays using both Chubb and Hunt at the same time.
Van Pelt recently addressed this.
"However, you want to put your most-talented players on the field, and Kareem is definitely deserving of getting playing time, along with Nick in certain packages. Those are things we have looked at in the offseason and will continue to grow."
We can't wait for September for our weekly dose of Chubb and Hunt football.