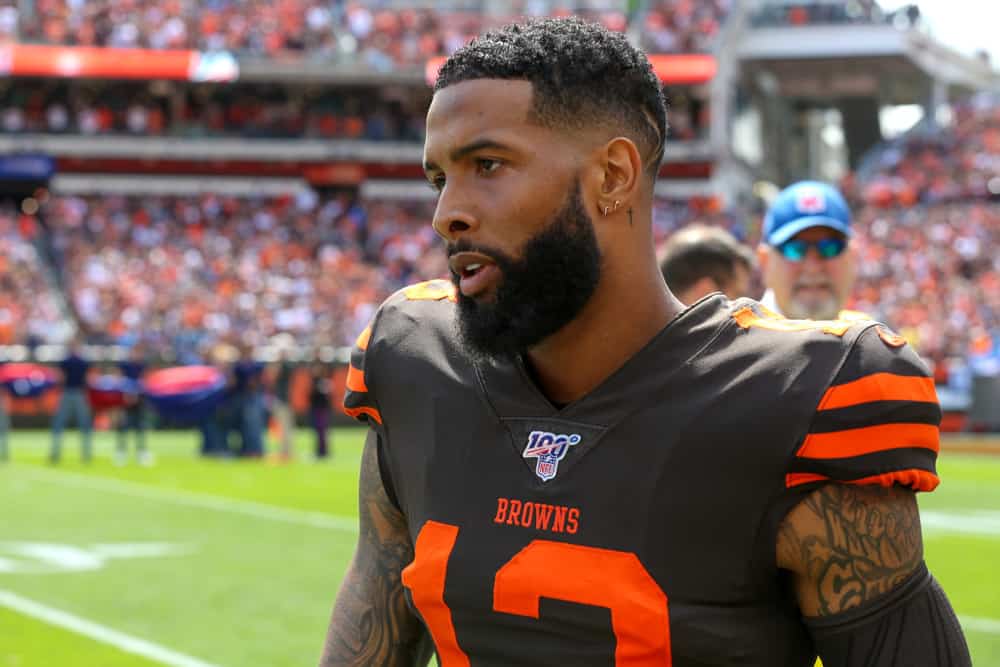 Last year, when the Cleveland Browns pulled off the blockbuster trade for wideout Odell Beckham Jr., fans instantly dreamed of endless highlight-reel catches, offensive fireworks and postseason football. What they got last season was, well, the opposite of that.
Sure, there were a few jaw-dropping grabs on Beckham's part. Still, they were few and far between, replaced with a surprising drop in production.
This was partly due to a core muscle injury Beckham suffered during training camp last summer, one which wasn't addressed until this past offseason. While the injury sapped a bit of his abilities in 2019, new coach Kevin Stefanski has confirmed Beckham is back to full strength.
"Odell is free and clear. He is 100 percent," Stefanski told local media during a conference call last week. "He is looking really good."
This is obviously great news. However, it hardly guarantees a bounce-back season from Beckham in the months ahead.
A healthy Beckham is one thing, but if the Browns are going to make the most of this acquisition, they'll need to utilize him far better than what we saw in 2019.
For a refresher, we can go through the numbers Beckham put up last season. In case you were wondering, yes, they're still unsightly.
Setting aside his injury-shorted, four-game cameo in 2017, many of Beckham's numbers from last year represent career lows. This includes touchdowns (four), receiving yards (1,035), receptions (74), yards per game (64.7) and receptions for first down (44).
Yes, some of this has to do with the injury he fought through during the entire season. Likewise, Beckham's catch percentage (55.6%) has never been lower.
Still, Beckham's 2019 campaign was, to put it politely, underwhelming. When sifting through his numbers, it's pretty easy to see why.
Essentially, then-coach Freddie Kitchens put on a master class in under-utilizing a Pro Bowl wideout.
Overall, Beckham averaged a total of 8.3 targets per game last year. That's a new low, as he's averaged at least 10.25 targets per game in every other season of his six-year career.
Right off the bat, that's an obvious red flag.
Further, last year was the second time Beckham played a full 16-game season, with the first occurring in 2016. When comparing that campaign to last season, he saw 36 fewer targets and logged 332 fewer yards receiving.
Digging deeper, Beckham received at least ten targets in only six games last season. Of those games, only twice did he top 100 yards receiving. The contest which featured the most balls thrown Beckham's way — a Week 15 loss to the Arizona Cardinals — he was targeted 13 times for just 66 yards.
So, Kitchens was either unsuccessfully attempting to force-feed Beckham the ball, or completely forgetting he was on the roster. Cleveland's then-rookie coach basically got a brand new toy, but couldn't figure out how to put the batteries in.
If Stefanski is looking for ways to properly utilize a weapon as potent as Beckham, last season should serve as the perfect example of what not to do.
While we don't yet know what the Browns' new coach has planned for his star wideout, we can get an idea by comparing Beckham's 2019 numbers to those of Minnesota Vikings wideout Stefon Diggs.
Diggs logged the most receiving yards of his career last season under Stefanski's offensive scheme (1,130). What you'll see when looking through his 2019 stats, though, is quite a glaring difference compared to Beckham's numbers.
Diggs was able to haul in 95 more receiving yards than Beckham last year even though he was targeted 39 fewer times.
Despite getting fewer looks, despite hauling in fewer catches, Diggs still out-gained Beckham in both receiving yards and touchdowns (six).
The key difference between the two is Minnesota's ability to make Diggs' receptions count.
Though the Vikings wideout averaged fewer targets per game (6.26), he topped Beckham in yards per target (12.0 vs. 7.8), yards per reception (17.9 vs. 14.0) and yards per game (75.3 vs. 64.7).
Bottom line, Stefanski was able to make Diggs a better threat despite targeting him fewer times, while Kitchens couldn't seem to figure out how to effectively get Beckham the ball at all.
As much of a headache it is to sift through the misuse of Beckham, Diggs' numbers at the very least hint he'll be in better hands this season. That's the hope, at least.
Beckham could — and should — be a legit offensive threat for the Browns this season. However, that won't come to fruition until the team figures how best to get him involved on a weekly basis.
Initial signs indicate Stefanski may be able to do just that.