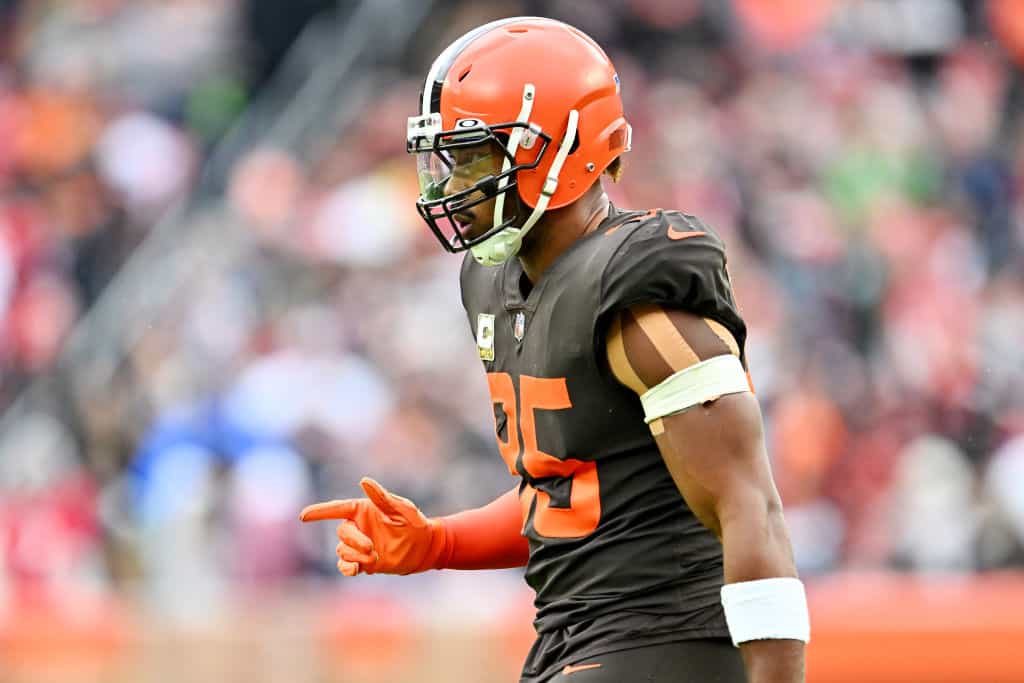 The Cleveland Browns made it a point of emphasis to get better on the defensive side of the field ahead of next season.
They made big strides in that regard ever since the moment they hired Jim Schwartz to serve as their new defensive coordinator.
Moreover, Schwartz and GM Andrew Berry continue to make moves to revamp their defense and have as much depth as possible, as they showed by reaching an agreement on a one-year deal with veteran DT Shelby Harris.
Now, as pointed out by NFL insider Ari Meirov, the Browns are one of the deepest teams in the league in terms of defensive linemen, with a pool of players that consists of Myles Garrett, Za'Darius Smith, Ogbo Okoronkwo, Dalvin Tomlinson, Shelby Harris, Maurice Hurst, Isaiah McGuire, Siaki Ika, Jordan Elliott, Alex Wright, and Isaiah Thomas.
The #Browns defensive line is super deep:

– Myles Garrett
– Za'Darius Smith
– Ogbo Okoronkwo
– Dalvin Tomlinson
– Shelby Harris
– Maurice Hurst
– Isaiah McGuire
– Siaki Ika
– Jordan Elliott
– Alex Wright
– Isaiah Thomas

Plenty of options for new DC Jim Schwartz. https://t.co/Zr1gsp28M6

— Ari Meirov (@MySportsUpdate) August 9, 2023
Of course, Deshaun Watson, Amari Cooper, and the offense will steal most of the headlines, and analysts and fans will spend countless hours discussing whether Watson is the right guy to lead them or whether he'll ever go back to his usual self.
But in reality, as improved as their offense should be with Watson having an entire offseason to get a hold of this new system, the defense might as well be what ends up making a difference next season.
It won't be easy, and their division is perhaps the most competitive in the league.
But this Browns team has every single tool to be one of the biggest dark horses to come out of the AFC.