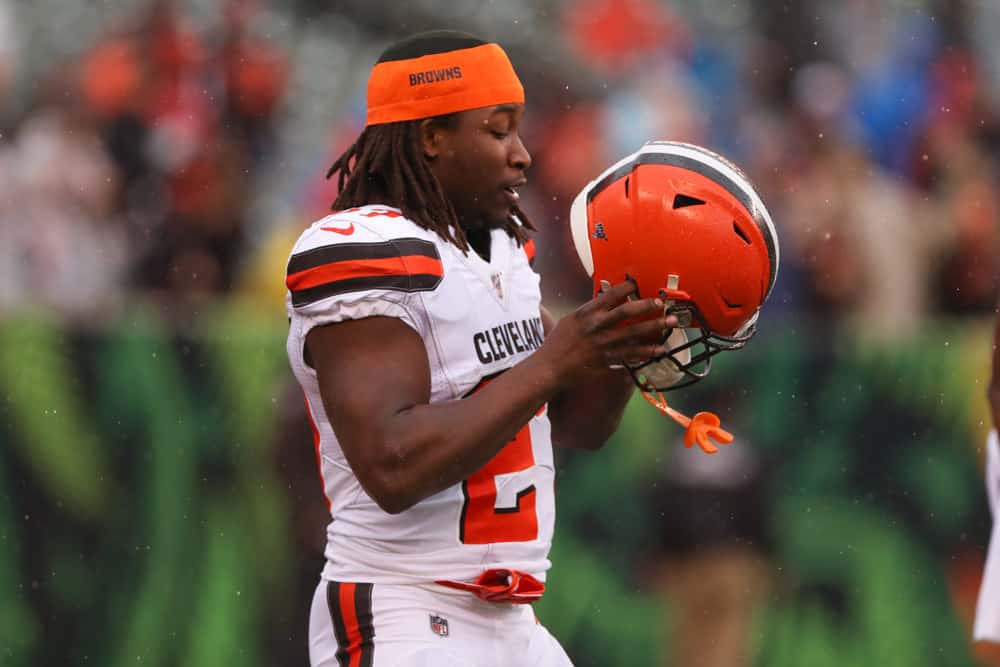 As the upcoming season nears, the Cleveland Browns will hope to maximize Kareem Hunt's potential in 2020, which hopes to be his first full season since his rookie year.
Back in March, the Browns placed a tender on Hunt, which will make him a restricted free agent after the 2020 season.
We've placed a tender on RB Kareem Hunt and 3 exclusive rights free agents

Details » https://t.co/0Kxrt4IH9V pic.twitter.com/A0Wd7LjuyM

— Cleveland Browns (@Browns) March 16, 2020
What is Hunt's Potential in 2020?
In 2017, Kareem Hunt entered the NFL after the Kansas Chiefs picked him as the No. 86 selection in the NFL draft.
During the regular season, he started all 16 games, had 272 rushing attempts, and led the league in rushing.
His 1,327 yards on the ground were an impressive total, as he made the 2017 All-Rookie Team and the Pro Bowl.
Hunt, who caught more than 50 passes, amassed 1,782 yards from scrimmage and 11 total touchdowns.
Then in 2018, he ran for 75 yards per game, which ranked as the seven-best mark in the NFL.
He also scored a total of 14 rushing and receiving touchdowns in just 11 games that year.
However, his 2018 was cut short due to off-the-field issues.
The Browns gave him a chance and in his first year with Cleveland, he played eight games after serving his half-season suspension.
With the 2020 season upon us, Hunt can be a tremendous asset for the Browns.
He sure was last year:
#Browns RB Kareem Hunt's ranks from the time he returned to the team in 2019 (Wk10-17):

▪️Forced missed tackles on receptions: 15 (2nd)
▪️Elusive rating: 119.2 (3rd)
▪️Receiving grade: 83.4 (4th) pic.twitter.com/xYHbDkl5YB

— PFF CLE Browns (@PFF_Browns) July 4, 2020
The 25-year-old should be able to put up his third career season of least 1,000 yards from scrimmage.
While double-digit touchdowns will be tough to accomplish, Hunt can score a total of six touchdowns on the ground and in the air.
Nick Chubb will be the main running back, and Hunt will be able to provide a change of pace and be another important receiver for Baker Mayfield.
How can the Browns Maximize Hunt's Potential in 2020?
The most important aspect of Hunt reaching his potential in 2020 will be related to how Kevin Stefanski and Alex Van Pelt use him as a receiver.
In 2019, Freddie Kitchens and offensive coordinator Todd Monken found ways to get Hunt involved in the passing game.
He set new career-highs with 4.6 receptions per game and 35.6 receiving yards per game.
Hunt also matched his career-best 84.1 percent catch percentage.
Although his yards per target (6.5) were the lowest of his career, the 2019 Browns found a way to get No. 27 offensive touches.
Unfortunately, Hunt did not top 500 yards from scrimmage last year.
If Stefanski and Van Pelt can involve Hunt more, then the offense will be able to perform well.
Is Hunt's Future with the Browns?
With the Browns placing the tender on Hunt, they have ensured that they can match any contract offer.
If Hunt has too strong of a season, the Browns may not be able to pay Hunt after 2020.
He may be a starting running back for another team in 2021.
However, the Browns will be looking to get Hunt as many touches as possible in 2020.
He had just 464 yards from scrimmage last year for the Browns.
While Hunt had just 43 rushing attempts in his first season with the Browns, fans can expect to see him get at least 100 attempts on the ground this season.
Browns fans hope that Chubb and Hunt be a tremendous tandem going forward, and if they are, then that will mean the Browns can be a Super Bowl contender for many years to come.