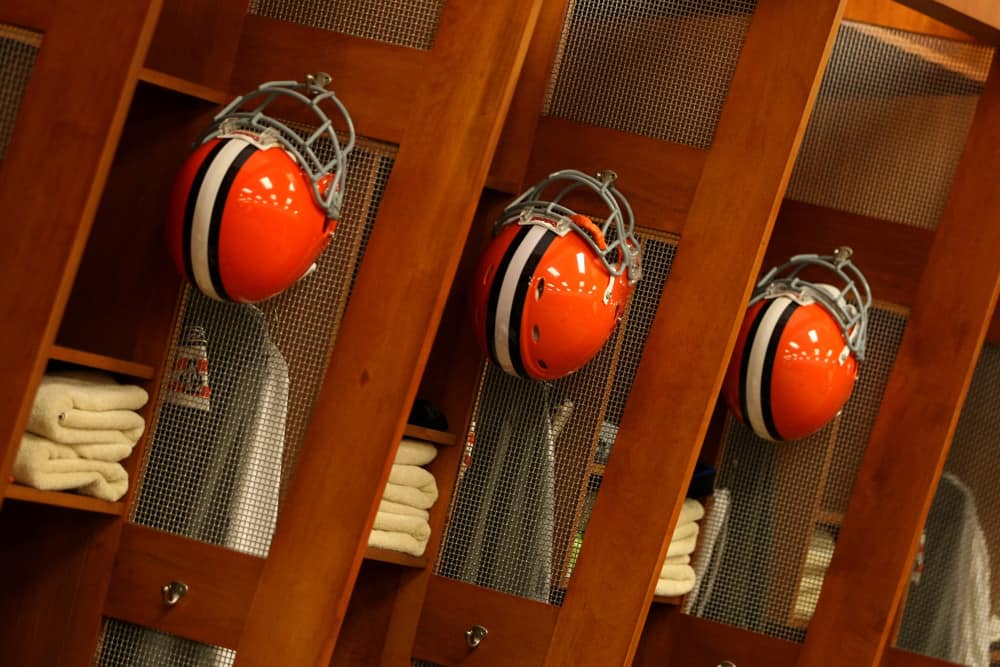 The Cleveland Browns could be in search of another linebacker after Tuesday's practice.
Linebacker Mack Wilson suffered a knee injury and is currently undergoing evaluation
Mack Wilson helped off the field at #BrownsCamp after suffering a knee injury pic.twitter.com/aUqjEBiyDa

— FOX Sports Cleveland (@FOXSportsCLE) August 18, 2020
At the moment, it's unclear if Wilson will be forced to miss time from this issue.
The fifth-round pick emerged as a key starter for Cleveland after a surprising rookie season.
He was the only starting linebacker left from last season, but the Browns might be without him for some time.
The Browns could hit the trade market if they end up losing Wilson for a significant amount of time.
3. Haason Reddick
The 25-year-old linebacker is a former first-round pick of the Arizona Cardinals from 2017.
He only started in three games during his rookie season, but took off after that.
Reddick has recorded 156 tackles, 14 tackles for loss, and five sacks over each of the last two seasons combined.
He has been a serviceable player for Arizona, but the team has stacked up over the offseason.
The Cardinals selected Clemson linebacker Isaiah Simmons with the No. 8 overall selection.
With the 8th selection in the 2020 NFL Draft, the Arizona Cardinals select…

Isaiah Simmons, LB, Clemson pic.twitter.com/WV4fuUabNR

— PFF (@PFF) April 24, 2020
Simmons is expected to start alongside Devon Kennard and Chandler Jones.
Which means, Reddick will be pushed onto the bench, but he could be a starter in Cleveland.
The Browns don't have much experience at the linebacker spot, so Reddick would be an upgrade for the team.
He likely wouldn't cost the Browns too much in terms of assets.
Reddick is an average linebacker that is never going to live up to the expectations of being drafted in the first round.
He is not a Pro Bowl-caliber option, but he'd give the Browns linebacker group a boost.
2. Jarrad Davis
Similar to Reddick, linebacker Jarrad Davis was taken in the first round of the 2017 draft.
The Detroit Lions spent the No. 21 overall pick on Davis, but he doesn't appear to be part of their long term plans anymore.
The organization decided to decline his fifth-year option despite fairly decent numbers over his first three seasons.
Davis has recorded 259 tackles, five fumbles forced, and 10 sacks over 41 games in Detroit.
Over the offseason the Lions added to their linebacker group by signing Jamie Collins and Elijah Lee.
They used a second-round pick on Jahlani Tavai, who is the backup behind Davis at middle linebacker.
At this point, the Lions would likely want to get something out of Davis before he leaves for free agency.
It doesn't sound like he's going to be part of their future, so a trade seems possible.
The 24-year-old would be an immediate upgrade to the Browns linebacker group.
However, it would be dependent on the price tag that probably isn't that high after declining his contract for next season.
1. Melvin Ingram
This trade seems less likely than the other two, but you never know.
Three-time Pro Bowl defensive end/linebacker Melvin Ingram has been sitting out of practice because he is unhappy about his current contract situation.
#Chargers DE Melvin Ingram has been sitting out of practice because he is dissatisfied with his contract, per @danielrpopper. Ingram is entering the final year of his deal and is set to make $14M in base salary for the coming season, none of which is guaranteed.

— NFL Update (@MySportsUpdate) August 18, 2020
The 31-year-old is heading into the final year of his deal, but might not suit up at all.
There is a good chance Ingram doesn't play this season if the Chargers refuse to offer him an extension.
If that happens, the Chargers would likely look to trade him in order to get some value out of him.
The Browns would be an ideal fit for Ingram since they need linebacker help and have the money for an extension.
He has clearly proven to be an elite level talent over the course of his career.
Cleveland could use the veteran presence since a majority of their defense is younger players.
This could be a win-win situation for both teams, but it depends on how much the Chargers value Ingram.
The Browns aren't going to overpay for a linebacker who is already over 30 and wants a fairly significant contract.
Cleveland seems pleased with their current linebackers, but we'll see what happens with Wilson.
Acquiring a talent like Ingram would be a dream come true, but it might just stay that way.