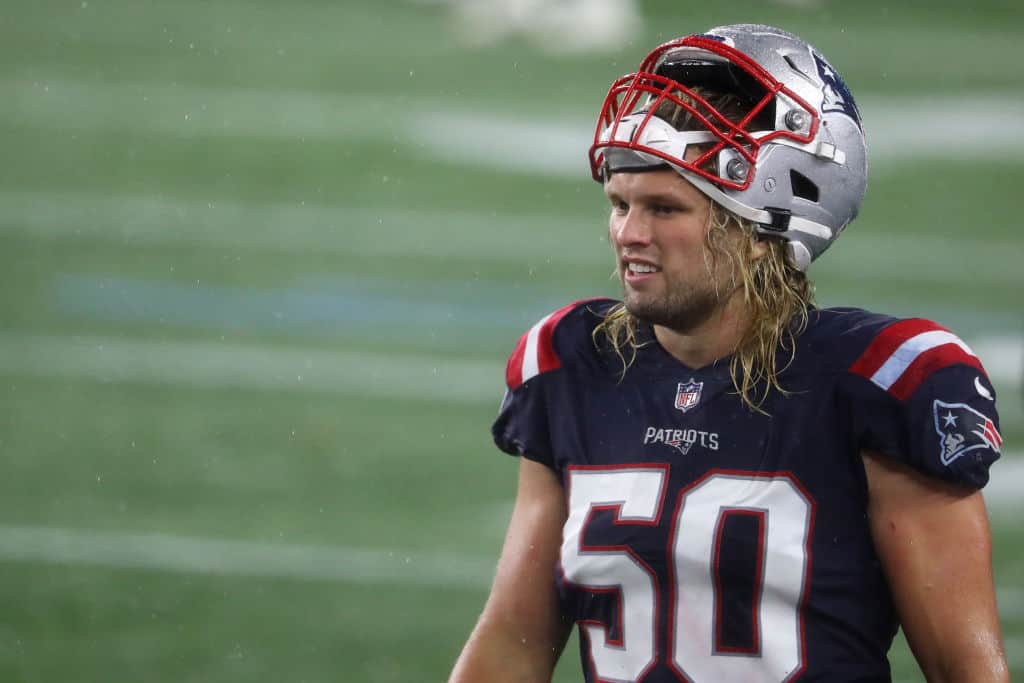 Recently, the Cleveland Browns traded linebacker Mack Wilson to the New England Patriots for defensive end Chase Winovich.
In addition to getting a new team, jersey, and number in 2022, Winovich will also have a new look.
#Browns Chase Winovich will wear 69 this season

— Brad Stainbrook (@StainbrookNFL) March 22, 2022
He arrived in Berea with his signature locks cut off.
New city, new look for @Wino 😄 pic.twitter.com/sQpX80jm4P

— Cleveland Browns (@Browns) March 18, 2022
Here are three things to know about Winovich.
1. Michigan Alumnus
Winovich played college football at the University of Michigan.
Another Michigan man on the browns 🤔 Interesting @Wino #GoBlue

— PistonsGotNext (@DeyCallMeTravis) March 19, 2022
He was a teammate of Donovan Peoples-Jones, and he crossed paths in his NFL career with another famous Michigan alumnus, Tom Brady.
Winovich and Brady were on the same team for Brady's final season with the Patriots, and Winovich recorded a send-off to Brady when he thought he was retiring.
Chase Winovich's tribute for Tom Brady, whom he credits for teaching him "metaphysics" and calls "one of the most legendary beings to ever walk this Earth," is as goofy as you'd expect. pic.twitter.com/ToTrFwFi6i

— Dakota Randall (@DakRandallNESN) February 3, 2022
He is described as a life-long Ohio State fan but chose Michigan after getting offers from a slew of schools including Arizona, Arkansas, Florida State, Michigan State, Missouri, Northwestern, Ohio State, Pitt, Tennessee, Virginia Tech, and West Virginia.
His personal ties to Michigan's head coach Brady Hoke is what ultimately led him to Michigan.
2. Philanthropist
Winovich works with fellow UM alumnus Tammi Carr on her ChadTough Foundation.
Carr lost her son Chad to an inoperable brain tumor called Diffuse Intrinsic Pontine Glioma (DIPG) at the age of 5 in 2015.
Winovich has worked with ChadTough for 5 years and has put himself in the public eye to raise money for this cause.
Dancing with the Michigan Stars raised over $100,000 for @ChadTough. @UMichFootball star @Chase_Winovich headlined the event with his Beauty and the Beast dance – and hairdo. pic.twitter.com/wTbIj9ZPC7

— Brad Galli (@BradGalli) March 9, 2018
He was a performer on Dancing with the Michigan Stars, and he convinced teammates to dye their hair orange for the 2018 Outback Bowl to raise money for ChadTough.
Michigan's Chase Winovich and Don Brown dyed their hair (and stache) orange as part of Chase's campaign to fight pediatric brain cancer. pic.twitter.com/yKwkHM2rcF

— SB Nation (@SBNation) January 1, 2018
3. Eclectic 
Winovich has so many varied interests and life experiences considering he is only 26 years old.
On the football field, he played a variety of positions growing up and even in his first years at Michigan before ultimately settling on defensive end.
He played outside linebacker and tight end and even practiced in the fullback position at times.
Off the field, he ate a live fish as a kid for $20.
He also previously went on a date with Madonna's daughter Lourdes and is friends with UFC fighter Connor McGregor.
Welcome to Cleveland Chase Winovich!