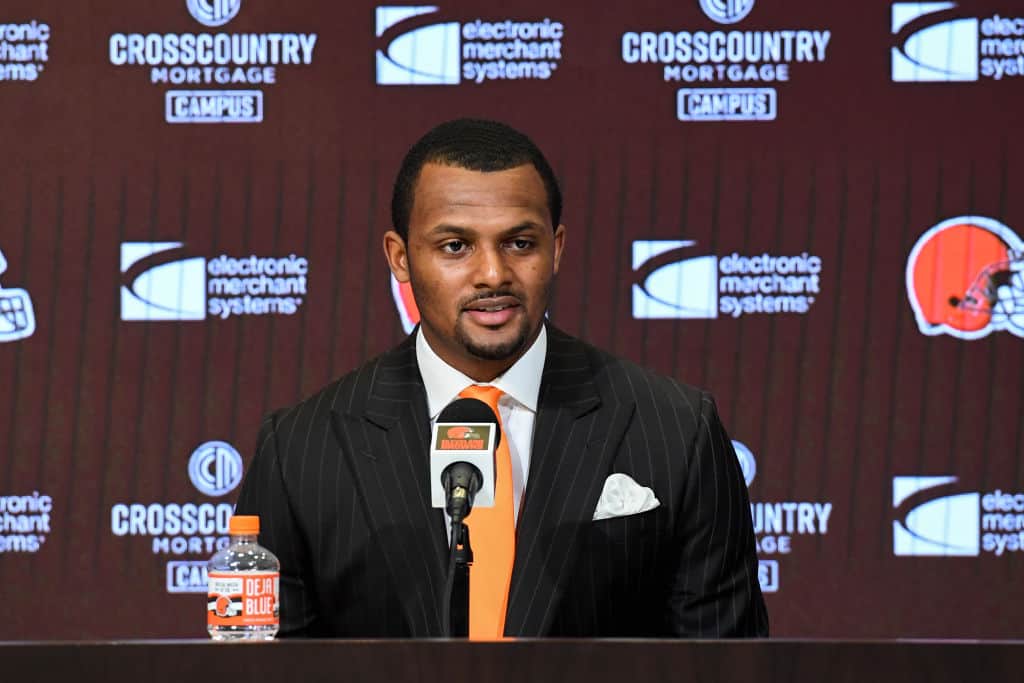 While the Cleveland Browns press conference to introduce Deshaun Watson as their next starting quarterback was entertaining, it was not particularly enlightening.
WATCH LIVE: Deshaun Watson introductory press conference w/ Kevin Stefanski and Andrew Berry https://t.co/jgbnRzpjR9

— Cleveland Browns (@Browns) March 25, 2022
There were only a few tidbits that made us pause because they were new news.
Here they are:
1. This Was A Five-Month Process For The Browns.
GM Andrew Berry said very little without painstakingly pausing and choosing his words carefully, but he did let one piece of surprising news out.
Andrew Berry really stuck his foot in his mouth with that five months of research comment

— Tramel Raggs (@Raggs_No_Riches) March 25, 2022
When he talked about the Watson process as being a five-month "odyssey", ears perked up.
#Browns GM Andrew Berry called the investigation into Deshaun Watson a "5-month odyssey."https://t.co/AQMvJ5Qdvv

— Dan Labbe (@dan_labbe) March 25, 2022
We originally were led to believe this process was part of the offseason due diligence which would have begun in mid-January.
That was only 2 1/2 months ago.
Using Berry's five-month timeline, that means the push to get Watson to the Browns began in the October/November timeframe.
The verbal commitment to Baker Mayfield that we heard from both Berry and Coach Stefanski as recently as early this month at the NFL Combine was Plan B for the Browns.
2. Watson Is Not Planning To Settle The Civil Suits.
Watson was very clear in his belief that he did nothing wrong and will fight to restore his name.
Deshaun Watson said it is not his intent to settle the 22 active civil suits. He wants to fight to clear his name.

— Ari Meirov (@MySportsUpdate) March 25, 2022
On more than one occasion, he referenced how he was raised and that he did not disrespect women.
In his most direct comments on his legal situation yet, #Browns QB Deshaun Watson said, "I understand the seriousness of the allegations. I've never assault a single woman. I've never disrespected any woman."

Later, he says, "I've never done the things people are alleging."

— Ian Rapoport (@RapSheet) March 25, 2022
He appeared comfortable with the subject matter and line of questioning though he could not get into specifics because of the ongoing litigation.
Watson was more at ease talking about it than either Andrew Berry or Kevin Stefanski.
3. Watson Said The Contract Was Not A Factor In His Decision To Come To Cleveland.
He asserted that he did not even know what the Browns contract offer was when he decided to come to Cleveland.
"Actually, it had nothing to do with the contract. I did not know about the contract until I told my agent that I wanted to come and be a Cleveland Brown. That was secondary..That had nothing to do with me choosing the Cleveland Browns."
Presuming Watson is being truthful, this is difficult to believe.
At a time when Deshaun Watson's credibility is critical, his claim that a five-year, fully-guaranteed, $230 million contract didn't impact his decision to accept a trade to the Browns doesn't bolster it. https://t.co/HUxQDlvrpR

— ProFootballTalk (@ProFootballTalk) March 25, 2022
He spent days visiting with teams and reportedly was struggling to reach a decision.
At some point, the contracts each team was offering had to be part of his final decision.
Conclusion
This was a difficult and awkward event that NFL Network's Rich Eisen compared the vibe to a "funeral".
New #Browns quarterback Deshaun Watson met the media this afternoon and it didn't exactly have the feeling of a new franchise player introduction, to say the least:#NFL pic.twitter.com/EyFZhFAqBj

— Rich Eisen Show (@RichEisenShow) March 25, 2022
It was not a splashy and joyous event it could have been because of all of the off-the-field business.
The one-week delay between when the trade was announced and the press conference led it to be even more of a ho-hum event.
It is not clear if the Haslams being present would have made it better.
They held their own press conference via Zoom because they were out of the country.
That was also odd given the enormity of this trade.
The press conference is over, and that is a good thing.
This situation is far from over though, and it could linger for months or even years.