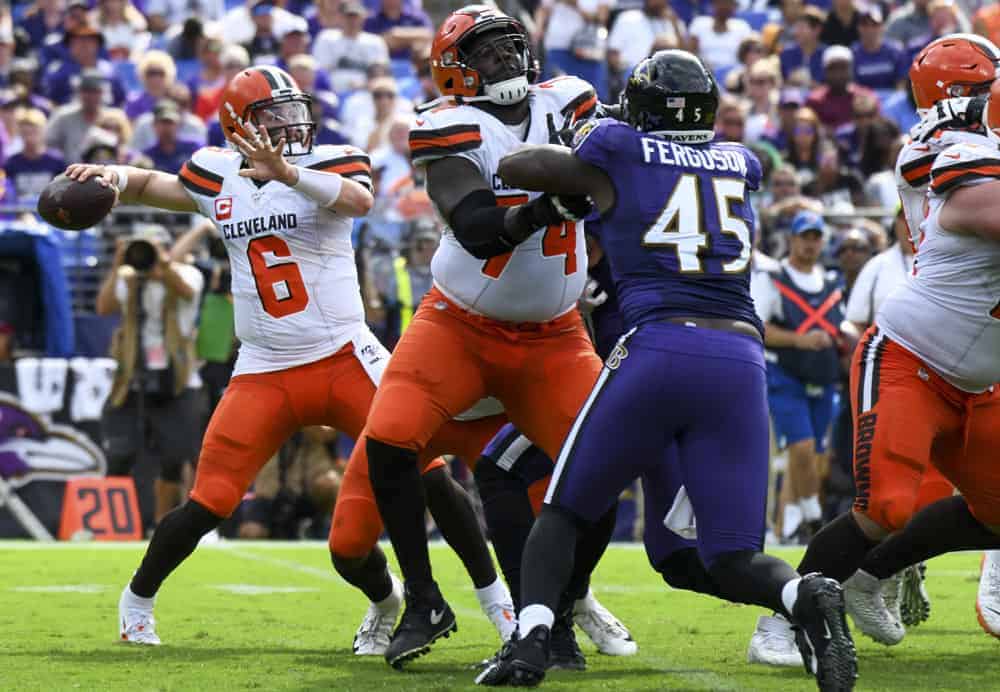 On Sunday, the Cleveland Browns (6-8) will face-off against the Baltimore Ravens (12-2).
The Ravens a chance to reclaim victory over the Browns after their defeat earlier in the season.
What can we expect to see during this showdown?
A number of stellar match-ups to say the least.
Here are 3 key match-ups to watch during Sunday's game:
1. Baker Mayfield vs. Lamar Jackson
The last time Mayfield and Jackson faced each other, Jackson had more touchdowns, but also had more interceptions.
On September 29th's game, Jackson came out with three touchdowns and two interceptions, while Mayfield had only one touchdown and one interception.
As far as yards are concerned, Mayfield had 95 more yards than Jackson.
The argument for who truly came out on top during this game can be disputed, but one thing is for certain, both of their performances will be critical to the outcome of the game.
Season Statistics
Jackson is outperforming Mayfield in nearly every statistical category this season, making Mayfield the underdog on Sunday.
Mayfield also has a lower pass completion rate; coming in at only 60.1%, Jackson holds a 66.2% completion rate, a 6.1% spread.
Mayfield has more passing yard attempts than Jackson does, 467 yards to be exact.
Lamar Jackson has been playing at an MVP level this year.
🔸 649 players have rushed for 1,000 yards in a season.
🔸 124 players have thrown 30 TDs in a season.

😈 Lamar Jackson is the 1st player in NFL history with both in a season. (via @ESPNStatsInfo) pic.twitter.com/DqtSl7oyDz

— ESPN (@espn) December 18, 2019
Why Watch This Match-Up?
Quarterbacks of any football team play a large part in determining the outcome.
On paper, this looks like a complete mismatch between Jackson and Mayfield.
Can Mayfield turn in a solid performance and keep his team in the game?
We will see.
2. Jarvis Landry vs. Marquise Brown
Jarvis Landry and Marquise Brown will be interesting to watch this Sunday.
Both players are strong wide receivers and playmakers for their teams.
They both know how to work the field and find openings to make plays, but one player has more experience in doing that this season, and that is Jarvis Landry
Landry has been solid and consistent for the Browns offense all season, recently topping 1,000 yards and being named to the Pro Bowl.
.@God_Son80 is #ProBowl bound! 🌴

📰 » https://t.co/JSzwV9nzMa pic.twitter.com/X7lqjvCeDG

— Cleveland Browns (@Browns) December 18, 2019
Brown does have 7 touchdowns this year compared to Landry's 5.
Season Statistics
Landry has 366 receiving yards in the last five games compared to Brown's 109 yards.
Landry is 27 years old, meaning that he has much more experience on the field than Brown (who is 22).
To back this up, just look at the career yard differences, Landry has 6,032 total while Brown only has 563.
In receiving yards, Landry had 167 yards versus Brown's 22 yards last time they saw each other.
Why Watch This Match-Up?
From a statistical standpoint, Landry has more yards and has been more consistent than Brown.
But, with the way the Ravens offense is playing, Browns is the better bet to see the endzone.
3. Nick Chubb vs. Raven's Defense
Nick Chubb will have opportunities Sunday.
The Raven's defense is ranked 21st against the run.
Overall, they rank 6th in the league in team total defense.
Chubb has only scored two times during the last five games he has played in, which could be worrisome for Brown's fans.
But, as the leagues leading rusher, he is more than capable of a great performance no matter what defense he is facing.
Season Statistics
Chubb has averaged 111 yards over his last five games.
On the year, he has 1408 yards on 270 carries.
Why Watch This Match-Up?
This will be a different Ravens defense the Browns will face than the first time they played.
They have added DB Marcus Peters to their secondary(in a trade with Rams) and DB Jimmy Smith is now healthy as well.
We have acquired Pro Bowl CB Marcus Peters from the Rams for an undisclosed draft pick and LB Kenny Young. pic.twitter.com/qEsyDTvelp

— Baltimore Ravens (@Ravens) October 15, 2019