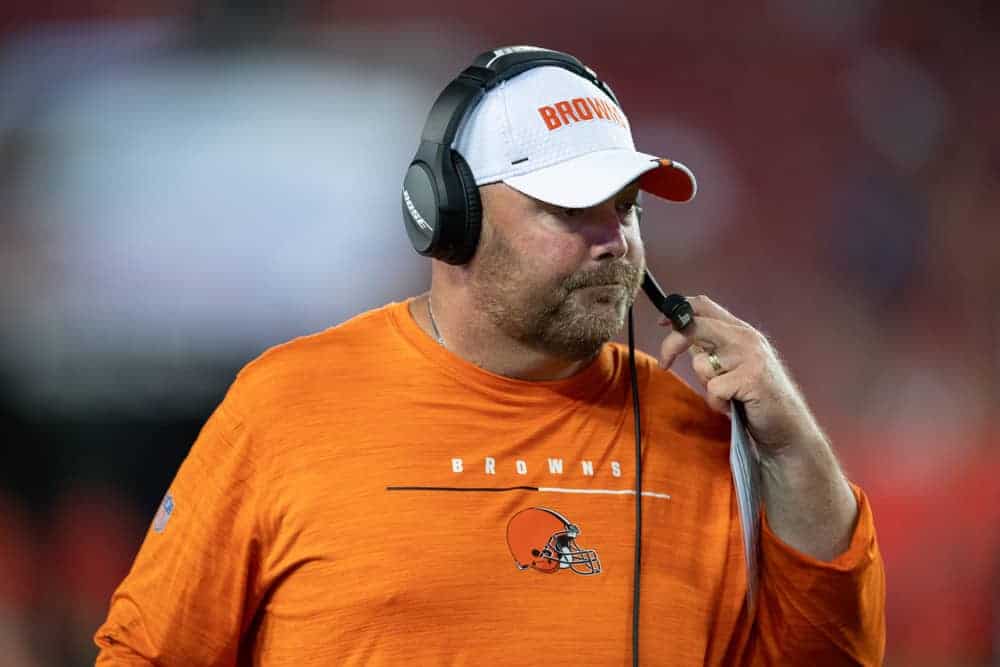 In the history of the National Football League, there have been many notable head coaches.
Not all of them are notable for the right reasons.
Some were downright awful.
Or at least, they had awful results.
Freddie Kitchens' name has recently come up among discussions of coaches like that.
It is not the worst thing in the world to be an unsuccessful NFL head coach.
It is not an easy job.
Only 32 people were considered competent enough to fill NFL head coaching positions this season.
The worst thing that can happen to an NFL head coach is to lose his team.
There are indications that this has happened to Freddie Kitchens.
Did Kitchens Ever Have a Chance?
In order to lose a team, the team had to sign on to begin with.
Most professional players will give any head coach a chance to prove himself.
But Freddie Kitchens was operating on a bubble right from the start.
When Cleveland ended last season on a 5-3 run, Gregg Williams was the toast of the locker room.
Player after player credited the discipline, direction, and drive of the interim head coach for the team's improvement.
They still talk like that about Williams.
Freddie Kitchens' name came up occasionally, but rarely ahead of Williams.
Two people pushed Kitchens as the permanent head coach.
They included quarterback Baker Mayfield and the general manager, John Dorsey.
Kitchens was the offensive coordinator when Mayfield made a run at Rookie of the Year.
Dorsey cited that role when he announced his new head coach.
Almost immediately, murmurs about who should get more credit for Mayfield's season leaked out.
Ken Zampese was the quarterback whisperer who had Mayfield's ear.
Former line coach Bob Wylie told a radio interviewer that Zampese called the third-down plays "and did most of the coaching."
What Did Kitchens' Bring to the Table?
It was John Dorsey's right to make an unpopular choice for the head coach.
It is not Freddie Kitchens' fault he was hired.
But he would need to justify Dorsey's choice rather quickly.
"Street Cred" would have helped.
Tom Coughlin was an unpopular head coach when he came to the Giants.
But he also turned an expansion team into a Super Bowl team.
He had some street cred.
Kitchens has no winning background.
He was a mid-level assistant during some less-than-stellar years at Arizona before coming to Cleveland.
Plus, his players were familiar with his work and had already formed opinions.
Creating Street Cred
Kitchens was already behind the eight-ball, but he could have turned opinions around.
He needed to create street cred.
Of course, the fastest way to do that is to win.
But even before he had the chance to win a game, Kitchens needed to take hold of his new position and let every player know he was in charge.
When the comments about Zampese made it to the press, Kitchens could have downplayed Zampese's role.
He also could have agreed that Zampese was a big part of the second-half run, and assured us the Browns had a competent staff in place for this year.
Instead, Kitchens trashed Wylie and threatened to "fire everybody" who spoke to the press about private team matters.
Early in the season, when the wins didn't come, Kitchens admitted he needs to plan better.
After another loss, he muttered something about too much "stuff".
But nothing changed.
Somewhere along the line, Kitchens came around to say players "just have to do their job."
The players need to execute the plays better.
The players needed to be more consistent in running the plays.
This week, he said his players have to win one-on-one situations
Potholes in the Street Cred
From the beginning, there was speculation Kitchens was in over his head.
Bad play calls like a fourth-and-long draw or the infamous intentional punt team penalty distract from the underlying ineffectiveness of his offense.
Game scripts are agonizingly vanilla for someone hired for his offensive prowess.
Players still have trouble getting lined up and they waste timeouts.
Executing better and more consistently won't address all the issues Kitchens needed to manage.
Penalties are only the most obvious symptom of a lack of discipline.
After Week 15, the team is still among the five most-penalized teams.
Every team has problem individuals.
We can't blame Kitchens for Jermaine Whitehead's tweets or Antonio Calloway's suspension.
But why did two players go on record with questions about why they weren't reactivated after injuries?
David Njoku was a healthy scratch last week, apparently because of a "disagreement" with Kitchens.
When Myles Garrett swung a helmet at the Steelers' Mason Rudolph, Garrett was asked about discipline.
He became perturbed.
"I don't coach that stuff. I don't coach holding or pulling on a facemask after the play because they're penalties.
"I don't coach penalties" is Kitchens' favorite response.
A Google search found five different dates when he used the phrase.
But this was the response the had heads shaking after the Garrett incident.
Freddie Kitchens: I don't know that we've struggled to remain composed this year https://t.co/PzH9ZR5ZBX

— ProFootballTalk (@ProFootballTalk) November 15, 2019
So, Has Kitchens Lost the Team?
Jarvis Landry, a veteran among young players, thought it was a good idea to make a scene on the sideline of last week's game.
It doesn't matter if the coach thinks it's no big deal.
It doesn't matter Landry says he "just wanted the ball."
It matters that players think they can get away with that kind of sideline antics.
Landry could have been suspended, fined, or even dressed down in the locker room.
Instead, we heard how the coach loves Landry's fire.
Kareem Hunt lamented that some players weren't giving 100% on every play.
Nobody argued with Hunt's assessment.
Baker Mayfield says Hunt is right to call that out because Hunt comes from a winning team and can teach the Browns how to win, too.
Is there no one else teaching this team to win?
After Ian Rapoport reported the Browns want Kitchens back as head coach next year came evidence that "the Browns" is John Dorsey.
Jimmy Haslam is rumored to be willing and ready to change coaches again.
Amid the press reports of Kitchens' pending status, there was no creativity or sense of urgency in the Cardinals game plan.
More importantly, there was no sense of urgency or respect among Kitchens' players.
There is no line of players telling reporters how much they appreciate Kitchens except Mayfield.
Damarious Randall gave a classic "no comment" when asked about Kitchens' questionable status.
No one in the locker room says it is the players' fault and the coach should get another chance.
So, to the question, "Has Freddie Kitchens lost this team?"
I reply with another question.
Did he ever really have them?