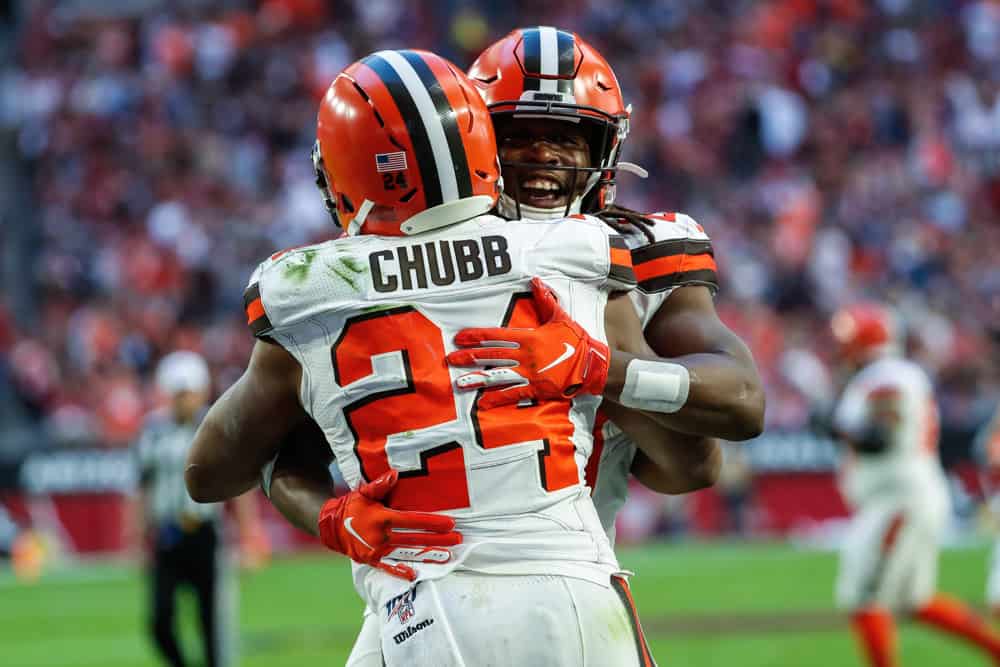 Cleveland Browns running back Nick Chubb and wide receiver Jarvis Landry got selected to the 2020 Pro Bowl.
It marks the first Pro Bowl selection for Chubb, the NFL's leading rusher.
"I am proud to be able to represent the Cleveland Browns at the Pro Bowl," Chubb said in a statement on the team's website. "This is the result of a lot of hard work and I want to thank my teammates and the fans for their support. Everybody played a part in this – our line, tight ends, the whole offense, it's not just me. I am truly honored by this, but I would trade this and any individual award for team success."
Chubb got selected to start for the AFC ahead of fellow Pro Bowl running backs Derrick Henry of the Tennessee Titans and Mark Ingram of the Baltimore Ravens.
Landry earned his fifth consecutive Pro Bowl selection, but he did not get selected to start.
"The Pro Bowl is a tremendous honor, and even though this seems like an individual award, it wouldn't have been made possible without the support and efforts of my team," Landry said in a statement of his own on the team's website. "I'm incredibly grateful to be returning for a fifth time and to represent the hard work and dedication we put in as Cleveland Browns this season. Like I said last year, it's going to be very special for me to wear the orange helmet."
.@NickChubb21 is headed to Orlando! 🌴

📰 » https://t.co/JSzwV9nzMa#ProBowl pic.twitter.com/v5ykuU0wN1

— Cleveland Browns (@Browns) December 18, 2019
.@God_Son80 is #ProBowl bound! 🌴

📰 » https://t.co/JSzwV9nzMa pic.twitter.com/X7lqjvCeDG

— Cleveland Browns (@Browns) December 18, 2019
DeAndre Hopkins of the Houston Texans, Keenan Allen of the Los Angeles Chargers and Tyreek Hill of the Kansas City Chiefs round out the AFC's receiving corps.
The Pro Bowl is scheduled for 3 p.m. ET on Jan. 26, 2020, at Camping World Stadium in Orlando, Florida.
ESPN will broadcast the game on television.
The NFL selects 88 players — 44 from each conference — to play in the Pro Bowl.
Chubb received 316,008 fan votes, the most among AFC running backs.
Fan voting accounts for one-third of the determining factors on which players make the Pro Bowl.
Coaches and players vote to make up the other portion.
As of Tuesday, Chubb leads the NFL in rushing with 1,408 yards.
Chubb's rushing total is already tied for fifth-most in Browns history.
Only Hall of Fame running back Jim Brown had higher rushing totals for the Browns.
Chubb also has eight touchdowns and is the only player in the NFL with at least 75 scrimmage yards in all 14 games this season.
Cleveland has a 4-3 record this season in games where Chubb runs for more than 100 yards.
Chubb's selection gives the Browns their first Pro Bowl running back since Leroy Hoard for his performance during the 1994 season.
However, Pro Football Reference lists Hoard as a fullback in 1994.
Before Hoard's selection, Kevin Mack was the last Browns running back to make the Pro Bowl for his performance in the 1987 season.
So far in 2019, Landry has 74 receptions for 1,018 yards and five touchdowns.
Landry leads the team in each category.
The sixth-year receiver is the first Browns player to surpass 1,000 yards receiving since Terrelle Pryor in 2015.
Landry is the first Browns wide receiver to earn consecutive Pro Bowl selections since Paul Warfield in 1969-1970.
Several alternates fill in for Pro Bowl players headed to the Super Bowl or those who are dealing with injuries.
The league named offensive guard Joel Bitonio (first), linebacker Joe Schobert, (second), Denzel Ward (fourth) and wide receiver Odell Beckham Jr. as alternates.
Last season, defensive end Myles Garrett and Ward made the Pro Bowl with Landry and Bitonio joining them as alternates.