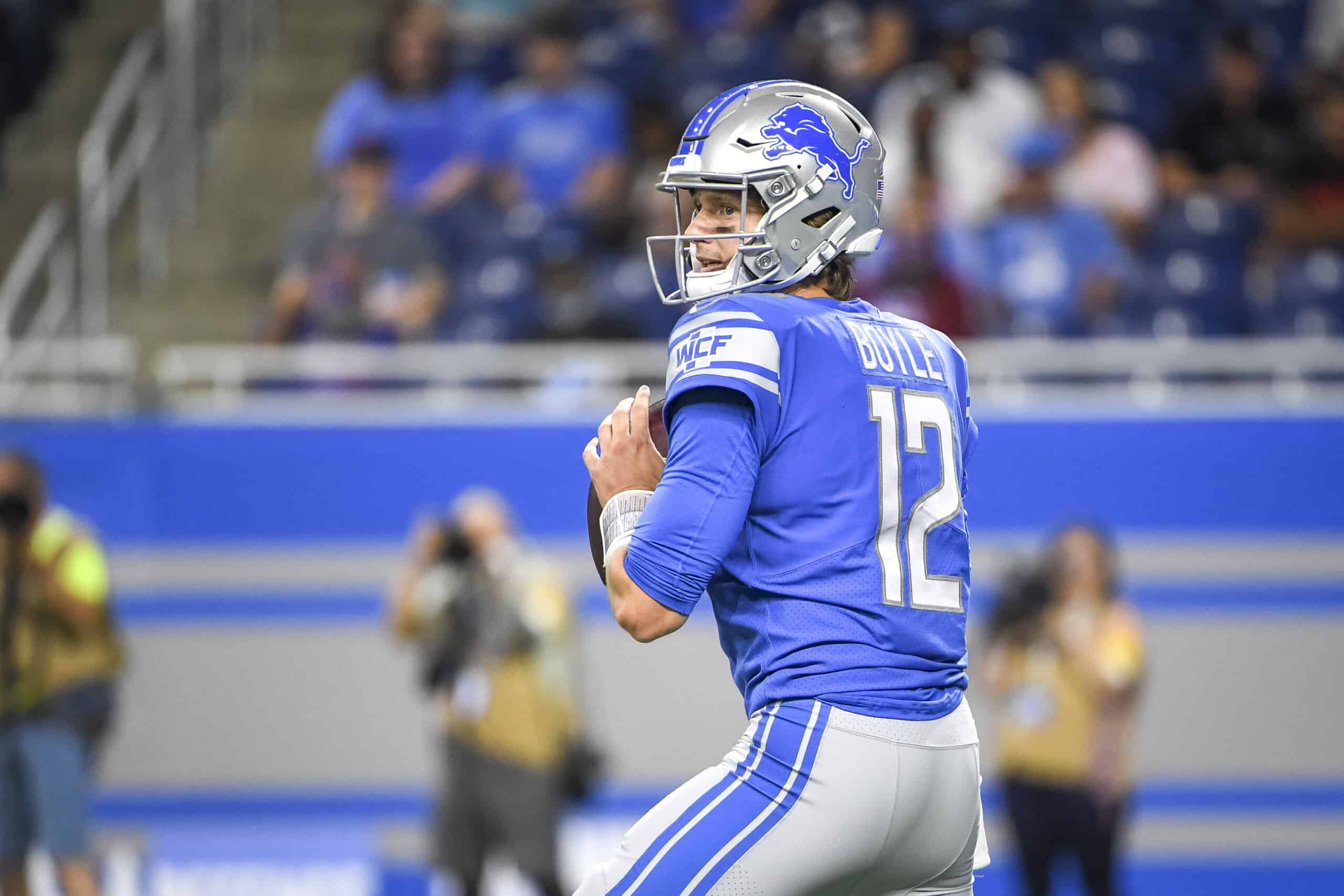 Well, things haven't gone the way of the Cleveland Browns lately.
However, they could catch a break with their upcoming matchup against the winless Detroit Lions.
As of right now, Lions' starting quarterback Jared Goff isn't practicing due to an oblique issue.
That means backup quarterback Tim Boyle could be in line to start against Cleveland on Sunday.
#Lions coach Dan Campbell tells reporters that QB Jared Goff (oblique) won't practice today. Reserve Tim Boyle, still on IR but with his window open, will take first-team reps — potentially opening the door to Boyle starting.

— Ian Rapoport (@RapSheet) November 17, 2021
This could be a huge break for the Browns who desperately need a win.
The Lions are already struggling, but starting a backup quarterback would certainly make it tough for them on Sunday.
Preparing For Tim Boyle
It's the NFL and sometimes players come out of nowhere and surprise people.
For example, the New York Jets had quarterback Mike White comes into the game and dominates in an upset victory over the Cincinnati Bengals a few weeks ago.
Since then, White has struggled and lost his job as the starting quarterback, but what he did in that single game was impressive.
#Jets QB Mike White today: 36/43, 392 passing yards, 2 TDs, 2 INTs, 100.8 passer rating

First career start vs. the No. 1 seed in the AFC and the #Jets are still in it.

— Ari Meirov (@MySportsUpdate) October 31, 2021
That being said, the Browns shouldn't go into cruise control because Boyle is in line to start.
The 27-year-old spent the first two seasons of his career as a member of the Green Bay Packers.
He was primarily a backup and only saw a handful of snaps.
However, Boyle did beat out Jordan Love for the backup spot in the preseason last year.
In 2021, Boyle signed a one-year deal worth $2.5 million to be the backup in Detroit.
What To Know About Boyle
It's tough to know what exactly to expect from Boyle, assuming he gets the start on Sunday.
Through 11 games, Boyle is 3-for-4 with 15 total yards in two professional seasons.
Clearly, the experience is lacking and Boyle wasn't exactly a star quarterback in college.
It's honestly surprising Boyle is in the NFL with how poorly he performed during his time at Connecticut.
yoooooooooo I am SO INTERESTED to see Tim Boyle play QB in an NFL game. this man finished his college career (UConn/Eastern Kentucky) with 12 TDs and 26 INTs https://t.co/TH6JIUrU6U

— Rodger Sherman (@rodger) November 17, 2021
That being said, the Browns cannot underestimate their opponent.
Boyle is in the NFL for a reason and possibly there's more to the story than just his stats.
There's still time for Goff to get cleared to play on Sunday, but it sounds like Detroit is leaning towards starting Boyle.
It's also worth noting that Goff is coming off a season-low 114 passing yards in their Week 10 tie with the Pittsburgh Steelers.
To be fair, Detroit is winless and has no incentive to try and win while they attempt to lock up the first overall pick in the upcoming draft.
Neither quarterback sounds like much of a threat to Cleveland, but the Lions have played some close games, so don't underestimate them.