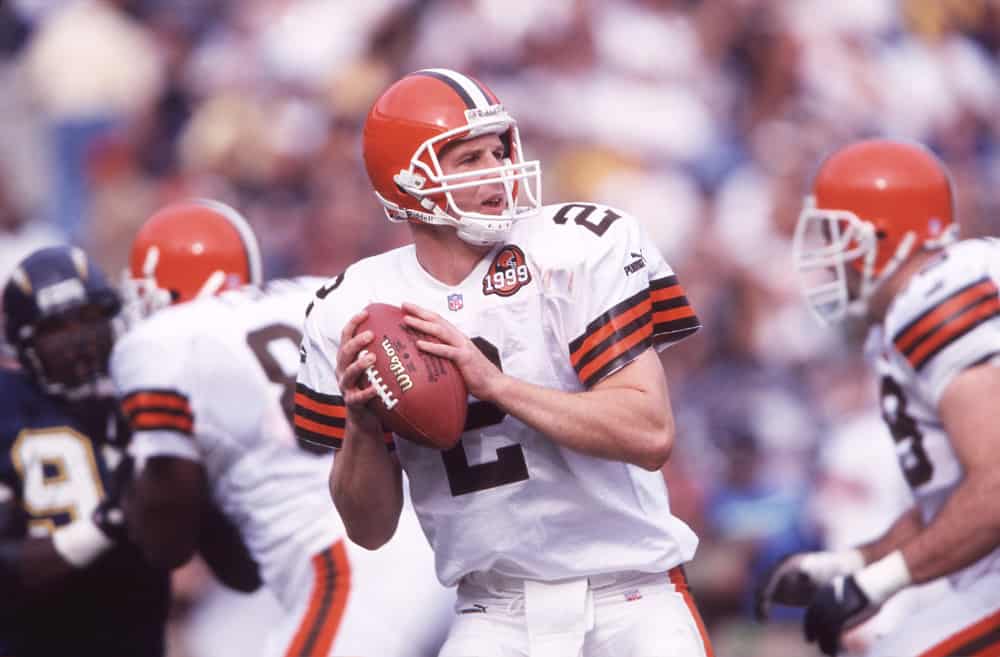 When the Cleveland Browns were reborn in 1999 they were looking to walk into the new century with fresh optimism.
At that point in time, it had been five years since their last playoff appearance.
That playoff year of 1994 marked the only time in the 1990s that Cleveland played past the final week of the regular season.
Sure, there wasn't much the organization could do about not making the 1996-98 playoffs.
The original team had been sold by former owner Art Modell to Baltimore and renamed the Ravens.
So, Cleveland was sans pro football for three years.
Looking to jump-start the new franchise and get off on the right foot, the Browns drafted Tim Couch first overall in the 1999 draft.
Couch went on to have a largely unproductive career as a pro and is widely considered a bust in the annals of pro football history.
However, looking back, one might find conflicting and alternate reasons why Couch failed to live up to the number one billing.
Couch as a Youth
Growing up, Couch was Kentucky through and through.
He was born in Hyden, Kentucky on July 31, 1977.
As a young man, he was heavily into sports, football being only one of the sports he excelled at.
As the starting quarterback at Leslie County High School, he made a name for himself for his stellar play on the field.
While at Leslie County, he set a plethora of records not only statewide but nationwide.
Among the national records he set were: most pass completions with 872, passing yardage with 12,104, touchdown passes (132), and passing percentage for a season at 75.1.
In 1995, he was awarded Kentucky's "Mr. Football" after his senior season.
ESPN got in on the accolades and named Couch the sixth-best high school athlete of all time.
Tim Couch, who would pilot the option a year later for Bill Curry, was the best KY HS QB of his generation in '95.
Here is a preview of his last high school game.
Leslie Co fell 47-12 to Highlands, the constantly harassed Couch going 17-34 for 212 yards. pic.twitter.com/LbasNEQ3xF

— Kentucky High School Sports History (@KYHSHistory) September 3, 2019
As well as Couch played on the football field, he actually loved the game of basketball more while growing up.
In 2016, he was interviewed for a story by the Kentucky High School Athletics Association.
During the interview, he talked about just how passionate he was about the sport.
"I honestly didn't like football at all until, I think, my sophomore year (at Leslie County)," he said. "I just played it because my older brother (Greg) did. My first love was basketball. I always considered myself a basketball player. That's what I wanted to play when I was young."
The KHSAA article goes on to say that Couch was picked to be on an all-star team that toured Australia even before he got to high school.
In fact, while he was still in eighth grade, Couch received a recruiting letter from then University of Minnesota basketball coach Clem Haskins.
Tim couch started on varsity basketball team as an 8th grader

— 216Diehard (@dege1966) December 24, 2019

High school records show that Couch averaged 36 points per game as a junior, tops on the team.
For his high school career, Couch scored 3,023 points.
Worth elaborating on:
Tim Couch also sits among elite Kentucky HS Basketball company in the 3,000 career point club.

— Bluegrass Basketball (@BluegrassBball) December 6, 2017

What is little known is that Couch eventually chose to attend Kentucky because he was going to play both sports.
However, it didn't pan out that way.
"…I still loved basketball, and I signed with Kentucky with every intention to play both sports," he said. "They were one of the few schools that were going to allow me to do that. Coach (Rick) Pitino told me I could walk on, and that was one of the big selling points. Florida, Tennessee, Auburn and some others said I couldn't do that.

"Once I got (to Kentucky), it just didn't work out and I stuck to football."
Although Couch showed tremendous ability on the basketball court, it was his talent on the football field that ultimately led to his future riches.
Couch Goes to Kentucky
As Couch himself mentioned in the KHSAA article, there was a lot of college interest in him coming out of high school.
He eventually took a scholarship at Kentucky, not only to play football but also with the aspiration of playing hoops as well.
Basketball didn't work out, but Couch's college football career sure did.
As a freshman under then head coach Bill Curry, Couch shared starts with Billy Jack Haskins.
When the team began 1-6 in the 1996 season, Curry was fired.
In stepped Hal Mumme and the team saw measured improvement.
Mumme was known (and continues to be known) for his style of play that is highlighted by offense.
In particular, he is fond of the "air-raid" offense that has become prevalent in today's game.
Mumme immediately made Couch his starter after taking over for Curry.  (It should be noted that a certain offensive coordinator named Mike Leach coached for Mumme during this time).
On this date in UK Football history: UK beat UofL 38-24 as Tim Couch threw for 398 yards, 4 TD vs Cards in Hal Mumme's "Air Raid" debut.

— Jeff Drummond (@JDrumUK) August 30, 2014
KSR: Throwback Thursday: Tim Couch Leads UK Past UofL in Hal Mumme's Debut https://t.co/mNS5pXUMiA #BBN pic.twitter.com/esGYU1T3x5

— UKWildcatSports (@UKWildcatSports) May 18, 2017
In 1997, Couch really began to showcase his skill set and NFL teams took notice.
During the '97 season, Couch set numerous program records and the team itself improved in the win/loss column.
Unheard of only one season prior, Kentucky was suddenly at the top of the national rankings in offense.
That year, the team surprised 20th ranked Alabama 40-34 in overtime on the way to a 5-6 overall record on the season.
The Unprecedented 1998 Season
The 1998 season was one the school, and the state, still talk about to this day.
Led by Couch, the program posted a winning record at 7-5.
The wins that year were highlighted by an upset of the number 21 LSU Tigers 39-36 in Baton Rouge.
In that game, Couch rallied the team with three touchdown passes after halftime on the way to 391 yards passing.
Even better for Wildcats nation, the win marked the first Kentucky victory over a ranked SEC opponent since 1977 (also against LSU).
Too far back Tuesday! Digging through the @WLKY library stumbled on then UK Quarterback Tim Couch in 1998 showing all the reasons why he was the number one overall pick in the 1999 NFL Draft. In 2 main seasons at UK, combined for over 8 thousand yards and 73 touchdowns. pic.twitter.com/Mt0TzGj2zs

— Fred Cowgill WLKY (@FredCowgillWLKY) July 30, 2019

Couch received SEC Offensive Player of the Week honors for his play.
Kentucky's seven wins and exciting playing style brought an appearance in the Outback Bowl after the season to play number 20 Penn State.
Though Couch had a strong performance with 336 passing yards and two touchdowns, the team lost to the Nittany Lions 26-14.
Coaches, family, and fans alike wonder today what Couch could have done if he stuck around for his senior season in 1999.
Tim Couch- Kentucky

1998 Couch had one of the greatest seasons ever by an Sec QB.

400 passes for 4,275 yards which set a SEC record for passing yards in a season and 36 TD. Also, a completion of 83 percent of his passes NCAA record against Vanderbilt.@FQKentucky @timcouchtv pic.twitter.com/U1HqvbX3Y0

— FQSEC (@FifthQuarterSEC) April 20, 2020

However, that was not meant to be when he informed the school that he would be forgoing his final year of eligibility and was entering the 1999 NFL draft.
Couch and the NCAA Record Book
For his college career, Couch finished at Kentucky with a 67% completion rate, 8,435 total passing yards (about half of which came during the '98 season) and 74 touchdowns.
He continues to hold NCAA records for completion percentage in one game (83% against Vanderbilt in 1998) and for completions per game (36.4 also during the '98 season).
Couch also holds records for most completions in a season (400 in '98), most completions in a two year period (793 in 1997-98), most completions per game during a two year period (34.7 in '97-'98), and career completion percentage (67.1).
His offensive yards output in '98 (4,151 yards) was an SEC record that stood until Florida's Tim Tebow broke it in 2007.
LSU's Joe Burrow broke Couch's SEC single-season record of 4,275 passing yards (set in '98) during the 2019 season.
Tim Couch sends congrats to Joe Burrow for breaking his single-season SEC passing record. https://t.co/pB3mb9CU3e

— John Clay (@johnclayiv) December 1, 2019

Before leaving Lexington, Couch received post-season honors including First-team All-SEC, First-team All-American, SEC Player of the Year, and Heisman Trophy finalist (4th place in balloting).
Couch's high school and college acclaim should put to rest any theory that the Browns reached when selecting him first in the '99 draft.
In fact, the consensus among many draft experts at the time agreed on Couch and Syracuse's Donovan McNabb as being the top two quarterback prospects.
Cleveland Selects Couch Instead of McNabb (and Akili Smith)
Before the start of the 1999 draft, Couch's name was at the forefront based on his staggering 1998 college season.
McNabb did not have as prolific a season as Couch in '98, completing the season with 2,134 passing yards, 22 touchdown throws, and 438 rushing yards and eight touchdowns on the ground.
However, McNabb started for four years at Syracuse and was consistent.
Meanwhile, Couch's body of work largely consisted of the '97 and '98 seasons.
McNabb's game was appealing to many NFL teams because he could create with his legs.
Nevertheless, the Browns preferred Couch's style of play more because he was the prototypical drop-back passer they coveted.
To say that Couch did not create plays with his legs in college is an understatement.
During his time at Kentucky, Couch rushed for a total of -275 yards (yes, that is a negative sign in front of the numbers).
As if to make their draft-day decision more difficult, the Browns also had interest in Oregon's Akili Smith.
In two seasons with the Ducks, Smith raised eyebrows with his performance on the field.
In the 1998 season, Smith threw for 3,763 yards, 32 touchdowns to eight INTs, and rushed for 184 yards and four scores.
Smith was also considered the stereotypical pocket passer.
It is now known that the Browns vacillated between Smith and Couch until the week before the draft.
To make their decision, the team sent a private plane full of coaches and front office personnel to Kentucky to put Couch through the paces.
Then head coach Chris Palmer later admitted that he tried to break Couch (like one would do with a horse).
Evidently, Couch passed the test.
Since the Browns were an expansion team entering the 1999 season, they had the first pick of the draft.
With that first pick, they selected Couch.
#tbt Browns draft 1999: Tim Couch and Chris Palmer (NH file) pic.twitter.com/aRbrRjiRDK

— Howard Primer (@HowardPrimer) April 28, 2016

Incidentally, McNabb was drafted second by Philadelphia and Smith was third to Cincinnati.
Quarterback was the theme early in the 99′ draft. At #1, the Browns took Kentucky's Tim Couch. The Eagles used the 2nd pick on Syracuse QB Donovan McNabb. The 3rd pick was spent by the Bengals on Oregon QB Akili Smith. At #4, the Colts took Miami RB Edgerrin James. pic.twitter.com/XeTnyKJTYM

— 80s/90s College Football (@Stephen49090103) April 25, 2020
Couch Named Browns Starter
When Couch arrived in Cleveland he immediately saw a fan base ready for a winner.
The city was beyond ecstatic for the team's return.
In addition to the '99 draft, the Browns also spent heavily on free agents.
So much optimism surrounded the team that cornerback Corey Fuller predicted the team would be the first expansion franchise to make the playoffs.
Cleveland had no plans to rush Couch into the fray.
After all, they had former Heisman winner Ty Detmer already pegged as the starter.
In the team's mind, Couch would sit for the year and learn under Detmer's tutelage.
After an opening game 43-0 beat down by Pittsburgh, that idea quickly came to an end.
Palmer turned to Couch as a starter for the remainder of the season.
A season that began with so much optimism ended in a thud.
The team won only two games that year.
One victory was courtesy of a successful Hail Mary pass against the Saints (on Halloween no less) and the second victory was a last-second kick to beat the Steelers two weeks later.
A synopsis of the '99 season for the Browns: the team lost 359 yards on Couch sacks alone.
The leading rusher for Cleveland that year, Terry Kirby, gained 452 yards total.
Couch ended up missing the final game of the season due to an ankle injury.
During an interview with Fox Sports in 2012, Couch said that the team would have benefitted in the long run if he had sat that first year.
"When I look back at that season now, I think the best thing would have been if I had sat for the year behind Ty and just learned," Couch said. "It's one thing if you're a young Ben Roethlisberger who goes to such a veteran team. You can put a young quarterback in that situation. As an expansion team … it's very similar to what happened with David Carr in Houston. It's almost impossible for a guy to go in and start right away.  I wish I had the opportunity to sit and learn that first year."
2000 Season
The 2000 season (Couch's second) began well for Cleveland.
After an opening week loss to Jacksonville, the team took down division rivals Cincinnati and Pittsburgh.
The back-to-back wins put the team at 2-1.
Alas, the good times ended quickly when the offense struggled to get on track.
Seven straight losses put the team at 2-8.
During a practice earlier in the season, Couch broke his thumb on a fairly routine play.
He had been developing well that season despite the team's record.
Couch was sitting at 1,483 yards passing and seven touchdowns when the injury occurred.
The season ended with the Browns at 3-13.
Today in 2000, Tim Couch of the Cleveland Browns on the cover of TV Guide; would finish the season 3-13. #TodayInSports @OldTakesExposed #Browns #BrownsTwitter #NFL pic.twitter.com/phexma2e21

— #TodayInSports (@TodayInSports3) September 2, 2018

Palmer was fired and University of Miami head coach Butch Davis was hired.
Couch was not happy with the decision to fire Palmer.
"It was certainly unfair," Couch said. "(Palmer) didn't have a chance. He had all those rookies, and he was a rookie coach. Everybody panicked a little bit, but they never stopped to think Chris was in a bad situation too. I hated to see him go."
2001 Season
In 2001, it looked like things were finally beginning to look up for Couch and the Browns.
The team got off to a 6-4 start and Couch was playing well.
Ravens week, October 2001 Tim Couch throws 2 TD's(Kevin Johnson, Quincy Morgan) to lead the Browns to a 24-14 victory at Cleveland #Browns⁠ ⁠ pic.twitter.com/EcWjd1vrsp

— CleWest (@erjmanlasvegas) October 3, 2018

That year marked the first (and only) time that Couch would start all 16 games in a regular season.
Unfortunately, the season came undone when Cleveland faced tough opponents in the back half of the year.
The Browns finished 7-9.
The silver lining was Couch and his 3,040 passing yards, 17 touchdowns, and near 60 percent completion percentage.
"That was the year I made it start to finish healthy," Couch said in the Fox Sports article. "I gained a lot. I believe that experience was the reason we ended up making the playoffs the next year."
2002 and the Playoffs
The 2002 season was a long-awaited coming-out party for the Browns.
Going into their bye week after Week 9, the team was 4-5.
Couch missed the first three games of the year with an injury and Kelly Holcomb started in his place.
After the bye week, things came together.
Couch was poised and playing well, leading the team to a 5-2 finish.
At 9-7, the Browns would finally return to the playoffs, eight years after making their last appearance.
The only problem was, Couch would not be under center for the team against the Steelers in the AFC Wild Card game.
In the final game of the season against Atlanta, Couch broke his tibia.
He ended up watching the Wild Card game from the sidelines as Holcomb played valiantly.
Ultimately, the team fell just short of moving on in the playoffs and lost to Pittsburgh 36-33.
The last time the Browns were in the playoffs?

The @Steelers had an EPIC 17-point comeback victory in the 2002 AFC Wild Card game. #FBF pic.twitter.com/9JuYhZORJC

— NFL Throwback (@nflthrowback) September 7, 2018

The 2002 season would mark the last time the team made
the playoffs this century.
2003 and the Beginning of the End
Going into Couch's fifth season (2003), Coach Davis decided during training camp that he had a "gut feeling" and named Holcomb the starter.
Davis' gut feeling must have been indigestion as both quarterbacks split playing time during the year.
Couch started eight games and couldn't get on track.  He ended the year with 1,319 yards passing, seven TDs, and six picks.
The team as a whole came crashing back to earth with a 5-11 record.
Couch later explained his frustration with Davis.
"We (Couch and Holcomb) were both frustrated with that situation to be honest," Couch said. "If one of us had a bad series or a bad game, he'd (Davis) pull us out. You couldn't get into any kind of rhythm."
The writing was on the wall when Cleveland signed former San Francisco quarterback Jeff Garcia on March 9, 2004.
The team cut ties with Couch soon after.
His career as a Brown was over five years after arriving with fanfare.
Moving on
Soon after being released by Cleveland, Couch was picked up by Green Bay.
Genuinely curious if anyone in the world other than my wife owns a Tim Couch Packers jersey. Maybe actual @timcouchtv? pic.twitter.com/FFf05OgzhN

— Dave (@boxdp) December 29, 2019

At the time of his signing, Couch was experiencing arm and elbow issues, but did not disclose this to the Packers.
During training camp before the 2004 season, Couch was in bed and suddenly couldn't pull up the covers.
He went to Dr. James Andrews, a noted surgeon who has operated on numerous professional athletes.
Andrews diagnosed Couch with a torn labrum, torn rotator cuff, and a torn bicep in his throwing arm.
Though Couch underwent surgery and rehab, he never again played another regular-season down in the NFL.
The Packers cut him before the '04 year began.
He tried latching on with numerous teams over the next few years, including the Bears, Bengals, Titans, Steelers, and Texans.
Each team ended up not signing Couch for various reasons.
In 2007, Couch tried contacting every NFL team to gauge their interest in signing him.
Jacksonville took a flyer and inked him to a two-year deal.
Trying to make the team as a third-string quarterback, Couch saw limited action during one pre-season game.
He was then cut by the Jags on August 18, 2007.
Couch's career as an NFL signal-caller was officially over.
Was Couch Actually a "Bust?"  Consider these Alternative Theories
Tim Couch's name is synonymous with "bust."
However, as hindsight is always 20/20, Couch's history is slowly being re-written.
Looking back, maybe things weren't what they seemed at the time.
For example, let's look back at his rookie season in 1999.
Expansion Blues…
The '99 Cleveland Browns were not a well-established team with years of roster building and a deep depth chart.
Only the Browns name and logos remained when the team left for Baltimore in 1996.
The franchise in '99 was an expansion team.
That means the roster was culled from pieces and parts of discarded players from the rest of the NFL.
These athletes were left unprotected by their former teams due to age, salary, or they were simply expendable.
The cobbled together Frankenstein that comprised the '99 Browns was a disaster waiting to happen.
One stat alone bears this out.
During that season, Couch was sacked 56 times.
That needs repeating…56 times in one season.
Tim Couch never had a second to throw the ball. Took 166 sacks in 62 games (including the THE 56 sacks his ROOKIE YEAR) True fans know that know the team ruined Couch's shoulder, but yet he is still Boo'ed today smh😒 #Browns https://t.co/yG3nksA3Vy

— Mac Blank (@BuffaloBlank) April 19, 2019

Also, in 2001 (the last time a Browns quarterback started all 16 games before Mayfield replicated the feat in 2019) Couch was sacked 51 times.
By comparison, Baker Mayfield had a rough year in 2019, even with a veteran Browns team.
In '19, Mayfield was sacked 40 times.
"A lot of guys have been placed in tough situations," Couch said in the Fox Sports interview, "but I don't think anyone's been placed in a tougher one than I was placed in. It was an expansion team and there were a lot of expectations. I embraced that. That's what I loved about the fans, and why I wanted to play there. But when it wasn't happening as fast as people wanted, things got a little tough."
Couch talked about his early years with the Browns
Lack of Firepower and Questionable Coaching…
As the new Browns began to get experience and take their lumps in those first few years, they improved and began to resemble an actual NFL team.
However, even with the success that the team had in the 2002 season, Couch still had a bumpy road.
It must be noted that, during his time with Cleveland, Couch never played with a Pro Bowler or a running back that cracked the 1,000 mark.
In fact, he only played with one 1,000 yard receiver in Kevin Johnson.
Tim Couch was an incredibly talented QB surrounded by a supporting cast you can't name without googling.

Would've been great in Philly https://t.co/ioymGffi1g

— Pete Smith (@_PeteSmith_) October 9, 2017

One could also look at the coaching situation Couch endured while with the Browns.
First, he played under a new head coach in Chris Palmer.
With the lack of pieces placed around him, Palmer was essentially a lame duck and was gone after 2000.
Then, Butch Davis entered the fray and attempted to right the ship.
However, even as Davis is given credit for guiding the team to the 2002 playoffs, he frustrated players with his decision making.
Couch cites at least two instances where Davis' choice on who to start at quarterback didn't sit well with him.
The first instance was Davis' decision to start Holcomb in 2003 after he threw for 429 yards in the '02 Wild Card loss to the Steelers.
Couch had not played in that game due to injury and he didn't think he should have been on the bench to start '03 just because of one game.
"I didn't agree with the decision," Couch said. "Kelly had a great game and I have a lot of respect for the way he played. But I felt it was still my job. Butch got a little influenced by the fans, because fans were loving Kelly after that 400-yard game. I didn't feel I had done anything to lose (the job)."
The second instance was when Davis told Couch in December of 2003 that Couch would be "his guy" moving forward.
Davis then signed Garcia in the off-season, leading to Couch's release.
Although Couch did not play for the Browns in 2004, it's fitting that Davis himself was fired by the team in December of '04 after a 3-8 start to the season.
Injuries and Concussions…
As pointed out already, Couch was subject to numerous injuries during his time in Cleveland, some of which were never mentioned.
The public now knows about the injuries he sustained during his playing career as well as the injuries that ended his career.
Then there were the concussions, and even Couch doesn't know how many he had during his time as an athlete.
Tim Couch: "My only regret was all of the injuries. Every time I felt like we got it going, I got injured." #Browns

— Turner Maney (@turnermaney) September 21, 2016

For example, early in the '02 season, before the team's drive to the playoffs, Couch went down during a game against Baltimore.
As he left the field with a concussion, the Browns faithful cheered his departure as well as the arrival of Holcomb.
The fans' reaction stung as Couch was leaving it all out on the field.
"I don't know how many concussions I had," Couch said in the book "The Browns Blues" by Terry Pluto. "I know there were one or two in high school. I had a couple in college. I don't even remember the concussion from the Baltimore game. The last thing I remember was a snap going over my head and I'm going into the end zone to get the ball. I don't remember anything else."
By the end of his fifth season, Couch was literally broken.
He had multiple concussions, a broken leg, broken thumb and broken ribs.
He was discarded without ever getting a sustained opportunity to prove his value to the Browns.
When he was given a chance, he thrived especially in 2002.
Today, numerous NFL people adamantly deny Couch's "bust" moniker, citing many of the reasons mentioned.
It's also difficult hearing Couch's name alongside actual busts such as Ryan Leaf, Jamarcus Russell, or even Akili Smith.
None of those players ever took their teams to the playoffs.
It should also be pointed out that neither Leaf, Russell, or Smith played as long as Couch did.
For his part, Couch still bristles when he hears people refer to his career negatively.
"If people say it was a disappointment, I can understand that. I was hurt every year. I was on a bad team. I didn't feel like I could show Cleveland what I was capable of doing. I wanted nothing more than to bring that city a championship, and that still burns."
Couch Today
After retiring from the NFL, Couch's life came full circle as he returned to live in Lexington, Kentucky.
He married model Heather Kozar in 2005 and the couple have two sons.
Couch was a football broadcaster for five years with Fox Sports South.
Currently, he and his brother are part owners of a wealth management company based in Lexington.
Life is good.
And, it might be surprising to know that he roots for Cleveland, despite how his career ended there.
21 years ago, 4/17/99, at the NFL Draft
Tagliabue: "With the first pick in the 1999 Draft, the Cleveland Browns' selection is from the University of Kentucky, quarterback Tim Couch." Fans got – 2 Hail Mary's, a playoff appearance (2002), and a good dude that loves the #Browns! pic.twitter.com/cNjmMG2oOQ

— Ed_in_Columbus (@ed_in_columbus) April 17, 2020
"I love the Browns," Couch said in an interview with Cleveland.com in 2019.  "They will always be my team. When I run into Browns fans, they are so great to me.  I thought I could make it work there. I loved my time in Cleveland, I was proud to be a Brown and I still pull for them."