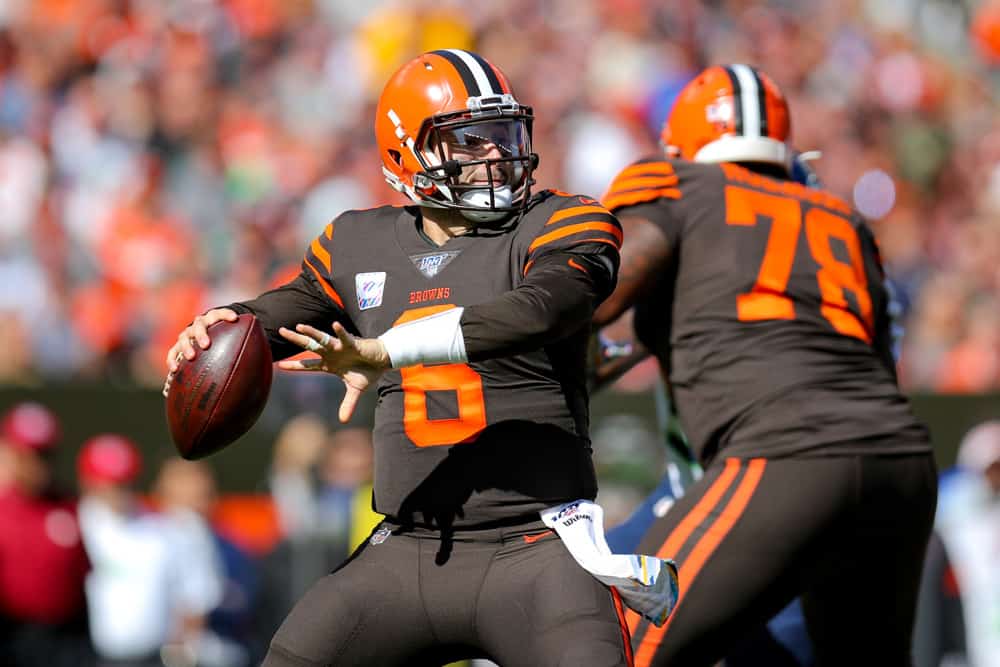 Cleveland Browns wide receiver Odell Beckham Jr. appeared in all 16 games last season for the first time since 2016.
Beckham, 27, played through a sports hernia injury, which he had surgery on in January.
In a podcast with Dan Menningen on 92.3 The Fan, Associated Press sports writer Tom Withers gave Beckham "credit" for playing through the injury.
However, Withers believes "the clock is ticking" for Beckham's time with the Browns and questioned the receiver's connection with quarterback Baker Mayfield.
"His inability to practice last year I think has a lot to do with Baker's regression," Withers said. "From what I understand, there was only three or four live snaps that he was available for on a Friday of a game week.

"[It's] very tough to have your top target not on the field with your quarterback, and then expect him to go out on a Sunday or a Monday or a Thursday night or whatever the case may be, and have that immediate connection."
Last season, Beckham had 74 receptions on 133 targets for 1,035 yards and four touchdowns.
When targeting Beckham, Mayfield's 55.6 completion percentage and his 69.0 passer rating ranked last among 30 quarterback-receiver duos with at least 100 targets.
Mayfield and Beckham's four touchdowns and seven interceptions ranked 29th among the group of 30.
Withers also said "I very much doubt" Beckham shows up for the Browns minicamp and OTAs under new head coach Kevin Stefanski.
"With the Beckham situation still being fluid in my mind — only because of everything that transpired last year and some of the things we found out about now in the offseason, in terms of his availability, I know he was hurt most of last year, the continued kind of orbit that is Odell, and the continuous drama that surrounds him whether it's perpetuated by him or by others — it's something that the Browns are still going to have to work through," Withers said. "Especially with Stefanski and [Andrew] Berry and the newness of it all, and you have to hope it works out because you have yet to see Odell Beckham really put together a game or two in a Browns uniform. You gotta hope that day is coming as well."
In January, Beckham made headlines for handing LSU players cash on the field after the College Football Playoff title game and for slapping a security officer in the butt during the locker room celebration.
Last offseason, Beckham appeared at one of the Browns' nine OTAs, which are optional for players.
Withers said the Browns should hope Mayfield and Beckham spend time together in the offseason.
"He's so good. I tell people this all the time, Dan," Withers said of Beckham. "When you watch an NFL practice, and those are as elite athletes as you're going to find on the planet, and when somebody stands out because of their speed and their ability to break on the ball, it's very noticeable.

"And when you watch Beckham, you kind of nod your head and say, 'Okay, now I get it. I see what it's all about.' Unfortunately, we saw very few moments of that last year in practices or in games where he was just full throttle."
Beckham is owed an average of $18 million per year through the 2023 season.
Earlier this week, Fox Sports Radio host Colin Cowherd suggested the Browns should trade Beckham as soon as possible.
The Browns also have a potential out with Beckham in 2020.