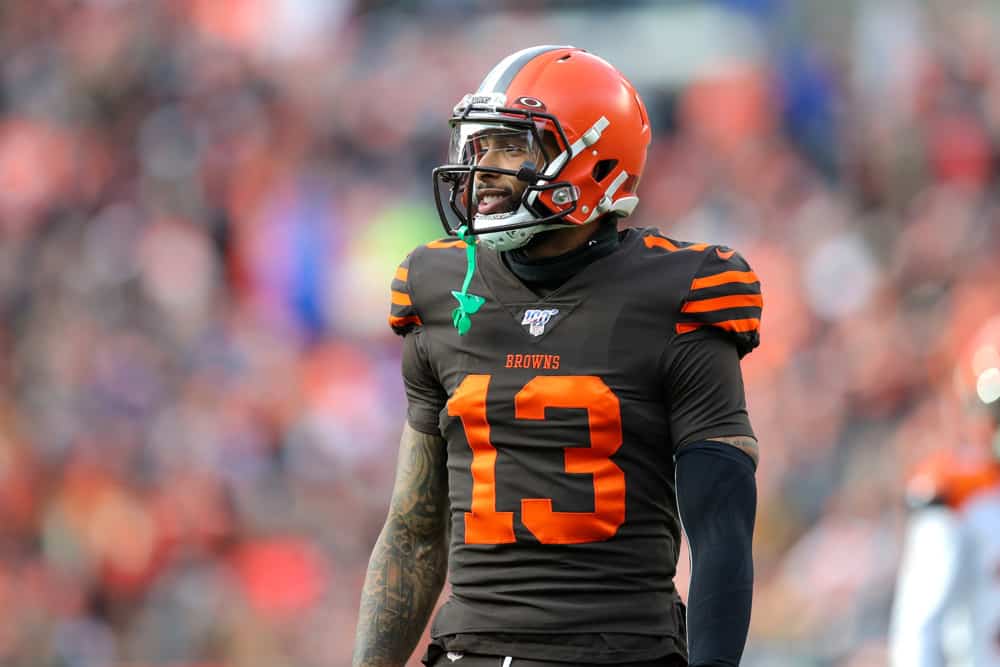 Sports radio host Colin Cowherd thinks the Cleveland Browns need to trade wide receiver Odell Beckham Jr. as soon as possible.
During Tuesday's edition of "The Herd with Colin Cowherd," the Fox Sports Radio host said he does not think Beckham is a good "fit" in Cleveland.
"If you go look at Baker Mayfield's targets of Odell Beckham last year, Baker was awful," Cowherd said. "He felt like he had to force the ball to him. He only completed [55.6] percent of his throws when targeting Odell; last in the NFL."
Baker Mayfield completed 55.6% of his throwing while targeting Odell Beckham Jr last season — Last in the NFL. @ColinCowherd on why the Browns should move on from OBJ: pic.twitter.com/XqJjdQZ8W5

— Herd w/Colin Cowherd (@TheHerd) March 3, 2020
In 2019, Mayfield threw four touchdowns and seven interceptions when targeting Beckham, which ranked 29th out of 30 quarterback-receiver duos with at least 100 targets.
When targeting Beckham, Mayfield's passer rating of 69.0 also ranked last among the 30 duos.
"This doesn't work for Baker and it doesn't work for Odell," Cowherd said.
Cowherd suggested Beckham would be a "home run" for teams with "structure," including the Green Bay Packers, Seattle Seahawks, New England Patriots or the Philadelphia Eagles.
"Odell Beckham is not AB. He's not Antonio Brown," Cowherd said. "He is coachable. He is in the right system entirely dependable. He's proven to be — when structure is around — a very good teammate; a little needy for my taste, but you know I'm older, he's younger. It's a generational thing.

"This is not a player we should bail on. It is a player Cleveland should move off of. They do not have the requisite structure for a young man that needs it to flourish."
Beckham had core-muscle surgery last month, and he made headlines by handing LSU players cash in the aftermath of the College Football Playoff title game.
Cowherd suggested the Browns could trade Beckham for a draft pick or an offensive lineman.
"Cleveland doesn't need another star receiver," Cowherd said, referring to the team's offensive skill position players such as Nick Chubb, Kareem Hunt, Jarvis Landry and David Njoku.
Beckham is owed an average of $18 million per year through the 2023 season.
However, the Browns have a potential out with Beckham in 2020.
Cowherd pointed out how Beckham "thrived" at LSU with upperclassman quarterback Zach Mettenberger and with the New York Giants alongside quarterback Eli Manning.
"When I say structure do you think of the Cleveland Browns?" Cowherd asked.
The Browns have the longest active postseason drought in the NFL, having last made the playoffs during the 2002 season.
"Then he goes to Cleveland, last year, a mess. Now, Cleveland has another new coach and another GM and now an impulsive owner remains, and a quarterback in Baker that himself can be highly, highly chaotic," Cowherd said. "This is a bad fit."
The Browns enter the 2020 season with first-time head coach Kevin Stefanski and first-time general manager Andrew Berry.