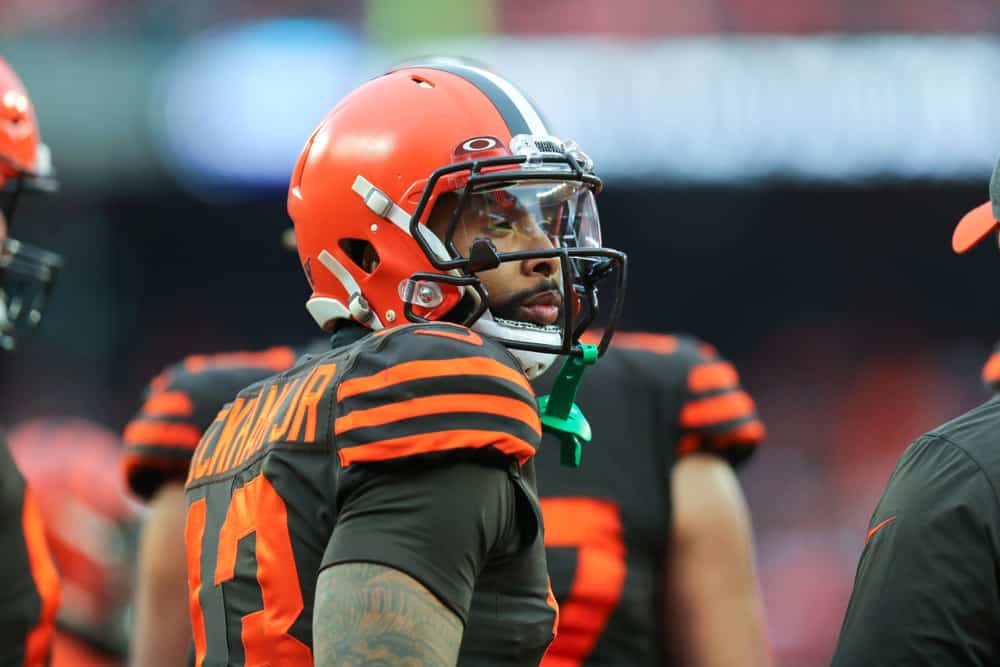 An athlete's brand is his athletic excellence.
It's something Odell Beckham Jr. does not seem to understand because wherever he goes, drama flows.
If all had gone according to plan this past season, we would be reading headlines about how Beckham is preparing for next weekend's Pro Bowl in Orlando.
Instead, Cleveland Browns fans get to read about OBJ's shenanigans during the aftermath of LSU's victory over Clemson in the College Football Playoff title.
It includes Beckham slapping a police officer in the butt during the locker room celebration, deliberately handing LSU players cash on the field in front of cameras, trying to tell the LSU band what songs to play, vowing to sell LSU receiver Justin Jefferson's cleats for $200,000 on Instagram, interrupting coach Ed Orgeron's postgame speech and dancing in the locker room with the players.
The New Orleans police officer who Beckham slapped has decided not to press charges, unnamed sources told NOLA.com.
Sources told CBS that LSU is also unlikely to face penalties from the NCAA after video shows Beckham giving cash to junior wide receivers Justin Jefferson and Jontre Kirklin.
It's a relief for LSU considering the school suspended basketball coach Will Wade last March after an FBI wiretap found he discussed an offer to a recruit with a convicted middle man.
LSU initially said the money wasn't real, which would have been even weirder because it would have meant Beckham was carrying around wads of fake cash.
Quarterback Joe Burrow — considered the favorite to become the first overall pick of the 2020 NFL Draft — confirmed the money was real on Barstool Sports' "Pardon My Take."
Some people defending Beckham are trying to spin his behavior into a debate about the hypocrisy of the NCAA, arguing college student-athletes deserve to get paid.
That's a separate debate.
This is about Beckham putting his beloved alma mater and the underclassmen players in an awkward situation.
There's nothing stopping Beckham from giving the LSU players money in a discrete way away from the cameras.
Plus, he has already gifted each LSU player a pair of Beats 3 wireless headphones.
.@obj sent the @LSUfootball Tigers new Beats headphones — with a message. pic.twitter.com/bEs5PJcPJd

— Marty Smith (@MartySmithESPN) January 9, 2020
If Beckham were that passionate about paying college athletes, wouldn't he would want them to keep the money he's gifting them?
Did Beckham really believe that handing stacks of cash to players in front of the media members and their cameras wouldn't turn into a story?
Beckham deliberately tried to steal the limelight from his alma mater, where he has not played since 2013.
It means not a single LSU player — most of who are in their late teens and early 20s — was one of Beckham's college teammates.
Beckham is 27 years old and should know better because he acted as if he had just won the national championship.
The only substantial outcome from OBJ's sophomoric behavior is College Football Playoff officials will review who is permitted on the sidelines during the national semifinals and championship games.
Football fans and the Browns organization should question OBJ's poor decision making, especially considering Kevin Stefanski marks Baker Mayfield's fourth coach in three seasons.
The Browns have a small margin for error moving forward considering the talent on their roster.
The best NFL organizations tend to have stability.
Six active NFL coaches were hired by their current teams in 2010 or earlier.

All but Jason Garrett have won Super Bowl titles. pic.twitter.com/puTE3WzGcl

— ESPN Stats & Info (@ESPNStatsInfo) January 3, 2020
Remember, this should be the honeymoon phase for Cleveland fans considering the team was the preseason favorite to win the AFC North in 2019.
Odds to win the AFC North (Bovada):@Browns +120@steelers +195@Ravens +295@Bengals +1500

— Odds Shark (@OddsShark) August 13, 2019
A nagging groin injury contributed to Beckham's slip in production this past season.
It's not entirely on Beckham, but his NFL teams have not won anything substantial.
The New York Giants lost a Wild Card game — Beckham's lone postseason appearance — to the Green Bay Packers in January 2017.
For as many headlines as Beckham's production or lack thereof make, his teams have a 9-17 record in games where he has at least 100 yards receiving.
The Browns should see if other teams would want to trade for Beckham, who is due to make an average of $18 million each year through the 2023 season.
If the Browns can't find a suitable trade, they have a potential out with him in 2020.
How much does Beckham's on-field production outweigh his erratic behavior?
Whoever the Browns decide to hire as general manager will have to evaluate how much Beckham really helps the team.
The Browns are looking to make the playoffs next season for the first time since 2002, which is the longest active playoff drought in the NFL and the second-longest in North American professional sports.