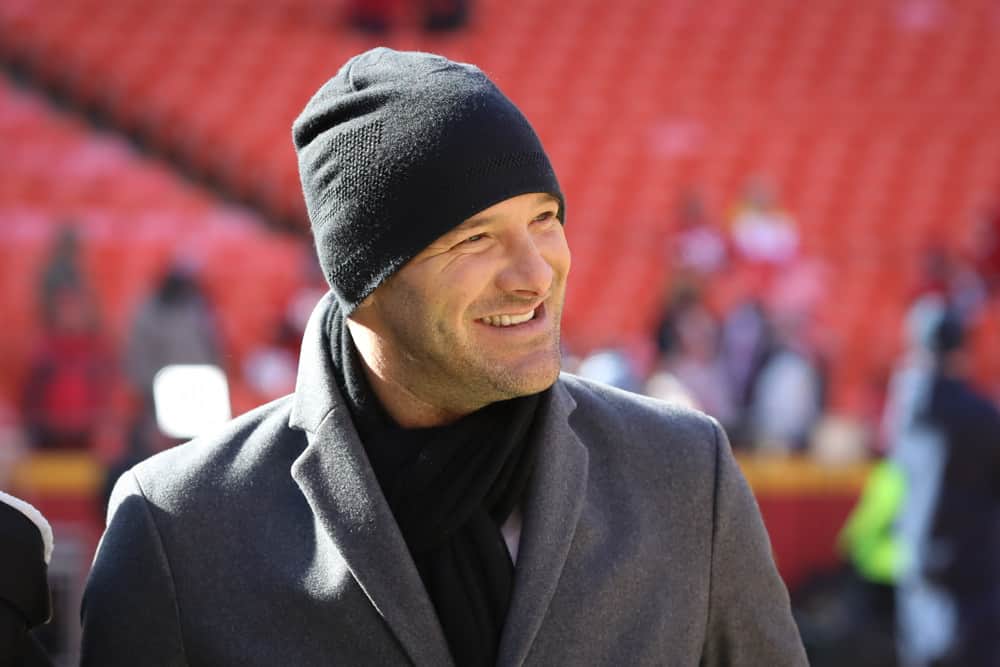 In March of 2019, the Cleveland Browns made a blockbuster trade and acquired three-time Pro Bowl wide receiver Odell Beckham Jr. from the New York Giants.
The Browns gave up quite a lot in order to acquire Beckham from the Giants.
One of the players Cleveland gave up was right guard Kevin Zeitler.
The two Browns – Giants trades:

Odell Beckham Jr
Olivier Vernon

In exchange for:

1st round pick #17
3rd round pick #95
Kevin Zeitler
Jabrill Peppers

— Andrew Siciliano (@AndrewSiciliano) March 13, 2019
According to a report by Marla Ridenour of the Akron Beacon Journal, CBS sports analyst Tony Romo believes that part of Baker Mayfield's regression was due to the fact that the Browns traded Zeitler.
"When you look back that wasn't probably what they should have done, but you don't realize because you're trying to upgrade other positions. So they get rid of the right guard who was really good, they send him to the Giants," said Romo. "That right there I was like, 'Umm.' I didn't love that because that quarterback played at a certain tempo. And when you play at a certain tempo, you start to read the field a certain way game in and game out. And when you lose a really good player up front, that tempo, all of a sudden …"

"At the quarterback position, you don't know anything when you're coming in. Almost any position, really, you're just playing football. But if you don't really know anything and you have success, your offensive line gives you that extra one second, maybe a second and a half or two to get to that last read or two and you all of a sudden start to think, 'Oh, this is the NFL.'"
The Browns received defensive end Olivier Vernon in the deal as well, but struggled to find a reliable replacement at right guard.
Mayfield's 2019 Season
The expectations were fairly high for Mayfield after his record-setting rookie campaign.
Sadly, Mayfield was not able to replicate the success, throwing 22 touchdowns and 21 interceptions during the 2019 season.
The Browns went 6-10 and missed the playoffs for the 17th year in a row.
"What happens very quickly is if you have success, a lot of the times I've found you have a really good offensive line," said Romo.
Cleveland was never able to find a good replacement after trading Zeitler.
The Browns tried Eric Kush, but he struggled heavily and was benched for Wyatt Teller.
While Teller isn't bad, he is not on the same level as a guy like Zeitler.
The lack of a reliable offensive line led to Mayfield being sacked 40 times in 2019.
That is quite an increase considering Mayfield was only sacked 25 times during his rookie season.
Moving one player from the offensive line did make a fairly significant impact to Mayfield.
Will The 2020 Season Be Better?
The Browns made it a mission this offseason to improve the offensive line for the 2020 campaign.
They went out and signed highly coveted right tackle Jack Conklin to a three-year deal.
#Browns new RT Jack Conklin passes his physical and signs his 3-year, $42 million contract

— Mary Kay Cabot (@MaryKayCabot) March 20, 2020
Conklin is not a Pro Bowl caliber tackle, but he's an upgrade and a fairly trustworthy option.
Signing him was a strong start to the offseason, but the Browns weren't done there.
They used the 10th overall selection in the draft to select Alabama tackle Jedrick Wills.
He spent a majority of his time at right tackle while in college, but will make the switch to left tackle in Cleveland.
The Browns feel confident that Wills can do it and he's already been named the starting left tackle for Week 1 versus the Baltimore Ravens.
Cleveland doesn't have the best offensive line in the league, but they've major steps in the right direction over the offseason.
Hopefully, Mayfield will be able to bounce back with an improved offensive line guarding him.
"If you have a good offensive line at a young age it's hard because you think that's normal. And if you lose it, it gets really difficult. But then you have to adjust yourself. I think Baker has the ability to do that," said Romo.