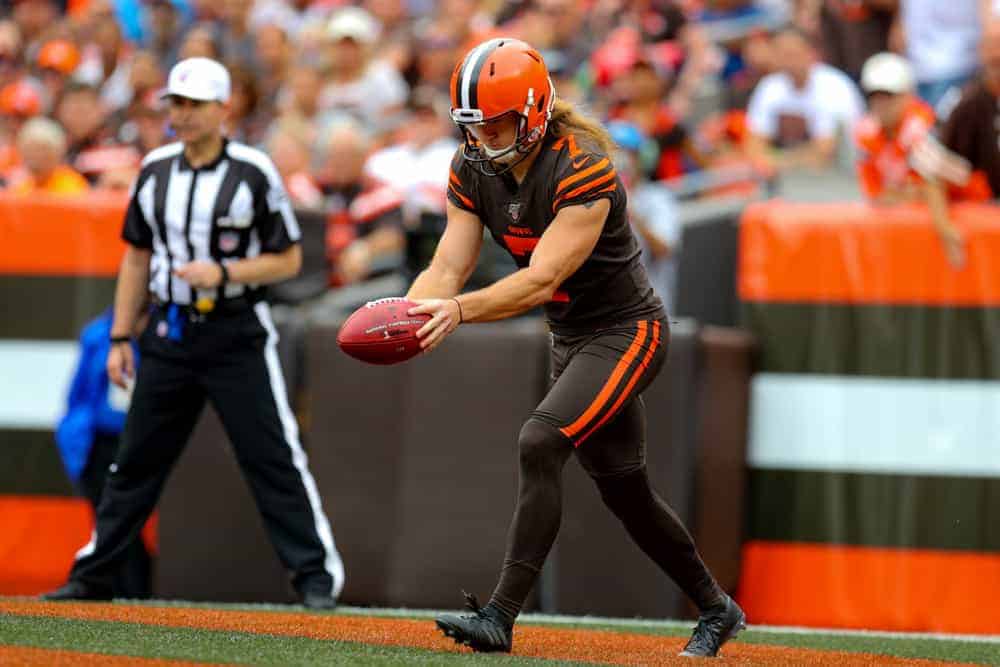 Cleveland Browns punter Jamie Gillan had plenty of experiences in his first season in Cleveland.
However, punting in the snow was not one of them.
But, there will surely be a time that he will be asked to punt in the snow playing in Cleveland.
Gillan has plans to be prepared and posted Twitter footage of himself practicing punts in a snow-covered park in the Tremont Neighborhood.
"Heard it snows in the playoffs," Gillain posted as a caption. "Figured I should prepare."
Heard it snows in the playoffs.. figured I should prepare #tremont #browns pic.twitter.com/eNGQ5Q0qIM

— Jamie Gillan (@ScottishHammer7) February 28, 2020
A Breakout 2020
Gillan signed as an undrafted free agent in 2019.
Known as "The Scottish Hammer," Gillan tallied 63 punts for 46.2 yards per punt, including a long punt of 71 yards.
Gillan joined kicker Austin Seibert on the PFWA's All-Rookie Team.
He was also named the AFC's Special Teams Player of the Week after Week 2.
Austin Seibert and @ScottishHammer7 have been named to PFWA's 2019 All-Rookie Team

📰 » https://t.co/A0GrHlkrLM pic.twitter.com/9PY6rFcpPt

— Cleveland Browns (@Browns) January 16, 2020
Why is this month's HBCU Combine so important?

Remember last year when Scottish HBCU (Arkansas-Pine Bluff) Punter Jamie Gillan went undrafted & beat out 10-year vet Britton Colquitt and averaged 46 YPP for the Browns this year? #DraftHBCUPlayers pic.twitter.com/AS9Cr03GoL

— Maliik 🏁🇳🇬 (@Obee1ne) March 5, 2020
Offseason Kicker's To-Do List
Both kickers in Gillan and Austin Seibert surprised the Browns special teams in 2019.
For Seibert, his extra point consistency needs to get better.
He missed five extra-point attempts last year.
With that being said, he also needs to work on his range and being able to kick field goals over 40 yards.
As for Gillan, he shows hope as a young punter overall after playing rugby before college.
Since he is not a true punter, he can continue to develop his craft to become a better punter.
.@UAPBLionsRoar kicker Jamie Gillan was named first-team preseason all-SWAC. Here was our #BeyondTheGame story on this Scottish rugby player turned NFL Draft hopeful:https://t.co/OOd2ytyt3D

— Kyle Deckelbaum (@KATVKyle) July 13, 2018
More Consistency
To reiterate Gillan's offseason plans, Brown's special teams coordinator Mike Priefer stressed consistency for both of his kickers.
"They did so many good things, there's a reason why they made our football team, there's a reason why they won those jobs," he said, via Dan Labbe of cleveland.com, "but if you're not going to be more consistent, then we have to start making our list and looking elsewhere."
Priefer does not sugar coat anything.
He said last season that he did not believe Gillan was a Pro Bowl punter.
Since being retained, it's not surprising to hammer home his goals of wanting a more consistent, stronger, and better kicker.
"Some of the things that maybe — not allowed to happen — but we didn't get on them as much, maybe hitting a subpar punt, missing a PAT and that sort of thing which are obviously unacceptable," he said, "we've got to make sure that stuff doesn't happen again."
In the end, the coach knows there is talent there.
#Browns Mike Priefer said he stressed to K Austin Seibert and P Jamie Gillan that they have to push themselves to be more consistent going forward. "They have the talent."

— Fred Greetham (@FredGreetham) February 19, 2020
Final Thoughts
As long as Gillan is getting some practice in, who is concerned, right?
In all seriousness, it's nice to see the 22-year old lighten up.
After being named to the all-rookie team, expect Gillan to take the next steps.
His coaches believe he can progress, so he likely does as well.