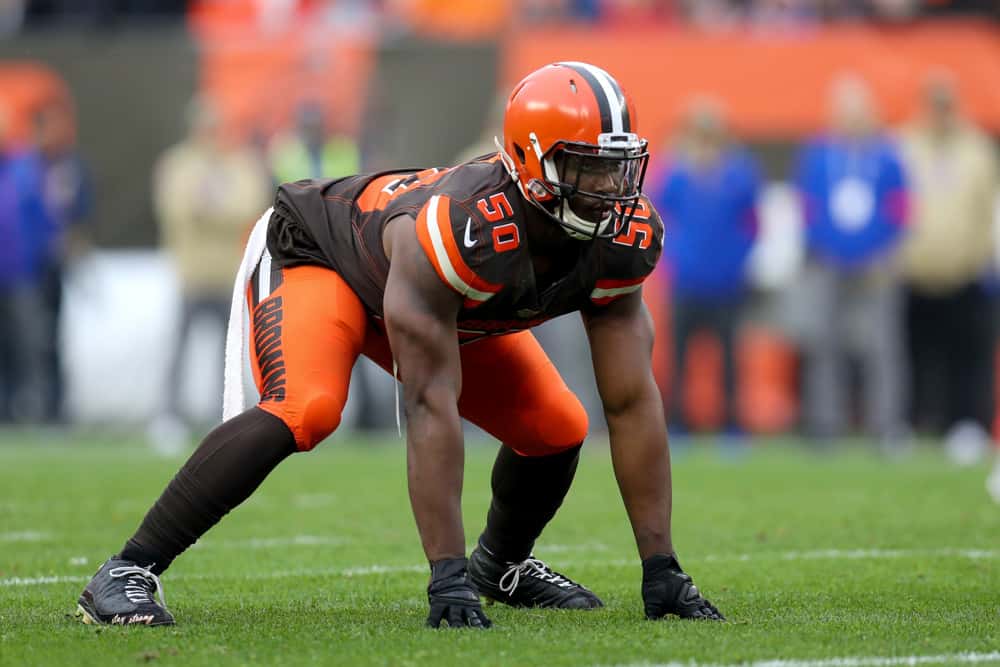 Former Cleveland Browns defensive lineman Chris Smith is set to sign a one-year deal with the Carolina Panthers, according to ESPN NFL reporter Adam Schefter.
Smith was born in Salisbury, North Carolina, and attended West Rowan High School in Mount Ulla, North Carolina.
The Browns released Smith in December.
Former Browns' DL Chris Smith is signing a 1-year deal with his hometown team, the Panthers, per source. Good for him. Smith's girlfriend and the mother of one of his children was killed in September after being struck by a passing car after exiting Smith's car.

— Adam Schefter (@AdamSchefter) March 5, 2020
Smith, 28, joined the Browns in 2018 and played in all 16 games that year.
Smith's girlfriend, Petara Cordero, was struck and killed by a car on Sept. 11, 2019, on Interstate 90 in Cleveland.
The couple's daughter, Haven Harris Smith, was born four weeks before the crash.
Smith played the following Monday night in a win over the New York Jets on Sept. 16, 2019.
After the game, here is what Smith told reporters:
"When it first happened, I'm not going to lie, I was ready to give up, kind of like throw in the towel, retire. I had to just think about my daughter. [Cordero] would want me to play, and [Coach] Freddie [Kitchens] doesn't realize this, but he said this in a team meeting: 'When we go off emotion, we make wrong decisions. We've got to go off our passion.' So I've got to play for her. She's my why. My daughter's my why. My other two kids are, too. For my youngest, I've got to be mom and dad."
Browns DL Chris Smith mustered the strength to play and to address the media following the passing of his girlfriend, Petara Cordero. pic.twitter.com/5xLAcEnKYy

— clevelanddotcom (@clevelanddotcom) September 17, 2019
When speaking to media members, former Browns coach Freddie Kitchens offered his support for Smith and his family the day after the crash.
"We're going to support Chris," Kitchens said. "I know it's a long-winded answer, but Chris is on my mind. His family is on my mind. Her family is on my mind. The four-week-old baby is on my mind. So, it's a difficult time, but we're going to get through it."
"We're going to get through it. I promise you that. But we're going to get through it together." – HC Freddie Kitchens on DE Chris Smith 🧡 pic.twitter.com/Ixk7hAxavw

— Cleveland Browns (@Browns) September 12, 2019
In two seasons, Smith played in 25 games for the Browns.
Last season, Smith played in nine games, had one tackle, and one pass deflection.
In 2018, he registered 21 tackles, including four tackles for a loss, two quarterback hits, and a sack.
Smith played for the Cincinnati Bengals in 2017.
The Jacksonville Jaguars selected Smith with the 159th overall pick in the fifth round of the 2014 NFL Draft out of Arkansas.
Smith played for the Jaguars from 2014-2016.
During his six-year NFL career, Smith has registered 67 total tackles, 8.5 sacks, and three forced fumbles.
The Panthers had a 5-11 record in 2019 and missed the playoffs for the second consecutive year.
NFL free agency officially gets underway at 4 p.m. ET Wednesday, March 18.