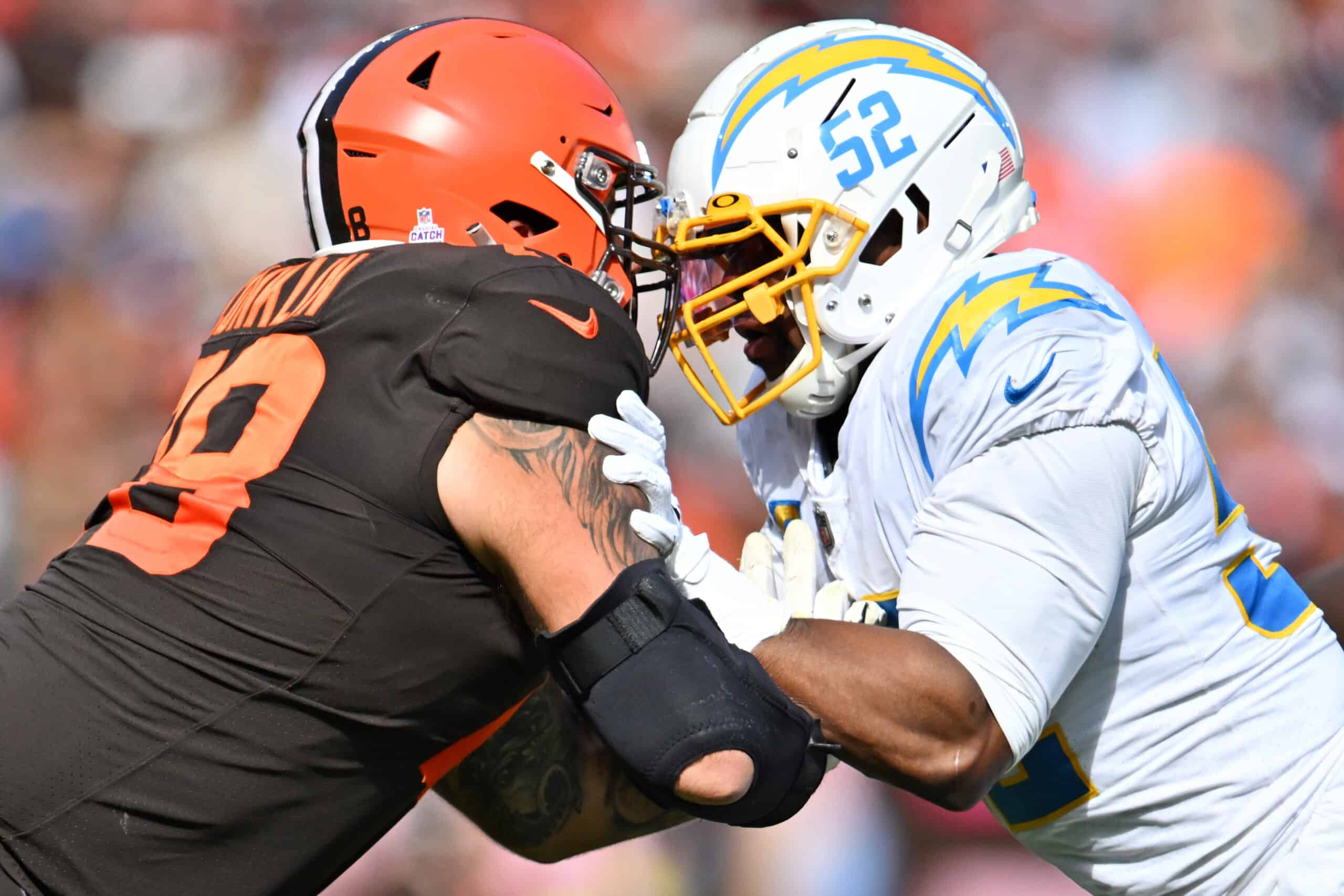 Andrew Berry surprised many Cleveland Browns fans by re-signing right tackle Jack Conklin.
Conklin reworked his contract after an injury-shortened 2021 season and could have been a free agent after the season.
But now he is signed through the 2026 season, thanks to the 4-year, $60 million deal.
Cleveland guarantees $31 million of the deal, which sounds like a generous offer for Conklin.
We've officially signed Jack Conklin to a four-year contract extension 🙌@Jack_Conklin78 | #Browns

— Cleveland Browns (@Browns) December 26, 2022
There is little doubt, however, that he could have earned considerably more on the open market.
The former All-Pro started 12 straight games since his return from knee surgery.
Prior to that torn patellar tendon, Conklin never played fewer than 90% of his team's offensive snaps.
And as he works his way back to full strength, he ranks 10th in pass rush win rate and 25th in run blocking.
Can The Browns Afford Conklin? 
Much of the narrative surrounding the Cleveland Browns infers a salary cap crisis related to Deshaun Watson's massive contract.
Berry's signing of Conklin challenges those assertions, even if it doesn't put them to bed.
With new deals forthcoming from Google, NFL expansion into Germany, and other ventures, the cap is sure to rise.
Conklin's re-worked contract would have resulted in a $6 million dead cap hit next year if he left in free agency.
Jack Conklin shares his decision in signing a 4-year contract extension with the #Browns#NFL pic.twitter.com/bU3UJSmM0Q

— BrownsNation.com (@BrownsNationcom) December 27, 2022
While details are yet to come out, that money is likely included in a 2023 signing bonus.
And that signing bonus allows for a low- possibly minimum salary in the same season.
It might be pushing the can down the road, but the deal [probably improves the Browns' 2023 salary cap position.
With more cap space available in 2025, Berry could defer the bulk of Conklin's deal into the 3rd and 4th years.
Is Conklin Worth It? 
Nowhere is continuity more important than across the offensive line.
Making Conklin one of the "permanent" pieces, along with guards Joel Bitonio and Wyatt Teller, makes the Browns better.
Kevin Stefanski is pleased with the progress of second-year player James Hudson.
But there is a big decision coming on left tackle Jedrick Wills regarding an extension and/or 5th-year option.
Jack Conklin is back, baby. Watch that double to LB climb on this counter with a 🥞 finish. #Browns pic.twitter.com/WY7IoVAdun

— Jake Burns (@jake_burns18) September 24, 2022
Locking up Conklin makes Hudson a consideration in resolving the opposite tackle position.
At the very least, the young player can be a more affordable swing tackle in lieu of free agent Chris Hubbard.
Conklin's deal could settle Cleveland's plans at center, and whether they include Ethan Pocic or not.
Pocic is another player who could command more dollars in free agency than Cleveland is willing to pay.
Was Signing Conklin The Right Move? 
When the Browns released JC Tretter, it was regarded as a sign they were willing to go young along the offensive line.
Or maybe, it was a sign there was a limit to how much they'd invest in the unit.
Jack Conklin is happy to be a Brown, calling Cleveland "home" in recent interviews.
And his extension probably helps the Browns' salary cap issues in 2023, if not 2024.
#Browns coach Kevin Stefanski on signing RT Jack Conklin to extension: He's a model citizen in what we're looking for and he plays good football. It's a great opportunity for us and a great opportunity for him.

— Scott Petrak ct (@ScottPetrak) December 26, 2022
Whether it saves enough for Berry to make a push to re-sign Pocic at center remains to be seen.
Nick Harris' recovery might determine how vital signing Pocic will be.
But any way you slice it, the Browns have three-fifths of their offensive line settled for Deshaun Watson's first full season.
And whether they believe in Wills and Dunn or not, Conklin represents one less question to answer in the off-season.