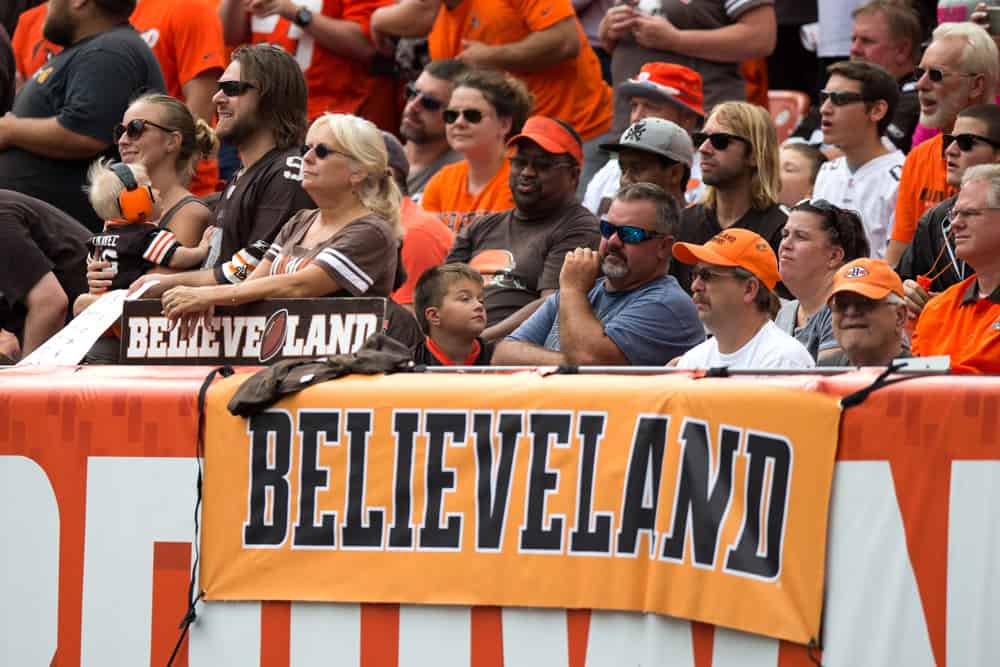 The Cleveland Browns are 4-1.
That phrase has a chance to be uttered across all of northeast Ohio this Sunday if the Browns can find a way to knock off the Indianapolis Colts.
It's something that hasn't been said since 1994.
That year produced the most recent Browns playoff victory with a 20-13 victory over New England in the AFC Wild Card Game.
I don't think Cleveland fans would be upset over changing the date of their team's latest postseason triumph.
With a chance to go 4-1 on the line this week, just what exactly would that record mean to the brown and orange faithful?

The Browns Would Be Back
From the outside looking in, it must be a bit unusual for non-Browns fans to see Cleveland performing so well.
This is especially true of those born after the Browns returned to the NFL as they have seen nothing but ineptitude from this organization.
There are 30 year olds out there that have never seen anything like this. #Browns

— Tony Rizzo (@TheRealTRizzo) October 4, 2020
2020 must be the strangest year of their lives and not just because of COVID-19.
Regardless, if the Browns can get a win over the league's top-rated defense, football fans will have no choice but to at least respect what the Browns are putting on the field this season.
It's fun having good players on the Cleveland Browns.

— Todd Sautters (@MrSautters) October 4, 2020
It would also be a warm welcome back to the national stage for older fans who remember the heyday of Cleveland football.
It's a new breed, no doubt about it.
But this team doesn't need to try to be the Kardiac Kids or anything of the sort.
They can capture the hearts of Cleveland, and perhaps other fans around the nation, winning their own way.
These Cleveland Browns are the team I've been dreaming of my entire life.

— Nick Karns (@karnsies817) October 4, 2020
Bragging Rights
It hasn't been easy to talk a whole lot of smack as a Browns fan in recent years.
Often times, there just isn't much positive to say about a team that managed to go 1-31 over the course of two seasons.
However, that narrative can continue to change with a win on Sunday. If they win and both the Steelers and Ravens lose, they will have the most wins of any team in the division.
That guarantees for at least one week, Browns fans can be reckless as ever across social media as they impose their jeers onto opposing fans.
Some may call it preemptive, but after being the butt of so many jokes, I'll choose to call it justified.
The players can also use a win on Sunday to boast to some of their acquaintances around the league.
The trash talking in the NFL extends off the field as well, and rest assured some of the Browns will be letting the non-Cleveland guys know about their success.

Confidence for Cleveland
Reaching a 4-1 record would be a huge confidence boost for Cleveland, and not just the Browns.
It's no secret that this entire year has been pretty tough on a lot of people.
Many people across northeast Ohio may have lost their jobs, houses, or even loved ones because of the coronavirus.
Even from a sports perspective, things are not great.
This team has lost constantly for the past two decades.
The Indians just fell apart against the Yankees in the postseason once again and are likely to deal Francisco Lindor this winter.
The Cavaliers did capture that elusive title in 2016 but have also been miserable in years without LeBron James on the roster.
A winning Cleveland Browns football team is the exact lift the city could use right now.
It seems silly to put that kind of weight on the success of a sports teams considering what's happening around the country.
Still, it's a "Browns Town", no question. Cleveland pride would be as bright as ever if they can get to 4-1 on Sunday.
This, of course, benefits the players as well.
I can't imagine they like carrying around the fact they play on one of the most embarrassing organizations in football since 2000.
They would love nothing more than to change that narrative, and getting to 4-1 is a step in the right direction.