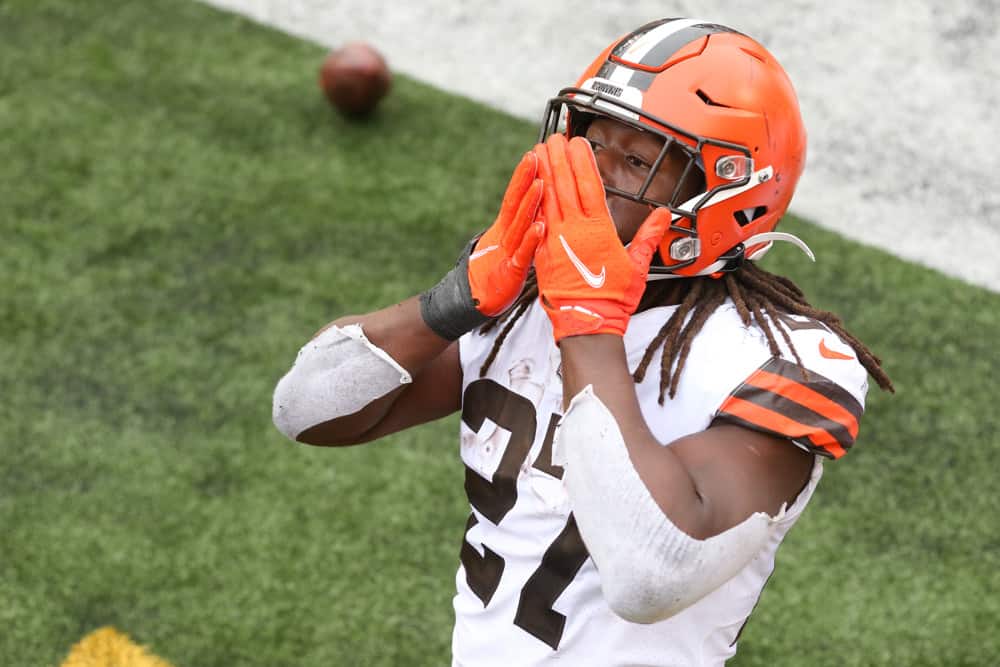 For the first time since 1994, the Cleveland Browns are 9-3.
For younger fans, that still may not seem real.
Those who have followed the team for a while, however, know this is a return to the days of old.
There was a time the Browns were respected across the NFL.
Cleveland was known for being tough, physical, and hungry to win.
Their return to the NFL has all but entirely erased that narrative.
This season, however, the tides have started to turn.
Sitting at 9-3 in the middle of December is an indication of that change.
That record, especially now, means so much for the city of Cleveland, all of northeast Ohio, and Browns fans everywhere.

Playoffs!
The postseason is all but guaranteed for the Browns.
Barring a catastrophic meltdown this final month of the season, Cleveland will be in the playoffs for the first time since 2002-2003.
THE CLEVELAND #BROWNS ARE 9-3 AND CAN CLINCH A PLAYOFF SPOT NEXT WEEK AGAINST THE RAVENS.

BIG MOOD: pic.twitter.com/GDVLwmVYFv

— Juan Hilldejo (@JohnHillbery) December 6, 2020
The Cleveland #Browns have a shot to clinch their first playoff birth since 2002 on Monday Night Against the Ravens.

Let the sink in!

— Fitz on Sports (Sean Fitzgerald) (@fitzonsportsbsr) December 7, 2020
The downside, of course, is that COVID-19 ruins any chance or a rowdy playoff crowd at FirstEnergy Stadium if the Browns were to host a round or two.
It figures the first playoff game for Cleveland in over a decade, regardless of where it's played, will take place in front of almost no live fans.
Regardless, the players will feel the buzz around the city.
In fact, they should be feeling it now.
The chatter around this organization right now is something that hasn't been heard in quite some time.
Cleveland is a special place when one (or more) of its sports teams are in the postseason.
Finally, it's the Browns' turn to bring that excitement to town.

Grabbing a New Generation
Just about anyone under the age of 30 has seen nothing but terrible football in Cleveland since they've been alive.
It's no surprise we see so many younger football fans around Ohio with Ravens or Steelers jerseys on.
Sports are supposed to be fun and entertaining.
The Browns were the furthest thing from that for a long time.
Now, however, they have the chance to regain a younger generation of fans.
On top of a winning record, they have a likeable team now, something they were not just a year ago.
Young fans love the energy of guys like Baker Mayfield and Odell Beckham Jr.
They are even easier to love when they are winning football games.
Soon, the days of seeing that cousin or nephew in a Roethlisberger jersey could be a thing of the past.

Changing the National Narrative
Don't get me wrong, the national conversation around the Browns has started to change.
Unfortunately, that can take a 180-degree turn back towards the bottom in a hurry.
National media guys, like Colin Cowherd, still seem to be on the edge of their seat waiting for the brown and orange to collapse.
They've been an easy team to pick on for years and provide easy negative content to talk about.
If this regime of Andrew Berry and Kevin Stefanski truly have things figured out though, that won't be the case anymore.
Biggest case for Kevin Stefanski as coach of the year, other than the record. #Browns are now No. 6 in offensive efficiency. Team has not finished inside the top 20 in efficiency since 2007. They were 22nd last season.

— Jake Trotter (@Jake_Trotter) December 7, 2020
A rise in popularity also forces the NFL to get the Browns some prime-time exposure.
We've seen that take place already as the week 15 match-up with the Giants has been flexed to Sunday Night Football.
🚨 FLEX ALERT! 🚨@Browns. @Giants.

Week 15 on @SNFonNBC. pic.twitter.com/pUEd6d7WnP

— Sunday Night Football (@SNFonNBC) December 9, 2020
It's an exciting time for Browns fans and northeast Ohio.
2020 has been tough all around.
A 9-3 record for their team might not cure ALL of someone's stress, but it's a darn good start.