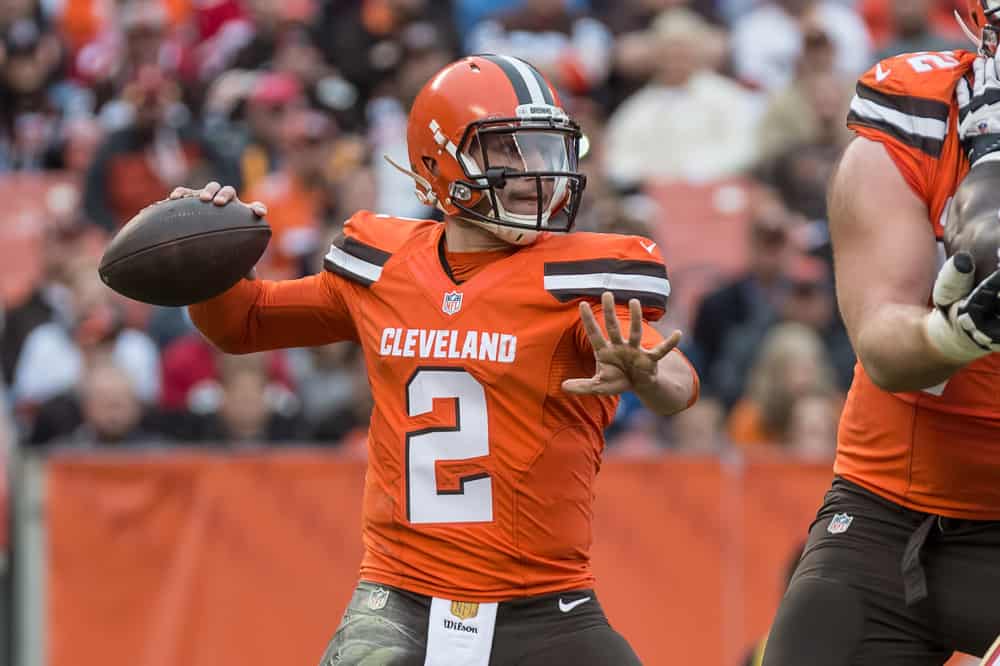 The Cleveland Browns fans drifted to the edge of their seats in breathless anticipation.
Commissioner Roger Goodell strode to the podium and made the announcement they all waited for. "With the 22nd pick of the 2014 NFL Draft, the Cleveland Browns select Johnny Manziel, quarterback from Texas A&M."
The last part of Commissioner Goodell's statement was almost completely drowned out due to the bedlam that ensued.
#TBT #Browns draft party when they drafted Johnny Manziel (2014) pic.twitter.com/nSg4R15x4T

— Freezing Cold Takes (@OldTakesExposed) December 7, 2017

The Browns fans got their man!
They had waited for this day for months and, at last, it was here.
Johnny Manziel, with all his talent and moxie, would take the Browns back to the playoffs at long last.
No longer would the team be the laughing stock of the NFL.
Then the 2014 season began and the Manziel mystique died a slow, painful death.
The Rise of "Johnny Football"
Manziel was already a big deal in high school and was bestowed with the moniker "Johnny Football" as a sophomore.
He was highly recruited coming out of high school and eventually accepted a scholarship to Texas A&M.
Manziel didn't gain national attention as a collegian until a game against Arkansas in 2012.
In that game, he led the way with 557 yards of total offense and broke Archie Manning's 43-year-old record of 540 yards.
Then, against Louisiana Tech later in the season, he broke his own record with 576 total yards.
That performance made Manziel the first player in SEC history to have two 500+ yard games of total offense in one season.
If Manziel wasn't already on the radar of football fans he soon would be.
A&M traveled to Tuscaloosa to take on number one Alabama that year.
Playing with a poise one would normally find with someone more experienced, Manziel had a career day.
When the dust settled, Manziel was responsible for 345 yards of offense that included two passing touchdowns on the way to a stunning 29-24 victory.
(2012) Five years ago today, Johnny Manziel became the first freshman to ever win the Heisman Trophy. Throwback to his impressive touchdown during a win over 1 seeded Alabama. pic.twitter.com/2TB3v6l15w

— Timeless Sports (@timelesssports_) December 11, 2017

Before the '12 season ended, Manziel added another highlight to his already impressive resume.
In a game against Missouri, he overcame a slight knee injury and accounted for 439 yards of total offense.
He also threw three passing touchdowns and ran for two scores.
During the game, Manziel broke the single-season SEC record for offensive production with 4,600 yards.
Manziel mania was suddenly a hot topic.
His impressive season netted him SEC Freshman of the Year honors, the Davey O'Brien Award for the nation's best quarterback, and the Heisman Trophy.
Both the O'Brien and Heisman awards had never been awarded to a freshman in history.
Johnny Manziel and his Heisman Trophy pic.twitter.com/q3RsY3qI

— Bleacher Report (@BleacherReport) December 9, 2012

Manziel let the accolades wash over him and then proceeded to surpass his freshman stats in his sophomore year.
In 2013, Manziel never let off the gas.
He and the Aggies again met number one ranked Alabama and looked to repeat their victory from 2012.
Unfortunately, that didn't happen and the Crimson Tide hung on for a tight 49-42 victory.
However, Manziel still hung 464 yards and five touchdowns on the Tide.
Looking to keep the party going, Manziel threw for 446 yards and tied his single-game record with five TDs against Mississippi State later in the season.
Manziel's stats for '13 were ridiculous.
All he did was pass for 4,114 yards and 37 scores and rush for 759 yards and nine more TDs.
Surprisingly, his stats only put him fifth in the Heisman voting.
Manziel Goes Pro
Manziel's body of work was a thing of beauty and he still had two more years of college eligibility left.
Anyone and everyone envisioned big things for him in 2014.
Of course, owing to his outsized personality, Manziel shocked almost everyone when he announced he was forgoing his last two college years and entering the draft.
Immediately, he became a hot commodity that had "first round" written all over him.
The only problem was, while they may have liked Manziel the person, not all NFL personnel were enamored of "Johnny Football."
Throughout his college career, Manziel had a habit of proving people wrong and then letting them know it.
After big plays, he would raise his arms in the air and rub his fingers together.
This was his way of flashing his signature "money" sign to the crowd.
#flashbackfriday Johnny Manziel's Money Sign 2012-2015 pic.twitter.com/Re2jK6lCeG

— NFL Total Access (@NFLTotalAccess) August 21, 2015
While this excited the A&M fans, it riled up his opponents.
More than a few defenders looked to knock Manziel's block off so they could stand over him and flash their own "money" sign.
The problem was, this didn't happen much while he was in college.
Not only did Manziel upset college opponents, but he also upset a lot of potential future employers.
In the lead-up to the 2014 draft, former Dallas Cowboys head coach Barry Switzer said, "I don't like his antics.
I think he's an arrogant little pr—. I've said that and I'll say it again." Switzer wasn't the only one with this opinion.
Scouts from nearly every NFL team had wildly different labels for Manziel including "undraftable" but also "rare talent."
Of course, every year the draft is filled with rumors, half-truths, and innuendos, so fans weren't sure what to believe.
On draft day 2014, however, Manziel saw name after name light up the big board for the first round.
None of those names were his, so he decided to take matters into his own hands.
Picking up his phone, Manziel sent a text to then Browns quarterbacks coach Dowell Loggains and wrote that he wanted to, "wreck the league" in Cleveland.
Impressed by Manziel's chutzpah, Loggains showed the text to then Browns head coach Mike Pettine.
Cleveland then traded up and grabbed Johnny Football with the 22nd overall pick.
Johnny Football Fizzles in Cleveland
Manziel did not immediately endear himself to NFL fans as a pro.
In a preseason game of his rookie 2014 season, he was fined $12,000 for flipping off members of the Washington Redskins.
Manziel flips of the Redskins bench pic.twitter.com/iCz6AM03rd

— D-Squared (@D__Square) August 19, 2014
Also, Manziel's 'Johnny Football' college playing style did not translate well to the pro game and journeyman Brian Hoyer was named the Browns starter.
Manziel didn't see the field until late November when he replaced an ineffective Hoyer.
He finally started a game against the Bengals and proceeded to throw for 80 yards, two INTs, and a 27.3 passer rating.
Manziel was sacked three times in the game and Cleveland lost 30-0.
In his second start against Carolina, he was injured before halftime and was replaced by Hoyer.
Due to the injury, Manziel did not play again that year.
For his rookie year, Manziel's stats read: 18 completed passes, 176 passing yards, zero touchdowns and two INTs.
Even worse, many of his Browns teammates were not sold on Johnny Football.
One Brown was quoted as saying that Manziel's season was a, "100 percent joke."
The Browns, as well as the entirety of Cleveland's fan base, were hoping and praying for better things from Manziel in 2015.
He showed flashes of promise early in the season when he stepped in to replace injured starter Josh McCown.
In a game against the Jets, Manziel threw his first professional touchdown to receiver Travis Benjamin.
Johnny Manziel to Travis Benjamin.

Just. Amazing.

Johnny football doin work!#Browns pic.twitter.com/mivlOELUHV

— Def Pen Sports (@DefPenSports) September 20, 2015

He then committed three turnovers in the second half on the way to a 31-10 loss.
The following week, he played much better in a win against Tennessee, passing for 172 yards and two TDs.
Once McCown returned from injury, he and Manziel took turns as the starter.
More to the point, when McCown got hurt, Manziel would step in.
In Week 9 of 2015, Manziel started again and threw for 169 yards and one touchdown in a loss to the Bengals.
He finally cracked the 300-yard passing mark (372) in a game against the Steelers in Week 10.
Unfortunately, the Browns still lost the game 30-9.
The Pittsburgh game looked like a catalyst for things to come and Manziel was named the starter for the rest of the season.
Regrettably, Johnny Football returned instead.
During the team's bye week, videos surfaced of Manziel partying in Texas.
There's not a better picture on the internet than drunk Johnny Manziel floating on an inflatable swan pic.twitter.com/96zCO5q3gV

— Tanner Pontini (@TannerPontini) June 7, 2014

He was demoted to third-string behind McCown and Austin Davis.
After an injury to McCown and an ineffective performance from Davis, Manziel took the field again.
In a 24-10 victory over the 49ers that ended Cleveland's seven-game losing streak, Manziel threw for 270 yards and one touchdown.
Before sitting out the team's final regular-season game with a concussion, Manziel decided to take a quick trip to Las Vegas.
He returned to Cleveland late and missed a scheduled check-in the morning of the game.
If the trip to Vegas didn't spell the end of Manziel's time in Cleveland, it soon would be.
During the offseason after 2015, Manziel was investigated for a domestic violence incident with his ex-girlfriend.
Not long after, the team released a statement saying that Manziel's conduct didn't meet their "expectations for our players on and off the field."
He was officially released by the team on March 11, 2016.
The CFL and AAF Come Calling
It would be more than two full seasons until Manziel returned to the football field.
In 2018, he signed a two-year contract with the Canadian Football League's Hamilton Tiger-Cats.
Manziel sat on the bench for the Tiger-Cats' first six games before the team traded him to the Montreal Alouettes.
When he finally started a game for Montreal, Manziel fizzled, throwing four INTs before halftime.
Johnny Manziel's first career @CFL pass is an interception.#CFLGameDay #FNF pic.twitter.com/mykB0jZFPZ

— CFL on TSN (@CFLonTSN) August 3, 2018

After being sidelined for a large chunk of the season due to a concussion sustained during his second start, Manziel returned to lead the Alouettes.
He ended his first CFL season with 1,290 yards passing, five touchdowns, seven picks, and a 64.2% completion percentage.
Manziel looked to be on the verge of finally making good on his potential in 2019.
However, in February of 2019, news broke that Montreal released Manziel.
It was revealed that part of the CFL's agreement to bring Manziel on board stipulated that he had to see a doctor and attend weekly sessions with a therapist.
Manziel missed a number of his required meetings and, therefore, the CFL cut him loose.
He wasn't unemployed long when the Memphis Express of the upstart Alliance of American Football came calling in March of 2019.
Manziel saw action in two games with Memphis and completed five of eight passes for 61 yards and an INT.
The league folded shortly after he played in his second game.
Why Wasn't Manziel Successful as a Pro Quarterback?
In the past year, Manziel's name has occasionally popped up for various reasons.
Among them, he expressed an interest to play in the new XFL and then promptly reversed course.
He tweeted shortly thereafter that he had, "zero desire to play any football."
Currently, he is technically a free agent, although it is doubtful that any professional football team (or league for that matter) has interest in signing him.
Manziel's fall from the public spotlight was quick and sudden.
At 27, he should still be in the NFL, putting on a bountiful display of his talent.
There has been plenty of guesses as to why Manziel flamed out in such spectacular fashion.
Most NFL insiders point to his lack of maturity while others remind the public that he wasn't that good to start with.
Manziel's height (generously listed as 6'0") has been bandied about as a reason for his decline.
However, that doesn't explain why stars like the Saints Drew Brees (6'0") have done so well.
In the 2019 draft, Arizona selected Oklahoma's Kyler Murray with the first pick. Murray is listed at 5'10".
Former Browns offensive coordinator and current 49ers head coach Kyle Shanahan believes Manziel's time in Cleveland was doomed from the start.
Specifically, Cleveland's leadership at the time wanted Manziel to fit a certain skill set.
Shanahan knows for certain that the desired skill set wasn't the right one for Manziel.
During a "Pardon my Take" segment on a Barstool Sports podcast in 2018, Shanahan shared as much:
"He is quick and things like that. Everyone there wanted me to run the same stuff with him as we did with RGIII [Robert Griffin III]. Well RGIII runs a 4.3, Johnny runs a 4.68. That is a different type of running style. Johnny is not going to outrun people on a zone read. Johnny needs to go downhill and make you miss which is quarterback draw, quarterback power, things like that. The problem with that stuff is that's where you get hit."
Shanahan went on to say that the disagreement he had with Browns management on how to use Manziel cost him and Loggains their jobs.
Manziel Offers his Own Take on his Success
It should be noted that Manziel already had a reputation coming out of A&M for a lack of preparation including film study.
Manziel himself said as much during an interview with Dan Patrick on his radio show, also in 2018.
"Guys are good in the NFL because they know film, they study hard, and they work even harder in the offseason," Manziel said. "So I didn't know that. And I feel like, if Cleveland did any of their homework, they would have known that I was a guy that didn't come in every day and watch film. I was a guy that didn't really know the Xs and Os of football." "Nobody was there (in Cleveland), like, helping me go over the Xs and Os, and it was hard, I struggled," he said.
To his credit, Manziel did own up to his lack of preparation.
"It's all about the right fit and mine in Cleveland wasn't right . . . At the end of the day it's nobody else's fault but my own. Work harder and these questions don't arise."
Even considering the skill set question and lack of preparation, maybe the reason for Manziel's professional struggles can be attributed to something else.
In 2018, he revealed that he was diagnosed with bipolar disorder.
Former NFL star @JManziel2 reflects on 'mistakes,' reveals bipolar diagnosis in an exclusive interview with @tjholmes. https://t.co/gZfdnK5Ybz pic.twitter.com/eZl0XPpUzN

— Good Morning America (@GMA) February 12, 2018
He also said that his mental health was his top priority and that he had stopped drinking.
Of course, this was before his erratic behavior from earlier this year when he tweeted about his desire to play football.
Anyway you look at it, Manziel's life since turning pro has been difficult to watch.
He had such talent and promise that it was difficult to root against him.
Now, we'll most likely never know what Manziel could have accomplished as an NFL quarterback.
All we can do now is root for him as a person and hope that he gets his life on track.