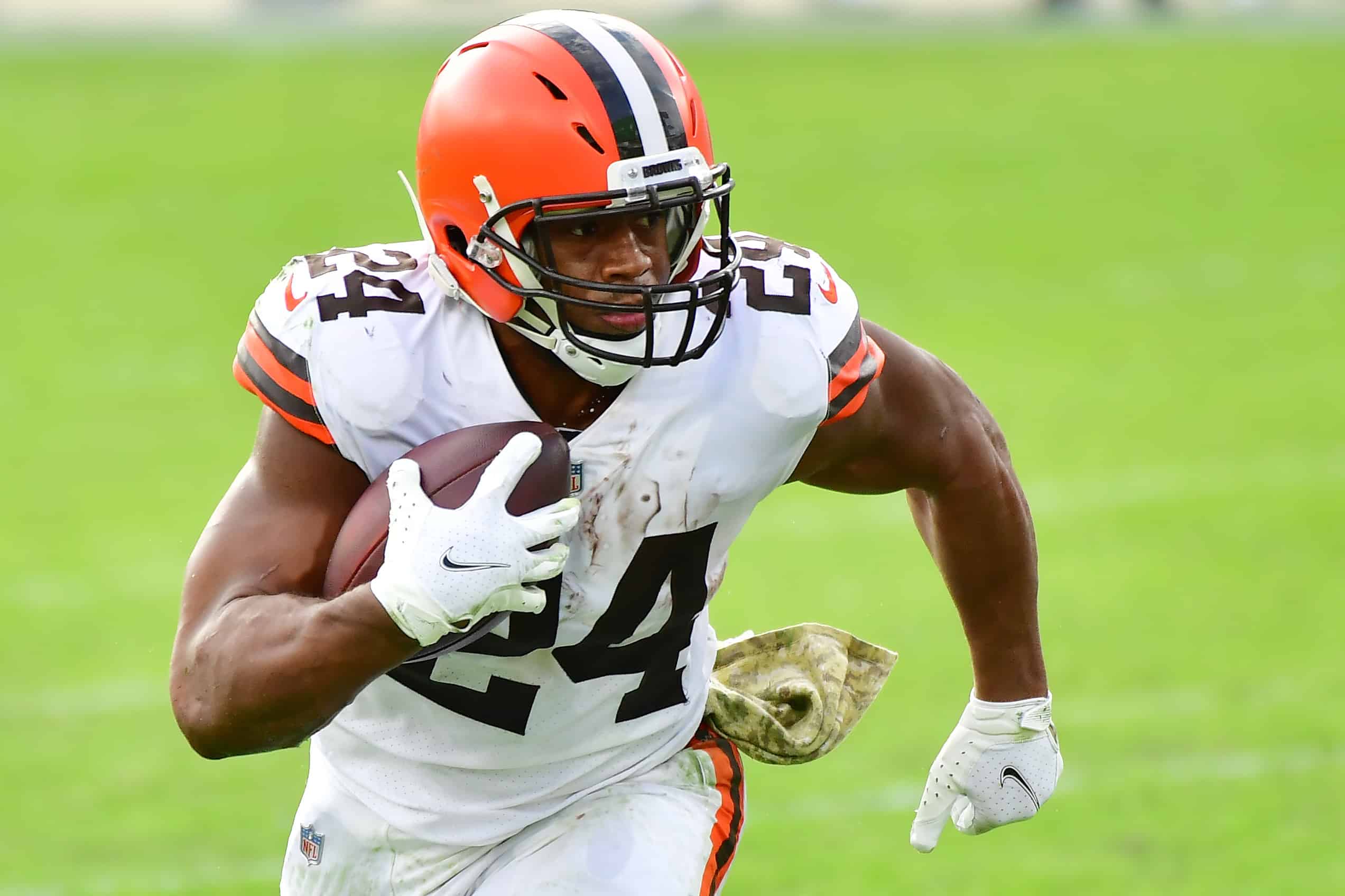 The last week or so has not been a fun time being a Cleveland Browns fan.
They took a tough loss to the Los Angeles Chargers in Week 5.
Now, the Browns are going to attempt to beat an undefeated Arizona Cardinals team this week.
What makes it more difficult is the Browns will have to do it without superstar running back Nick Chubb.
The two-time Pro Bowl back hasn't practiced all week and will sit out due to a calf issue.
The #Browns have ruled out RB Nick Chubb, who hasn't practiced because of a calf injury.

— Ian Rapoport (@RapSheet) October 15, 2021
The Browns were already at a disadvantage, but losing Chubb makes it much worse.
It appears Cleveland is going to need to shake up their gameplan before Sunday's Week 6 contest.
All-In On Hunt
The good news for Cleveland is that they do have Kareem Hunt in the backfield.
This is Hunt's third season in Cleveland and it seems like he is only getting better.
Through five games, Hunt has 295 rushing yards on 55 attempts with five touchdowns.
Hunt has been a key part of this offense through the first five games of the season.
Kareem Hunt is averaging 1.30 fantasy points per touch and is the sixth-highest-scoring fantasy RB.

But, is it time to consider trading him away if you have him in your #fantasyfootball league?pic.twitter.com/JR56bl56Cj

— Pro Football Network (@PFN365) October 15, 2021
It's also worth noting that Hunt has 17 receptions for 149 yards through the air.
The Browns enjoy frequently using Hunt in both the rushing and passing attack.
Now, Hunt could see a larger role on the team with Chubb unavailable for Sunday's contest.
Over the last three games, Chubb has seen 20-plus carries per contest.
Hunt has not exceeded 14 carries this season, but could see an uptick against Arizona.
However, the Browns may decide to use a different offensive attack than the normal ground and pound approach.
Air It Out Mayfield
Fourth-year quarterback Baker Mayfield is coming off his best game of the season.
He completed 23-of-32 passing attempts for 305 yards and two touchdowns in the loss to the Los Angeles Chargers.
Mayfield finished that game with a 122.5 quarterback rating, which is by far the best he has done through five games in 2021.
There have been plenty of struggles for Mayfield, but he appears to be gaining momentum heading into this matchup with Arizona.
He showed seemingly no issues connecting with his receivers during the shootout in Week 5.
Baker Mayfield to David Njoku, 71 yards, touchdown — #Browns back in the lead. pic.twitter.com/0PJFP28srO

— Register Sports (@RegisterSports) October 10, 2021
The hope is that Jarvis Landry can return, which would give Mayfield a bigger boost.
In the meantime, the Browns must lean on Mayfield in the absence of Chubb.
The rushing attack is still going to be there with Hunt, but unlikely to be as effective.
This gives Cleveland a chance to use more play-action and get Mayfield moving out of the pocket.
The Browns have to shake up their attack plan if they want to have a chance against the Cardinals.
It's unlikely that this game is going to be a defensive battle, so both offenses need to be prepared.
Mayfield has shown he can take over a game with his arm, so let him do it in Week 6.
The loss of Chubb is significant, but the Browns do have a chance, assuming Mayfield is playing as well as he was against the Chargers.
This is a tough challenge, but the Browns have a chance to prove they aren't a one-dimensional team and can compete with anyone in the league.