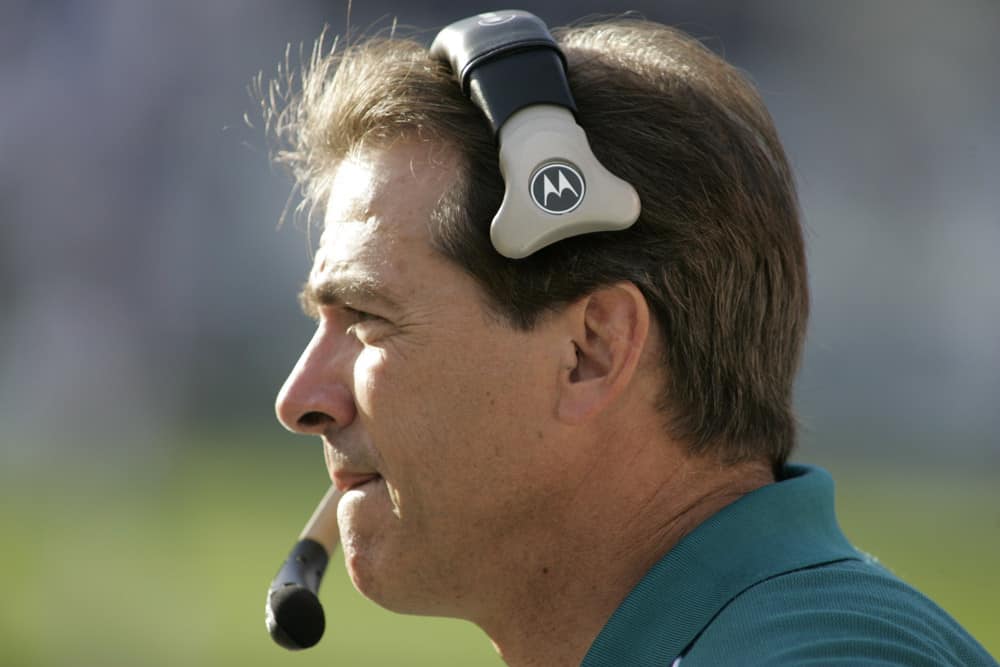 When Bill Belichick and Nick Saban Coached Together
As of 2019, Bill Belichick was (arguably) the best NFL head coach of all time, and Nick Saban was (arguably) the best college football coach.
There's no denying since the start of the 21st century, both of them have dominated their sport.
Both are also known for their lack of enthusiasm for press conferences, death stares, and losing not being an option.
What many may not realize is that these two are not only friends but once coached the Cleveland Browns together.
It's hard to imagine that both of these historical great coaches were actually on the same staff together, but that was definitely the case when they were with the Cleveland Browns.
Let's take a look at the history of when they both coached together.
Friendship Started Early for the Two
Back in 1982, Bill Belichick visited his parents for dinner. On a break from the Giants, he was happy to come home and spend time with his beloved mother and father.
However, this night was historical, as Terry Saban and his son Nick joined them. An instant friendship blossomed.
Saban, in particular, pursued the friendship because Belichick had more experience.
However, Saban was skilled at secondary strategies, which was an area where Belichick was weak.
Every time the two got together, they talked about football. These powwows fueled a friendship that grew in Cleveland.
Their Time Together in Cleveland
When Bill Belichick was hired to join Cleveland in 1991, he had almost 20 years of experience in the NFL.
Assessing the state of his team, he concluded that they desperately needed better defense.
And he could think of no man better to handle that job than Nick Saban, his very first hire for the Browns coaching staff.
His staff was packed with high-quality talent beyond Saban, including nine future NFL head coaches or general managers.
They focused heavily on weeding out weak or struggling players and finding those who suited their schemes.
Saban created a crushing defense that would give the Browns time to mount successful offenses, while Belichick focused on overseeing everything.
And their hard work did pay off – the Browns improved from 3-13 to 6-10 the next year and then 7-9 the next two years.
While these win and loss rates aren't great, doubling the previous year's win record was an essential step in the right direction.
And a big part of this success was down to Saban and Belichick having very no-nonsense approaches to coaching.
For example, other coaches on the squad were just as focused on success but noted that things were different when Saban and Belichick were in the room together.
Some likened it to two generals coming together to win a battle. Both coaches had a very detached demeanor to their position, but things weren't always so grim.
There was the time Belichick took his coaching staff to a Pink Floyd show in 1994 – the band's final tour.
Saban also enjoyed throwing parties for the Kentucky Derby. And there was the time that – one staffer swears – musician Jon Bon Jovi led a two-minute drill.
Such lighter moments contrast heavily with the more grim and severe personalities both coaches became known for later in life.
Perhaps part of that lightness – particularly in the 94 season – was the team's 11-5 record and their first playoff win in years.
Their hard work had paid off, and the team was back to, at least, their early 80s success.
The next year, however, they flipped their record to go 5-11.
Reasons include a benching of the quarterback and Belichick bringing in a talented – but disruptive – receiver who was not liked by the rest of the team.
After Cleveland
When the team relocated to Baltimore next year, Belichick and Saban would not be along for the ride.
Saban would end up at Michigan State as head coach, where he stayed from 1995-1999, amassing a 34-24-1 record.
He then took a job with LSU from 2000-2004, earning a 48-16 record.
However, his biggest success came after he took over Alabama in 2007, a team with which he has gone, up until 2018, 141-21.
With the Crimson Tide, he has won five national championships and earned one while at LSU: which, as of 2018, is the best by a single coach (tied with Bear Bryan, also of Alabama).
Belichick bounced around for awhile – including two stints as a New York Jets head coach (including one for a day) during which he didn't coach a single game – before getting the job as the New England Patriot's head coach in 2000.
Since he joined the team, he turned a 5-11 laughing stock into a juggernaut that has been first in their division all but three times in 19 years.
They also have won six Super Bowls in this time, all under Belichick and quarterback Tom Brady's watch: a record for a single coach and player in the NFL.
With 224-79 (as of 2018) regular season and 20-10 post-season records, Belichick with the Patriots has a win percentage of 0.743 and 0.75, respectively.