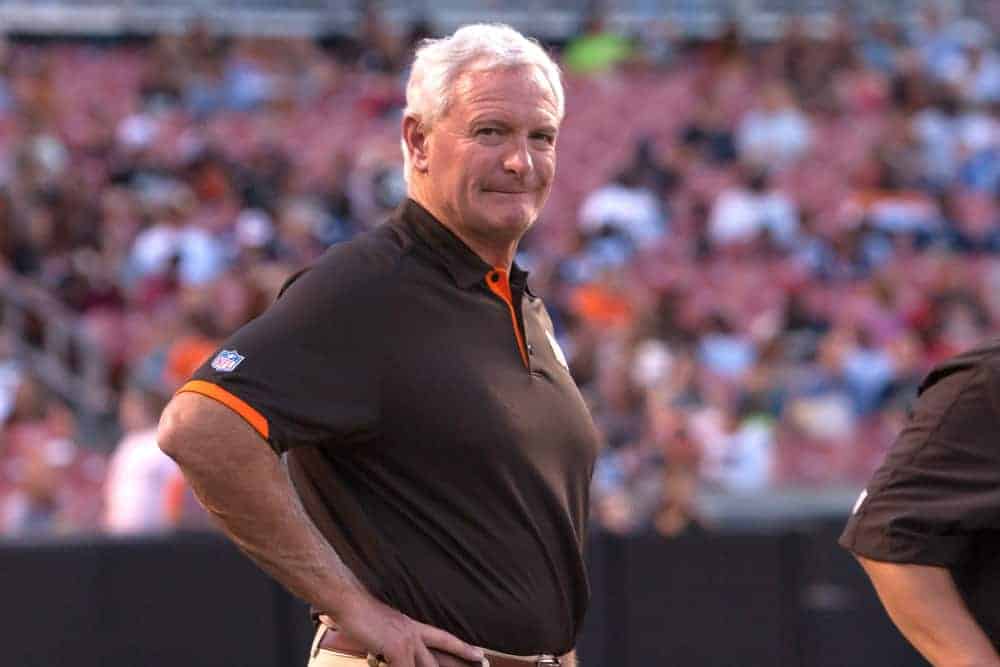 Who are the Cleveland Browns past owners?
Since they were formed in 1946, the Cleveland Browns have had a handful of owners.
Each of these owners has done good things for the team and a few things that weren't so great.
Understanding these individuals can give you a grasp on how the team has progressed and where it might be headed in the future.
Arthur B. McBride
Arthur B. McBride (otherwise known as "Mickey") was born in 1888 and was a real estate tycoon who was something of a self-made man.
Starting work at the age of six as a newsboy, he later worked with William Randolph Hearst and became a circulation manager of the Cleveland News in 1913.
This job was no joke – during this period, heated battles were not uncommon between newsboys, so he had to choose strong newsboys who weren't afraid to fight.
McBride made around $250,000 in today's money at this job, which was a staggeringly-high wage for the time.
As a result, he was able to expand his business empire to include various apartment buildings and taxi companies throughout Cleveland.
He also got involved with horse racing and had ties to organized crime but was never arrested on any offenses.
Though a fan of boxing and baseball, McBride didn't have much interest in football until he watched his son at Notre Dame, at which point he realized a team could be very profitable.
McBride hired Paul E. Brown to lead the Browns and promoted the team massively.
He took a very hands-off approach to the team and let Brown lead everything on the team.
He eventually sold the team in 1953 for over $5.5 million in today's money.
Arthur Modell
Although Arthur Bertram Modell (known as Art) didn't purchase controlling rights in 1953 – a group of businessmen owned them – he finally took control of the team in 1961.
Modell was initially a very well-respected owner for the team because he helped to promote the team heavily and worked hard to improve it in many ways.
However, he made many decisions that upset fans throughout his career.
His first action was to fire coach Paul E. Brown in 1963, a move that immediately angered many long-time fans.
The previous group of owners had done little to control Brown throughout his career, which helped the team succeed.
However, Modell wanted more control over the team, which lead to continual friction between the two that lead to Brown being fired.
However, this decision was nothing compared to his 1995 choice to relocate the Browns to Baltimore.
Fans in Cleveland were outraged and felt betrayed as Modell started the Baltimore Ravens in 1996.
Modell spoke fondly of Cleveland after his departure, even after the city attempted to sue him for relocating.
The Lerner Family
Due to an agreement with Modell, the team name and merchandising elements for the Browns stayed in Cleveland.
This fact opened up the next phase in their history, which started in 1998 when Al Lerner purchased the rights to the Browns for $530 million, a record at the time.
Lerner was a bank owner and financial professional with an active streak of philanthropy throughout his career.
Lerner upset some Browns fans right away when it was revealed that he had helped Modell play the move to Baltimore and that he owned nine percent of the shares in that team.
When this information was disclosed, Modell and Lerner stopped their friendship, and Lerner sold his shares as a sign of solidarity with Cleveland.
In contrast to Modell, Lerner was a private person who took a hands-off approach to the team.
After his unfortunate death in 2001, his son Randy Lerner took over team ownership.
Lerner, like his father, did little to manage or control the team and eventually sold the team to its current owner, Jimmy Haslam.
Jimmy Haslam
As of August 2019, Jimmy Haslam is the current owner of the Cleveland Browns.
Haslam is a business person who also co-owns the Columbus Crew SC soccer team and is the CEO of the Pilot Flying J truck stop chain.
Though this chain is extensive and successful, it was also forced to pay $92 million in 2013 due to a fraud scheme that affected its customers.
Haslam's success with the Browns – which he purchased for $1 billion in 2012 despite a lower estimated worth – has been the worst in owner history.
He currently has a record of 21-75-1 as an owner, including the second 0-16 season in NFL history.
Before his ownership of the Browns, Haslam also owned a minority interest in the Steelers but was forced to sell due to NFL rules.
In spite of the team's troubles under his ownership, Haslam has attempted to make changes.
The team's success in 2018 showed signs of definite improvement.
Following years could continue this progress with sustained and intelligent decisions by Haslam and others.