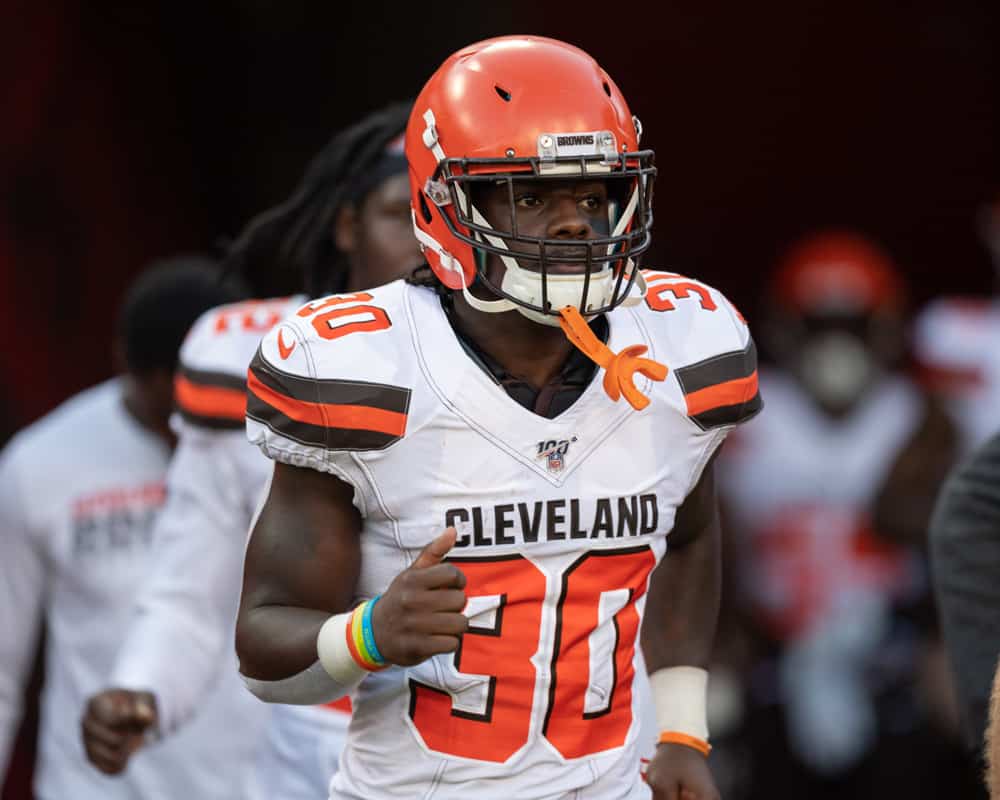 Nick Chubb went down with a knee injury Sunday and that could have spelled doom for the Cleveland Browns.
One quick look at the box score shows that was not the case.
D'Ernest Johnson finished the day against the Dallas Cowboys as the Browns' leading rusher with 95 yards on 13 carries.
That beat out Kareem Hunt, who finished with 71 yards on 11 carries and two rushing touchdowns.
Chubb is now out for six weeks and Johnson will have to step up if Hunt is still dealing with a mild injury of his own.
So who is this D'Ernest Johnson?
Getting to Know D'Ernest Johnson
The player who founded a clothing line branded "Slow Grind," even wearing a face mask bearing the slogan he's lived by, may be about to see his tough journey take a dramatic turn.
"Coming out of high school, I always had to get it the hard way," Johnson said in a Zoom call Monday. "I always had to earn everything I did. I had to stay patient no matter what. Something could be right in front of me, and I had to just wait to go get it.

" 'Slow Grind' stands for staying focused on the ultimate goal. Sometimes the process does not come fast. It takes time. Right now, I am really in a slow grind process because of what happened and I got my opportunity. I have worked hard for it. It has been a long journey. I have just been trying to make sure I seize every moment of it."
#Browns RB D'Ernest Johnson on the significance of his Slow Grind mask and nickname. pic.twitter.com/a3s0Y3z9Zv

— Mary Kay Cabot (@MaryKayCabot) October 5, 2020
Fans who keep a close eye on the 53-man roster will know the running back.
However, it is fair if you watched Sunday's game and wondered who this mystery man was running all over the Dallas defense.
The popular talking point surrounding Johnson is that he went undrafted out of South Florida and got a shot with the New Orleans Saints.
That did not work out so he spent time as a fisherman waiting for his next opportunity.
That opportunity came in the AAF with the Orlando Apollos.
TD Apollos!

D'Ernest Johnson takes the pitch into the endzone and Orlando takes a 14-6 lead #ORLvsMEM

— PFF_XFL (@PFFXFL) March 30, 2019
The Apollos were the best team in the now-defunct league and had Garrett Gilbert at quarterback.
So clearly the front office liked what they saw from Steve Spurrier's team.
After the league folded in 2019, Johnson was picked up by the Browns.
However, he only received four carries last season, so it is easy if fans forget he was on the team.
Then came 2020 when all the focus was on the duo of Chubb and Hunt.
Johnson stayed with the team as a depth running back and now gets a real opportunity to shine in the NFL.
Positives From Johnson's First Big Game
The reserve back rushed for 7.3 yards per carry against a Dallas defense that looks totally lost.
That was an exciting day for Johnson, but he should come back down to reality a bit starting next week against the Indianapolis Colts.
What fans did see was a new trio to hold down the backfield while Chubb is out.
#Browns RB Nick Chubb suffered an MCL sprain in his knee during yesterday's win, coach Kevin Stefanski said, but the injury is not season-ending.

— Ian Rapoport (@RapSheet) October 5, 2020
Hunt is at the top, while Johnson and Dontrell Hilliard made plays and, most importantly, did not turn the ball over.
Having a group of running backs get action during a game is even more important in 2020 when we have already seen so many injuries.
Kevin Stefanski loves to run and mixing up the styles of all the backs should keep opposing defenses on edge.
The best part of Johnson's big day was him running without hesitation.
The young man was called upon in Chubb's absence and picked up where the star runner left off.
Johnson made appearances in all 16 games in some capacity during the 2019 season.
Now he will be playing a significant role for the time being.
He appears to be up for the challenge and the hope now is that his big day in Dallas was not an anomaly.