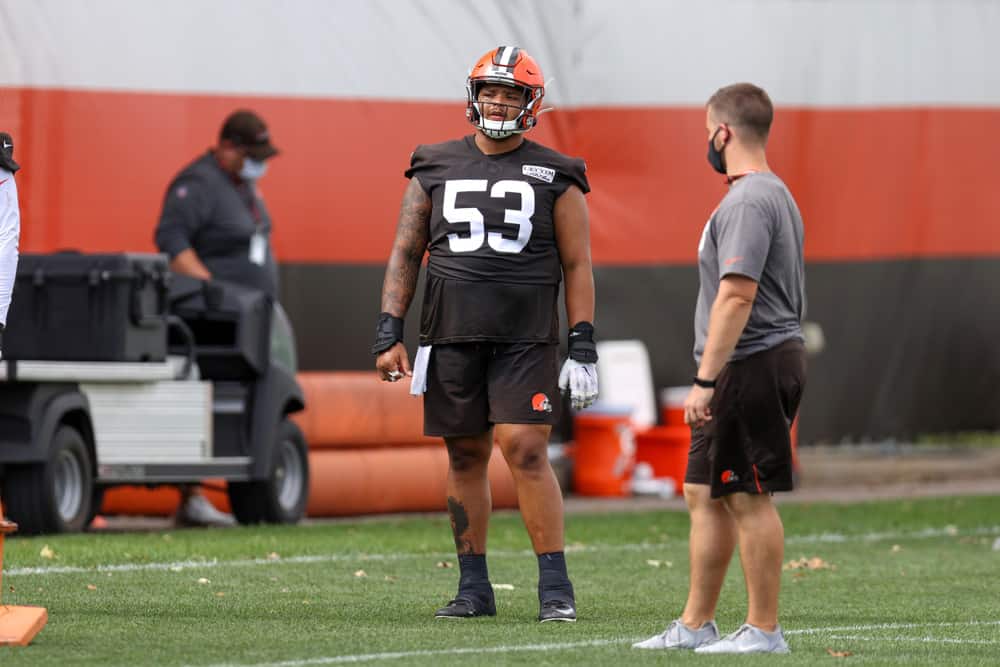 The Cleveland Browns are 10-4 and have adopted the "next man up" mentality all season.
Whether it's due to COVID-19 or injury, the players have responded when called.
That wasn't more evident than on Sunday night.
When guard Chris Hubbard went down with an injury in the first quarter, backup center Nick Harris came into the game.
Remember that Hubbard was filling in for the injured guard Wyatt Teller, so Harris's versatile play was remarkable.
Nick Harris meets with the media live: https://t.co/tALkpAieig

— Cleveland Browns (@Browns) December 21, 2020
Since Hubbard is out for the season and Teller is out until the playoffs, let's find out more about Nick Harris who is going to play a big role in the Browns' final two games of the season.
Who Is Nick Harris?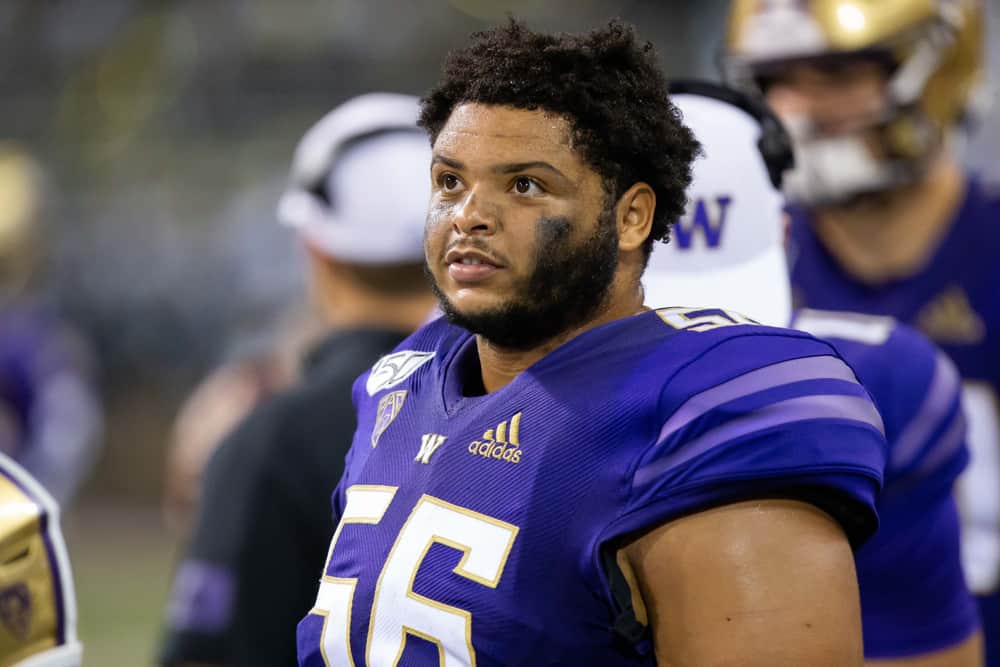 Played At The University of Washington
Age: 22 (Born November 13th, 1998)
Height: 6′ 7/8″
Weight: 302 lbs
40-yard dash: 5.1
Broad Jump: 103″
Vertical Jump: 29.5″
3-cone: DNP
Shuttle: DNP
Bench: 20 reps
Born in Inglewood, California, 22-year-old Harris played football at the University of Washington.
He was a three-year starter for the Huskies.
In his four year career at UW, he played guard his freshman and sophomore seasons and center his junior and senior seasons.
He earned first-team All-Pac 12 honors in both 2018 and 2019.
NFL Draft
The Cleveland Browns selected Harris in the 5th round of the 2020 NFL Draft (150th overall).
In the analysis of Harris leading up to the draft, scouts praised his versatility but believed his best success in the NFL would be in the center position.
Jacob Infante of USA Today described Harris:
"A polished and determined interior offensive line prospect who brings athleticism and coordination to the table, Harris has the potential to step in and be a solid starter at the next level. Despite his deficiencies, he has plenty of tools in his game to warrant looks late on Day 2 of the draft."

"If Harris were even two inches and 10 pounds of muscle heavier, there's a solid chance we'd be looking at him as a possible first-round pick."
Regarding Harris's overall abilities, NFL Draft analyst Kyle Crabbs commented:
"Harris has the requisite hand strength, lateral quickness and balance in space to frame blocks as a move blocker, effectively reach block and chip/climb. His mobility is well suited for outside zone style rushing but his comfort in chips and combo blocks suggests he'd thrive in inside zone or gap/power rushing concepts as well."
Training Camp
For a rookie backup, Nick Harris quickly gained attention at training camp.
Starting center JC Tretter spent training camp recovering from minor surgery so Harris saw a lot of reps immediately.
Though Tretter came back in time for Week 1, Stefanski was confident Harris could step in if needed.
"Unfortunately, injuries are part of this game. It is the oldest cliché in the book, but next man up, and I think Nick is ready to roll."
Harris handled the unexpected spotlight well and said this back in August:
"I'm just trying to optimize whatever role I have and whatever that may be. I'm just trying to be a role player for this team and whenever my opportunity comes, I'm ready for it."
Offensive line coach Bill Callahan had this to say about Harris in training camp:
"His development has been interesting, just because of the fact that he was not expected to come in and run the show. He has been impressive in the sense that he can communicate all of the various sequences of communications along the line, whether it is the point system or the call system. He can get us in and out of the protection calls that we need to make. That aspect for a young center has been really impressive. Then of course, trying to bring him up to speed with all the physical fundamental techniques at his position, it has been really challenging, but he is a guy that continues to make strides and improvement."

"So far, we are really pleased, but until you get him matched up against teams like Baltimore and obviously Cincinnati, you just do not know. He has just come in there with a really good confidence about himself and nice poise, and that is refreshing for a young player. You do not have to worry about him not being able to get up to the line and ID the front or make the right call. He is still learning of course – he is not there yet – but he has really, really made tremendous strides, especially for that position. For a guy to come in and do that, I have been fortunate to have a couple of guys like that in my past, and he has kind of run that same type of flow in terms of communication so that is great to see."
Fast forward four months, and Harris was ready on Sunday night.
Nick Harris did an excellent job! To be thrown in like that against arguably the Defensive Line in the NFL speaks volumes! He deserves a ton of credit and was definitely an huge part of why the @Browns were able to get the victory. Great Job! #nextmanup

— Matt Maxwell (@MattMaxwell286) December 21, 2020
What's Next For The Browns
The Browns will need all hands on deck as the plot twist thickened a bit after the Steelers' Monday night loss to the Cincinnati Bengals.
Pittsburgh has dropped three in a row but maintains a one-game lead in the AFC North.
The Steelers meet the Colts in Week 16 while the Browns take on the Jets.
Depending on how things go, the Week 17 regular-season finale between the Steelers and Browns could be extra meaningful.