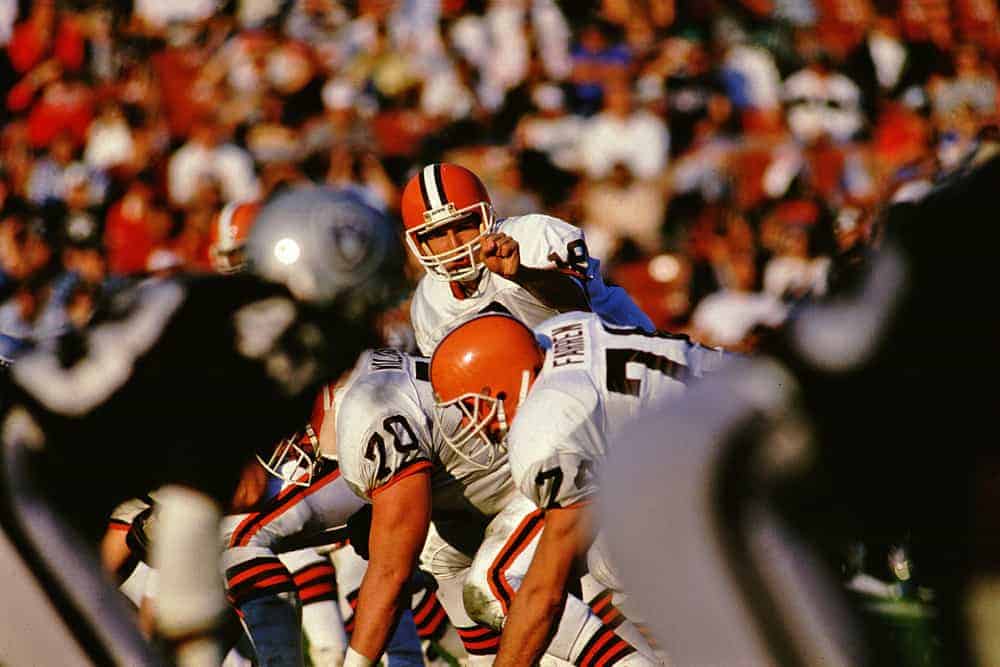 Who started the Browns?
The Cleveland Browns have a long history that makes them one of the most successful and fascinating NFL teams.
And they owe it all to Arthur McBride, a Cleveland businessman who may not have loved football but who had the vision to understand its potential.
Arthur McBride's Early Business Success
Arthur B. McBride (also known as Mickey) was a businessman with a long history in Cleveland.
He started as a newsboy on the south side of Chicago at the age of six.
Though this job may not seem that hard to today's readers, the Chicago news scene was an incredibly competitive one at the time.
The many competing newspapers relied on newsboys to not only sell their papers but to defend their territory by staking out lucrative street corners and fighting away competitor newsboys.
The job was very demanding due to the intensity of the position and the possibility of high profits.
McBride was one of the best of these early newsboys and was rewarded at the age of 23 with a circulation director job for Chicago American and later the same position for the bigger Cleveland News.
His role at this position was to find the toughest newsboys and fight to make the News the best possible paper.
McBride was ambitious, and in 1931 he bought a half interest in the Zone Cab and Yellow Cab two years later.
With his skilled business acumen, he built a near-monopoly on Cleveland's cab services and became a wealthy man.
His wealth increased even more as he invested in real estate, a printing company, and a horse racing wire service.
The Formation of the Browns
McBride had very little interest in football for most of his life, being more interested in baseball.
However, this all changed when he watched his son play at Notre Dame in the early 1940s.
While he still preferred baseball as a sport, he realized the substantial connection fans made to the game and saw enormous profit potential in forming a team.
His first attempt to start a team was an early 1942 bid to buy the Cleveland Rams of the National Football League.
This rarely-remembered team was significant at the time but passed out of history when owner Dan Reeves did not sell them to McBride.
Instead, McBride purchased a franchise from the All-American Football Conference in 1944 and started the Browns in Cleveland in 1946.
McBride immediately made a lot of right moves that helped the Browns become a great team.
First of all, he admitted his lack of knowledge in the sport and had others help him find a coach – the already legendary Paul Brown from Ohio State University.
McBride gave Paul complete control over the team while he focused on ways to promote the team and make them more successful.
This move immediately paid off when the Browns became the most dominant team in the league, winning five championships in seven years with a record of 83-13-3.
And while he was a hands-off owner in many ways, McBride did contribute to the team.
For example, he picked both the team name and the mascot (Brownie the Elf) after reading through poll suggestions sent in by the Cleveland community.
McBride also helped players out with jobs in his cab company if they weren't quite ready for the squad.
Remember, in these early days of professional sports, many players needed side jobs during the season and particularly during the off-season.
His "Cab Squad" is an early sort of practice squad that later become an accepted norm throughout various football leagues.
Did McBride Break Laws?
Although McBride was a beloved businessman after starting the Browns, some were convinced that he had broken several laws.
These concerns were centered on his publication, the Continental Press Service.
This paper published racing news and had connections to horse and dog racing networks throughout the nation.
The profitable nature of these businesses concerned many, who were concerned that McBride was selling insider information.
Beyond these allegations, McBride was also believed to be connected to the local Mafia or organized crime rings, though these ties were never proven.
As a result, he was taken before the Senate Crime Investigating Committee in 1951 and was forced to answer a variety of questions.
The committee didn't have enough evidence to begin a trial, so McBride was never charged.
As a result of his testimony, though, congress did later pass laws that made wire services, such as the Continental Press Service, illegal.
So while McBride never faced trial for any alleged crimes, he still had an impact on the racing world that limited some aspects of its operation.
In spite of these allegations, McBride is still a well-remembered part of Cleveland history.