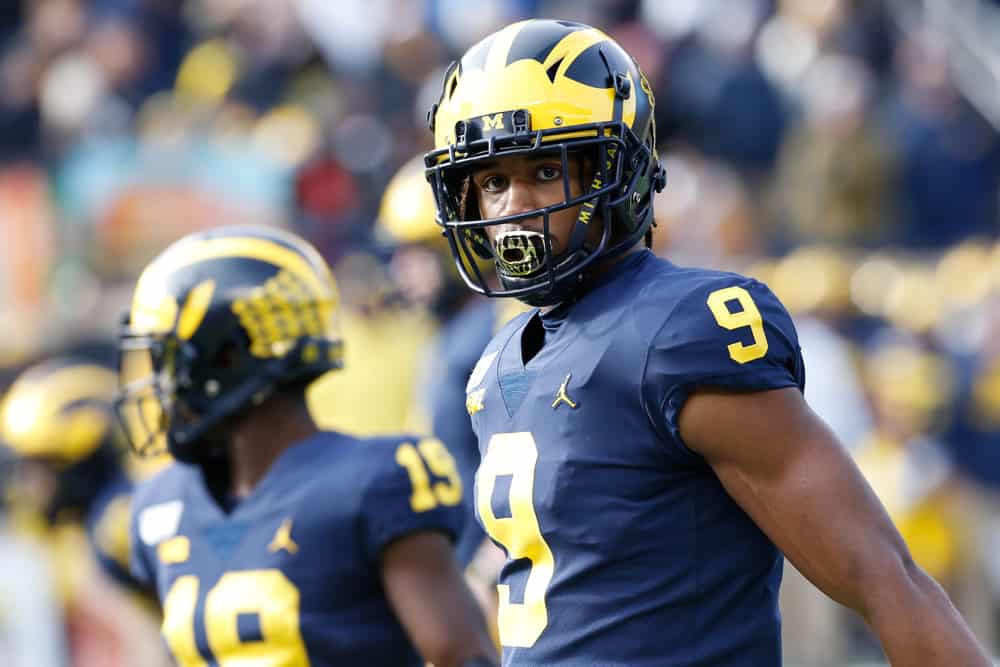 It's rare when a productive playmaker from a major school in a major conference slips to the 6th round of the NFL Draft.
But that's exactly what happened to University of Michigan wide receiver Donovan Peoples-Jones.
After three years of big plays and touchdowns, Peoples-Jones slipped to the Cleveland Browns at number 187 overall in last month's draft.
With the 187th overall selection in the 2020 NFL Draft, the Cleveland Browns have selected…

Donovan Peoples-Jones, WR, Michigan pic.twitter.com/pqm6cofrfV

— PFF (@PFF) April 25, 2020

So why did Peoples-Jones go much lower than football fans expected?
Underachiever At Michigan
Donovan Peoples-Jones was a 5-star recruit when he chose to play college football at Michigan.
But Jim Harbaugh's offense and Shea Patterson's erratic play did no favors to Peoples-Jones.
More from ESPN's Kiper, who didn't back down from his Day 3 NFL draft projection for Michigan WR Donovan Peoples-Jones.

"You can give him the 'underachiever' label, or whatever you call it, but I have a fourth or fifth-round grade on him right now." https://t.co/8iLODWpsmg

— Aaron McMann (@AaronMcMann) March 25, 2020
He never topped 612 receiving yards in a season at Michigan.
He never led Michigan in receiving yards in a season.
And he never had a 100-yard receiving performance in 37 NCAA games.
It's hard to imagine Peoples-Jones being more consistent in the NFL than he was in college.
Questionable Route Running
To make plays in the Browns offense, you must be a precise route runner.
Odell Beckham Jr. and Jarvis Landry are considered two of the best route runners in the NFL.
But NFL.com draft analyst Lance Zierlein says it isn't a strength of Peoples-Jones.
"His route tempo is sluggish… He doesn't run well enough to play outside in the pros… His pro limitations go beyond Michigan's spotty offense and he may not reach any higher than being an average backup," said Zierlan.
It is possible Peoples-Jones competes for a shot at the slot in the Browns offense but it appears he won't be able to make a difference on the outside.
Big 10 Bias
27 wide receivers were drafted ahead of Donovan Peoples-Jones.
It was an incredible year for receiver talent to join the NFL.
There's a good chance Peoples-Jones goes higher in every draft prior to 2020 but he can't do anything about the timing.
He also can't do anything about the Big 10 bias at the position throughout NFL scouting circles.
Of the 27 receivers drafted ahead of him, shockingly only 3 played college football in the Big 10.
KJ Hamler (Penn State), Tyler Johnson (Minnesota) and Quintez Cephus (Wisconsin) were the three.
Even Ohio State's K.J. Hill, who had 20 touchdowns in his collegiate career, was drafted in the 7th round at pick 220.
That was 33 slots behind Peoples-Jones.
The Big 10 had plenty of talented players selected in the first few rounds of the draft but it's clear wide receivers from the conference were not as valued.
Motivation To Make The Browns
The fun aspect of all of this is Donovan Peoples-Jones' draft drop should no longer matter.
He's a member of the Cleveland Browns now.
He's scored in front of 110,000 fans at the Big House and in front of a national TV audience.
We know the potential and physical tools are there.
With uncertainty at the position outside Beckham and Landry, Peoples-Jones can turn his draft adversity into a motivational strength.
God's Timing.. it will all make sense in the end.. Believe that.!

— Donovan Peoples-Jones (@dpeoplesjones) April 25, 2020
And if he can make an impact on the Browns coaching staff, instead of being the victim of overthrows by Shea Patterson in The Big House, he could be the beneficiary of Baker Mayfield's accuracy inside FirstEnergy Stadium.