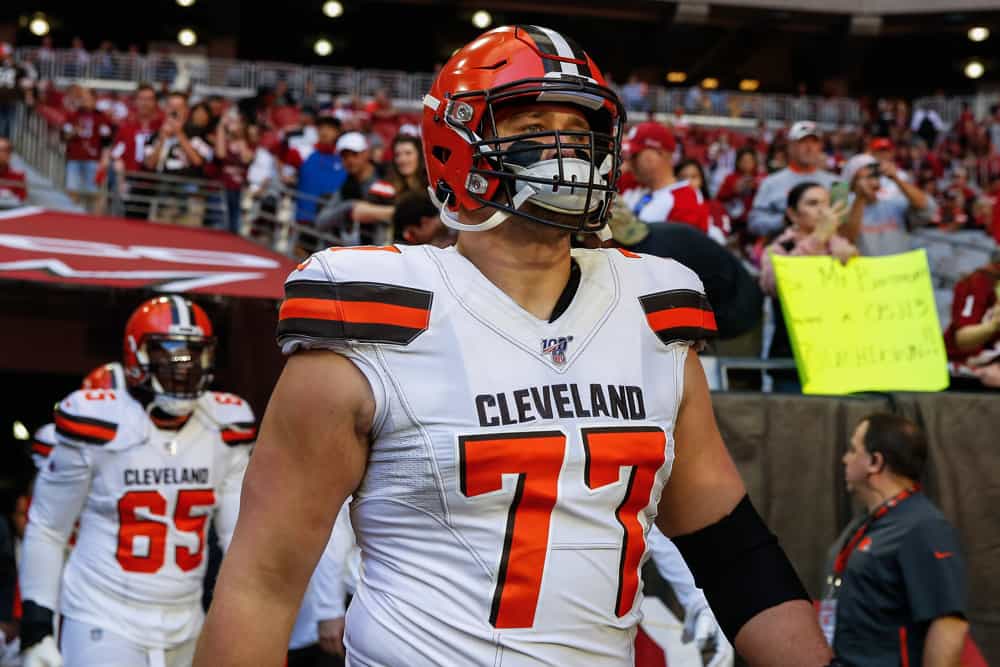 Cleveland Browns right guard Wyatt Teller has been a difference maker on the offense.
Why can we say that?
Because since he suffered a calf injury in the Week 5 game against the Colts, the Browns offense has not looked the same.
Teller's Impact
At 6'4″ and 315 pounds, Teller uses his size and speed to make holes for the running back.
Prior to his injury, Nick Chubb's success was partly due to Teller's work.
The Browns are averaging 6.8 yards per carry with Wyatt Teller on the field, and 3.9 when he's not. Yes, Nick Chubb's injury is a factor, but Teller is playing guard as well as anybody. They're also averaging a 9.2 Blown Block Pressure rate without him and 5.5 with him.

— Doug Farrar (@NFL_DougFarrar) November 3, 2020
The Browns' offense hasn't been the same without the Chubb/Teller combo.
Dropping from an average 6.8 yards per carry to 3.9 is significant.
And yes, some of that has to do with Chubb's explosiveness.
But Teller is responsible too.
Many of the Browns' most successful running plays this season have been to the right side with Teller in the lead.
Hopefully the Browns can get Wyatt Teller and Chubb back after the bye week, run game hasn't been the same since they went down

— Rob (@Buddy1B) November 1, 2020
With Nick Chubb and Wyatt Teller healthy and back in the lineup, the Browns hope to return to the early season successes with the running game.
Mayfield and Stefanski On Teller
Teller showed up at training camp well-conditioned and ready to play.
Recall that the starting right guard position was up for grabs because Drew Forbes, Colby Gossett, and Malcolm Pridgeon opted out for COVID-19 reasons.
His pandemic physical conditioning was immediately noticed by Baker Mayfield.
Mayfield said:
"I think Wyatt took advantage of the long offseason and being able to get his body right, something I can relate to.  He put on a ton of muscle mass."
And once the season got underway, Coach Stefanski praised Teller's performance.
After the Week 2 win against the Bengals, Stefanski said:
"I hesitate to single anyone out, but I would tell you, Wyatt Teller really was playing a very physical football game."
His Absence Has Been Noticed
Former player turned broadcaster, Ross Tucker talked about Teller on the Bull and Fox show on November 3.
"I love that dude. Everybody should play the way he does.  Teller was seriously kicking some you know what and taking names this year… and I think they did lose a little bit of an edge when he went out."
Teller Has Been A Steal
In August 2019, the Buffalo Bills and the Cleveland Browns made a deal.
Besides the Browns getting Wyatt Teller, they also received a 7th round pick in the 2021 NFL Draft.
The Bills got two draft picks in exchange, one 5th round pick, and one 6th round pick in the 2020 NFL Draft.
His salary is $750,000 this season and will be $920,000 in 2021 before he becomes a UFA in 2022.
It's likely that this prudent pickup from the John Dorsey era will see a higher payday and a renegotiated deal sooner rather than later.