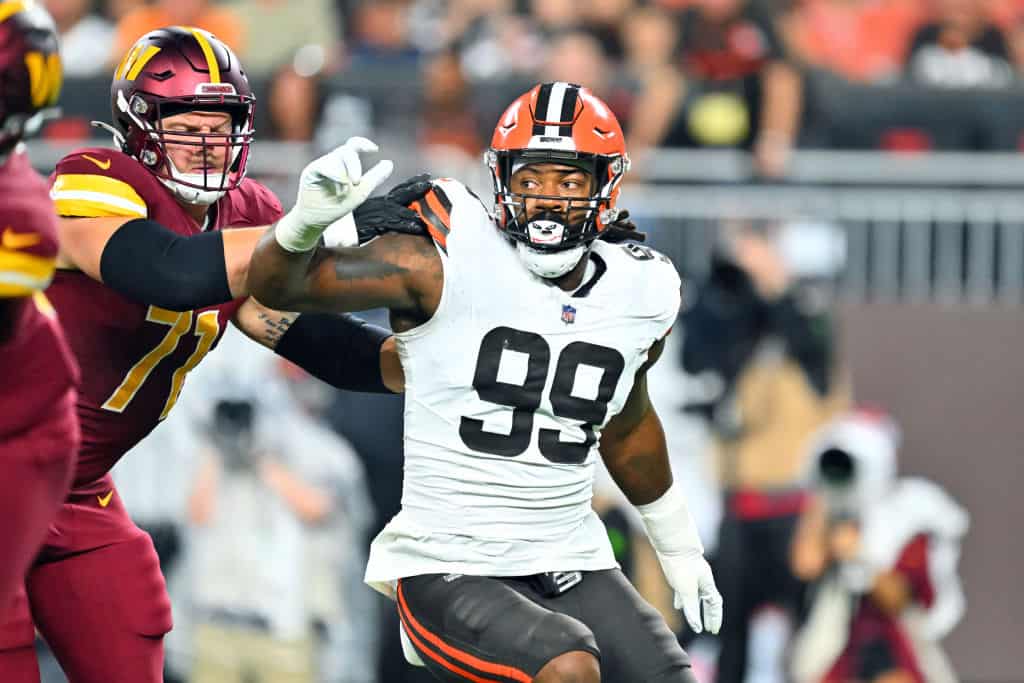 The Cleveland Browns got one of the best pass rushers in the game when they landed Za'Darius Smith.
However, he may have never had the opportunity to play football, let alone make the league, if it wasn't for a handful of teenagers.
In a recent interview with Chris Easterling of the Akron Beacon Journal, the star pass rusher talked about how about 15 guys literally held his football career in their hands.
#Browns' Za'Darius Smith wanted to play football as a senior at Greenville HS. The coach left it up to the other seniors. "If they would've said no, man, I don't know where I'd be at right now." It turned out fine for the 9-year NFL vet https://t.co/WeKQqCLWV5 via @beaconjournal

— Chris Easterling (@ceasterlingABJ) September 4, 2023
Smith had been a standout basketball player at Greenville High School in Alabama, and it wasn't until his senior year in 2010 that he decided he wanted to play football.
He reached out to the football coach, who had been trying to get him on the team for years, and he let the seniors decide whether they would allow him to be on the team, considering that they had put in the work there for years before he showed up:
"He was like, 'Man, I've been trying to get you to play for years,'" Smith recalled. "'But it wouldn't be right if I let you come out there and the senior teammates, your senior teammate been there all spring, all winter or summer. They've been basically working and you haven't, you've been playing basketball.'"
Fortunately for him, the seniors agreed to give him an opportunity, and the rest, as you know, is history.
The three-time Pro Bowler made the most of that chance, taking his talents to East Mississippi Community College and helping them win a national junior college championship before transferring to the University of Kentucky.
Now, Jim Schwartz and the Browns will have him next to Myles Garrett to put together one of the best pass-rushing duos in the NFL, and they owe it all to those 15 teammates.