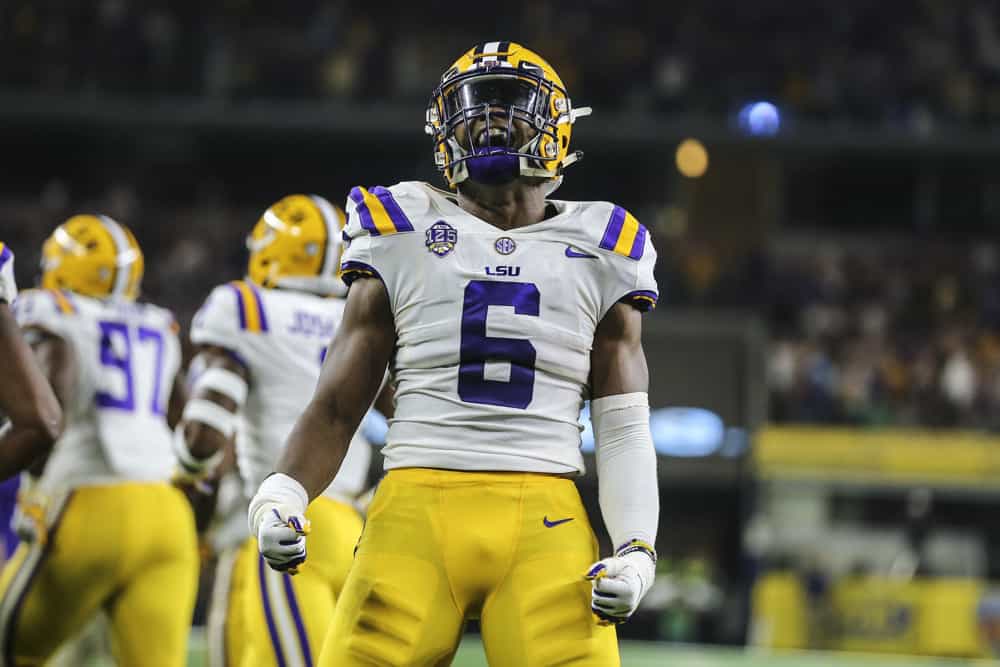 Remember the excitement of the first day of school.
It is the thrill of meeting new friends and learning new things.
Keeping with the school theme, here is a crash course/study guide with 14 key facts on the 7 rookies.
Jedrick Wills – Left tackle – 1st round (10th overall)
Being the 1st round draft pick comes with its own pressure, but Jedrick Wills seems to be handling it well.
His mentor is Browns legend Joe Thomas who is helping him to transition from right tackle to left tackle.
1.  Wills expected to succeed at basketball.
He broke his foot playing basketball in his sophomore year of high school.
After that, he focused on football.
2. He may a natural athlete but not a dancer as evidenced by his 21st birthday TikTok performance.
HAPPY 21st BIRTHDAY to @JWills73 !!! pic.twitter.com/KIBBFRM0kc

— Nicole Lynn (@AgentNicoleLynn) May 17, 2020
Grant Delpit – Safety – 2nd round (44th overall)
A force in the secondary 💥🐯@realgrantdelpit pic.twitter.com/8Iu5qTDf6L

— Cleveland Browns (@Browns) June 11, 2020
1. Nicknamed "Baby Jamal" at LSU after Jamal Adams.
2. His family evacuated their home in New Orleans during Hurricane Katrina and later saw their house on the news.
Only the roof was visible; the rest of the home was underwater.
Jordan Elliott – Defensive Tackle – 3rd round (88th overall)
1. Elliott is a native of Missouri City, Texas.
Ironically, he chose to play at Texas but later transferred to Missouri.
2.  Elliott's mother's boyfriend had a dream that Cleveland would draft him.
He never stopped believing that premonition.
Jacob Phillips – Linebacker – 3rd round (97th overall)
1. Earned the nickname "Ray Lewis 2.0" for plays like these:
2. Transferred to East Nashville Magnet High School in his junior year and recorded 200 tackles in 2 years.
Harrison Bryant – Tight End – 4th round (115th overall)
1. Compared to Travis Kelce in his 2019 performance at Florida Atlantic University because of his stats:  65 catches, 1004 yards, 7 TDs.
2. Bryant was an all-sport high school athlete who excelled in baseball, basketball, and played both offensive tackle and on the defensive line on the high school football team.
His high school coach switched him to the tight end position in his senior year of high school because he believed that was Bryant's best chance to earn college scholarships.
Nick Harris – Center – 5th round (160th overall)
1. Despite being focused at center, Harris is expected to take snaps as a guard during the 2020 season.
2. Harris played 4 years at Washington and enters the NFL as a youngster at 21 years of age.
Donovan Peoples-Jones – Wide Receiver – 6th round (187th overall)
1. Called the best wide receiver prospect from the state of Michigan since Charles Rogers and former Cleveland Brown Braylon Edwards who both graduated from Michigan high schools in 2000.
2. His hyphenated name pays homage to both his parents.
Mom is Rosyln Peoples.
Dad is Eddie Jones.
There is no doubt that this is an exciting draft class of players who appear ready to play in their given positions or be cross-trained into other positions.
You can learn more about them on 'Meet The Rookies' in this episode.