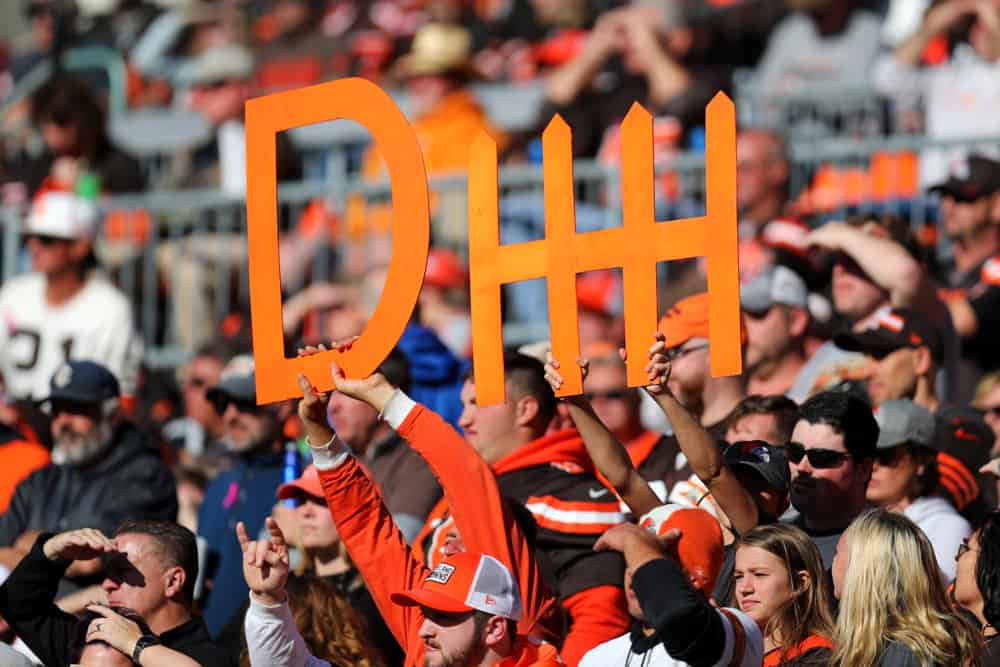 Dating back to last season, the same song has been played.
The defense for the Cleveland Browns was not very good.
Mediocre.
Average.
You get the picture.
But, there's a new sheriff in town running the defense and that is Joe Woods.
Woods was well-regarded in helping turn the San Francisco 49ers' defense into the top-rated defense in the league last season.
In order to make that kind of jump in Cleveland, there will need to be improved play from numerous players.
In terms of that, these two players could be potential candidates.

1. Denzel Ward (Cornerback)
Ward was a Pro Bowl defensive back in 2018.
Despite his tackle numbers decreasing, Ward's pass deflections stayed the same at 11 in 2019.
Denzel Ward keeps making plays for the Browns defense (and special teams)!

(via @NFL)pic.twitter.com/095hJz3crt

— PFF (@PFF) October 8, 2018

Here's what we know about the team's new defensive coordinator.
When Woods was working with the Denver Broncos, the team had the NFL's top pass defense, allowed the fewest yard/game (185.8), and allowed the lowest opponent passer rating (69.7).
This was in 2016.
Flash forward to 2017, the team had the best run defense, which was rated first overall, while their passing grades fell to 21st.
When paying attention to his schema, Woods uses more defensive backs than linebackers
#Browns Safety Andrew Sendejo on his DC Joe Woods:
"The memories I have with Joe are great." "He was the coach who when I got in the league, taught a lot of the NFL fundamental things you need to know as a DB."

— Browns_Daily (@Browns_Daily) August 6, 2020
The defense the Broncos used in 2016 is different than the Browns defense in 2020.
With that said, Ward could be used like Chris Harris Jr. or Aqib Talib and those starts are pretty snazzy.
Talib: three interceptions, 12 pass deflections, 43 tackles
Harris: two interceptions, 11 pass deflections, 63 tackles
2. Grant Delpit (Safety)
If Browns' fans weren't already excited about their second-round pick.
When talking to Scott Patsko of cleveland.com, Woods said that he will shift away from having many linebackers on the field.
At one point, he even mentioned having an extra safety too.
"I have come from both systems. I would like to transition into a dime system, but it is going to be something that is going to take time to get into, just because of getting their reps," Woods said. "Eventually, I would like to have a nickel package, where we have two linebackers on the field, but also, just to create better matchups and be a little bit more diverse in our scheme, I would like to get to a dime package, where we are putting an extra safety on the field."
Delpit is listed at the team's starting safety, but will likely rotate with former Viking, Anthony Sendejo.
In 2019, Delpit finished an All-American season with 65 tackles, 4.5 sacks, and seven passes defended.
In 2018, Delpit had 5.0 sacks, and 9.6 tackles for loss.
Perfectly timed blitz by LSU S Grant Delpit for a huge sack. pic.twitter.com/aJGLQyr0Hm

— Rob Paul (@RobPaulNFL) December 7, 2019
If Woods is going to have three safeties on the field, that could open up Delpit even more.
In other words, it could be a special rookie season.