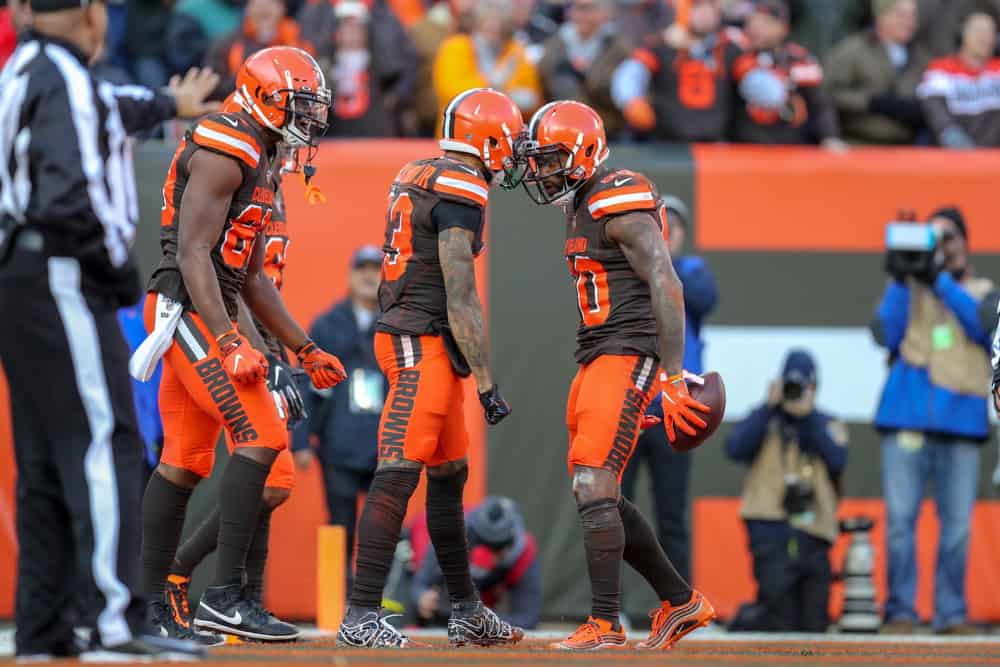 Pro Football Focus' Anthony Treash released "The NFL's top 25 wide receivers ahead of the 2020 NFL season," and the Cleveland Browns have just one player on the list.
Odell Beckham Jr. is ranked as the No. 8 wide receiver in the NFL.
However, Jarvis Landry has been left off the list.
In the NFL Top 100, Beckham was ranked No. 59 while Landry was ranked No. 61.
Surprisingly, PFF did not want to give Landry credit for a very strong 2019 season:
The #Browns boast a top-10 WR in Odell Beckham Jr. Read why we think there is much room for optimism in a bounce-back year for him with new HC Kevin Stefanski⬇️https://t.co/dY7Wfas57w

— PFF CLE Browns (@PFF_Browns) August 10, 2020

The two LSU products have been excited about playing together, and both have continued their impressive NFL careers with Cleveland.
Landry has even set the record for the most catches in the first six NFL seasons for any player with 564.
He will look to add to that total in 2020, as he has a chip on his shoulder.
Now, let's take a look at why Beckham is No. 8 on the list and if Landry should have been a part of the list of top 25 wide receivers.
Why is Beckham on the list?
Here's what PFF had to say about Beckham:
"Beckham's first season in Cleveland was completely underwhelming. The entire offense was out of sync, including the connection between Baker Mayfield and Beckham. This past year, he saw 28.8% of his targets past the sticks result in a QB-fault incompletion, the eighth-highest rate in the NFL, and he earned a middling 69.4 receiving grade. New head coach Kevin Stefanski should help get Beckham closer to his elite form and improve the communication between him and Mayfield. In four of Beckham's five years with the Giants, he ranked sixth or better in receiving grade."
Well, Beckham's name value helps, but it is not just being well known that gives him the top-10 spot:
#Browns Odell Beckham Jr. is a threat every time he has the ball https://t.co/2uRIQxfu9f

— PFF CLE Browns (@PFF_Browns) August 4, 2020
Beckham, an NFL Top 100 selection each of the last six years, is a three-time Pro Bowler.
However, he has not made a Pro Bowl since 2016.
In Beckham's first season with the Browns, he had just four receiving touchdowns, but he put up more than 1,000 receiving yards for the fifth time in his career.
As we expect Baker Mayfield and Beckham to connect more in 2020, there should be more touchdowns heading to the 27-year-old.
Should Landry have been left off the list?
While Beckham has not made a Pro Bowl in four years, Landry has been selected in each of the last five years.
It seems that Landry was truly snubbed from this top-25 receiver list because many can argue that both A.J. Green (No. 21 on the list) and Larry Fitzgerald (No. 25) are not currently as strong at the position.
Not only are they both nearing the end of their respective careers, but they also have not produced as much as Landry has recently.
Green, who missed all of 2019, has played 10 or fewer games for three of the last four seasons.
Therefore, it is surprising to see him ranked higher than Landry:
#Browns under-appreciated team leader Jarvis Landry ranked seventh in receiving yards after the catch (432), fifth in receiving yards after contact (227) and sixth in missed tackles forced on receptions (15) in 2019. https://t.co/Knypi46ZLP

— PFF CLE Browns (@PFF_Browns) July 29, 2020
"Under-appreciated" is the perfect way to describe Landry in terms of how he is valued nationally and internationally.
Landry may not be underrated according to Browns fans, as he had a career year in 2019.
While the Browns underachieved as a team in 2019, Landry did not.
Landry, who has been an NFL Top 100 player since 2016, set a career-high with 1,174 receiving yards last season.
Landry's 14 yards per reception last year were a career-high for him as well.
Although Landry had just six touchdowns in 2019, he may be able to approach his career-best nine touchdowns from 2017.
If Cleveland is fighting for playoff position in 2020, maybe the football world will be able to appreciate Landry.
As Green and Fitzgerald end their careers, Landry is a sure-fire top-25 wide receiver heading into 2021 if he produces again this upcoming season.