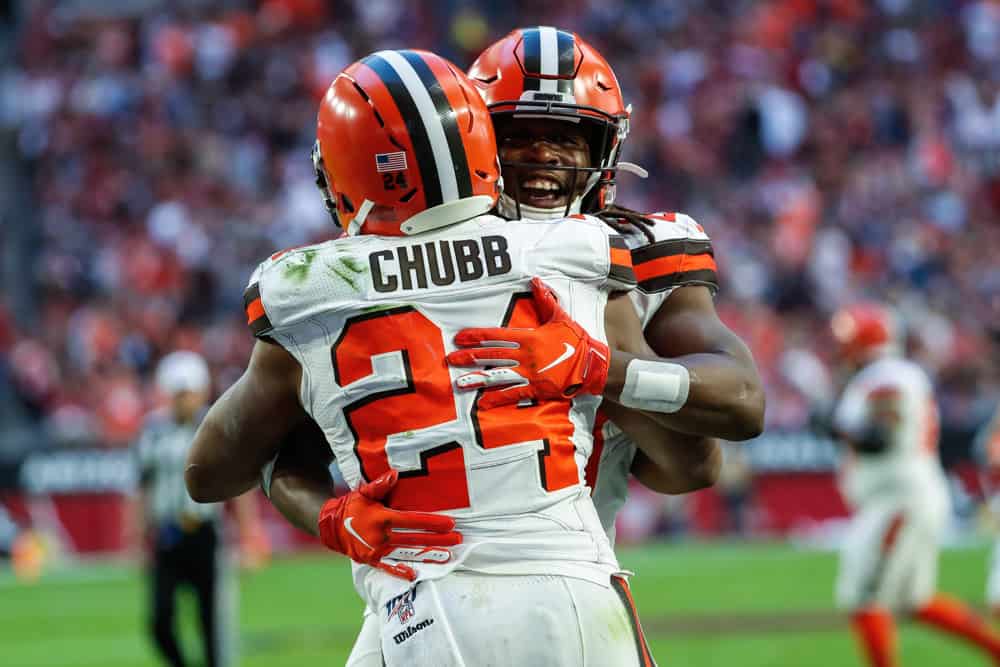 Fortunately for the Cleveland Browns, there will be no Madden curse for them this year, as there was for Madden NFL 12.
Meanwhile, according to Madden 21 ratings adjuster Andre Weingarten, the Browns may have two running backs in the top five of their position during 2020.
.@EAMaddenNFL Ratings adjuster says there's a legitimate case for both Kareem Hunt and Nick Chubb as top 5 RBs 👀

📰 » https://t.co/A4Pd5U0msV pic.twitter.com/WiQlqtS20d

— Cleveland Browns (@Browns) July 23, 2020

There have been many debates regarding how the Browns should divide the carries between Chubb and Hunt.
While Chubb (92 overall rating) is ranked as the third-best running back in Madden 21, he ranks first in break tackle rating:
Good luck tackling these guys 💪 #Madden21 @EAMaddenNFL pic.twitter.com/eTpV4DOXoa

— NFL on ESPN (@ESPNNFL) July 14, 2020
Hunt ranks in the top seven in the break tackle rankings and could improve upon his rating this season.
Weingarten believes that both Chubb and Hunt will have their overall rankings in the 90s in 2020:
"I think you can make a legitimate case that both (Chubb and Hunt) are top-five players at the position."
Chubb's competitors at the top of the position are the following:
Christian McCaffrey 99
Derrick Henry 93
Ezekiel Elliott 92
Hunt is tied as the No. 11 overall running back in Madden 21 with an 87 overall rating.
In order for Hunt to move up to the top three, he will have to improve his rating by four points.
At 91 overall, Dalvin Cook and Saquon Barkley are tied for fifth overall, and those are the running backs that Hunt will mostly likely be trying to pass.
Why does the Madden Ratings Adjuster Think that Chubb and Hunt will be Top 5 RBs
Weingarten continues his defense of why Chubb and Hunt are such a great tandem by flashing back to the late 1980s:
"Probably off the top of my head, the last time I can really think of would probably have been Marcus Allen and Bo Jackson with the Raiders."
The Madden ratings adjuster knows talented running backs, and he thinks the Browns will be having a tremendous rushing game in 2020:
"I think Kareem Hunt is so incredibly well rounded… Nick Chubb is quite possibly the best pure runner in the entire sport… They are my favorite backfield to watch because you know that no matter who is in, you're going to see something very, very special."
With Weingarten projecting Hunt to move up the Madden rankings, we should expect to see him as a large part of the offense in 2020.
Baker Mayfield has a large wealth of options heading into his very important third NFL season, and Hunt can be utilized in multiple ways.
Since Chubb is impressive out of the backfield, Hunt may make a larger impact than most running backs out wide as a receiver.
How Did the Other Browns Fare with Their Madden Ratings?
While Chubb and Hunt have strong Madden 21 launch ratings and strong projections, Odell Beckham Jr. is looking good as well.
Beckham has a 99 rating for "spectacular catch:"
Some of the best at their position 🔥#WallpaperWednesday #Madden21 pic.twitter.com/qgOv9v6GRq

— Madden NFL 21 (@EAMaddenNFL) July 22, 2020
Just like Hunt, Beckham is excited about hoping to put up better numbers in 2020 than he did in 2019.
If he can perform like Landry did in 2019, then Mayfield and Beckham will be doing something right.
Speaking of Landry, Nathan Zegura did have a problem with his rating, along with these other Browns:
What do you all think?? — Here are my Top 5 @Browns Madden Ratings Beefs (no rooks) and my fixed grades

1. RT Jack Conklin 78 —> 85
2. C JC Tretter 79 —> 84
3. WR Jarvis Landry 85 —> 89
4. DT Sheldon Richardson 81 —> 84
5. QB Baker Mayfield 78 —> 81

Hon Ment: Greedy – 75

— Nathan Zegura (@NathanZegura) July 21, 2020
Overall, Mayfield was not given a strong rating, but it is understandable that he will have to perform well to move back into the 80s.
With Chubb, Hunt, and Beckham rated highly, the Browns are looking strong in Madden.
If they look strong on the actual field, 2020 will be a great year for the Browns and Browns fans.