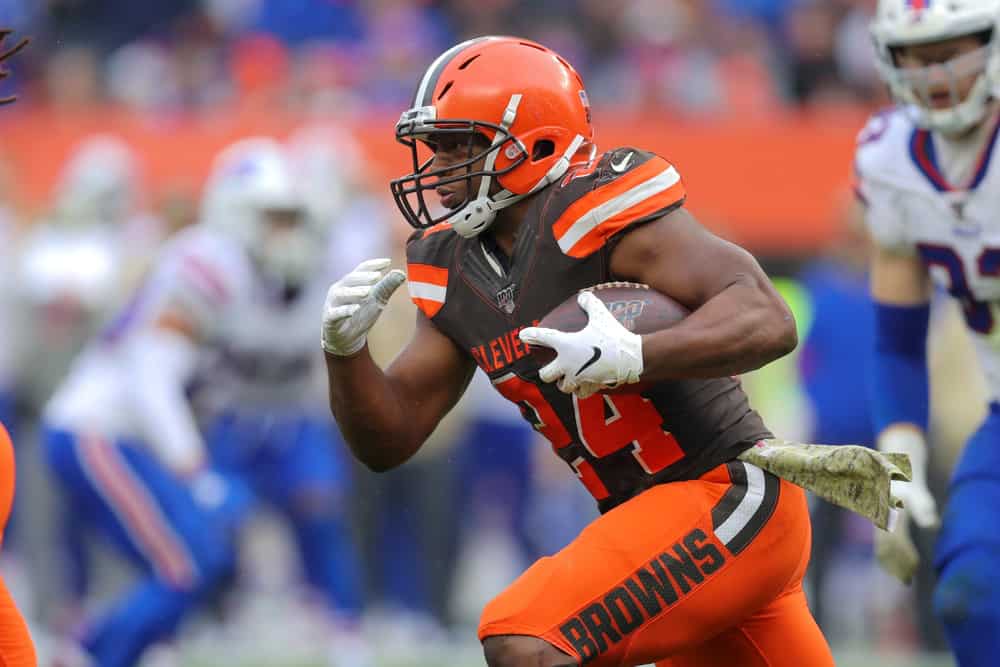 Cleveland Browns running back Nick Chubb is the third-highest rated running back in the "Madden NFL 21" video game.
Chubb's 92 overall rating is tied with Dallas Cowboys running back Ezekiel Elliott, according to ESPN reporter Michael Rothstein's unveiling of the video game's top 10 running back rankings on Tuesday.
Carolina Panthers running back Christian McCaffrey is rated 99 overall and Tennessee Titans running back Derrick Henry is rated 93.
Rounding out the top 10 running backs are:
5. Saquon Barkley, New York Giants: 91 overall
5. Dalvin Cook, Minnesota Vikings: 91 overall
7. Aaron Jones, Green Bay Packers: 90 overall
8. Joe Mixon, Cincinnati Bengals: 89 overall
9. Josh Jacobs, Las Vegas Raiders: 88 overall
9. Alvin Kamara, New Orleans Saints: 88 overall
Zeke with a 92 rating and Saquon with a 91.

Here are the top 10 #Madden21 RB ratings.

Discuss 👇 @EAMaddenNFL pic.twitter.com/VEKyDr5UZV

— ESPN (@espn) July 14, 2020
Chubb's 97 break tackle rating ranked highest among NFL running backs.
Fellow teammate Kareem Hunt's 89 break tackle rating tied for seventh-best in the league.
Chubb's 92 speed rating is the 10th fastest among NFL running backs in this year's version of the video game.
"Madden NFL 21" is scheduled for an Aug. 25 release.
Good luck tackling these guys 💪 #Madden21 @EAMaddenNFL pic.twitter.com/eTpV4DOXoa

— NFL on ESPN (@ESPNNFL) July 14, 2020
These are your fastest RB's in #Madden21 😤

(via @ESPN) pic.twitter.com/EcM5bR8J3K

— Madden NFL 21 (@EAMaddenNFL) July 14, 2020
On Monday, the video game unveiled its top 10 quarterbacks.
While Browns quarterback Baker Mayfield did not make the top 10, his 93 throwing power rating ranks sixth-highest among NFL quarterbacks.
The video game makers have not released Mayfield's overall rating yet.
Mayfield ranked 81 overall as a rookie and 83 heading into last season.
You read that right, Patrick Mahomes isn't No. 1 in throwing power 😳 @EAMaddenNFL #Madden21 pic.twitter.com/iZQhT7io4C

— NFL on ESPN (@ESPNNFL) July 13, 2020
AFC North rival and Cincinnati Bengals rookie quarterback Joe Burrow is rated a 76 overall.
Burrow is rated ahead of the following rookie quarterbacks:
Tau Tagovailoa, Miami Dolphins: 73
Jordan Love, Green Bay Packers: 71
Justin Herbert, Los Angeles Chargers: 70
Jalen Hurts, Philadelphia Eagles: 68
Comparing 2019's ratings to this year
Chubb is coming off a 2019 season with 1,494 rushing yards and eight touchdowns.
Last season, Chubb was rated 85 overall, which was tied for the 16th best running back in the video game.
Despite Chubb's outstanding production in his second NFL season, an ESPN poll of more than 50 NFL executives, coaches, scouts and players ranked the Browns' running back as the seventh-best in the NFL.
It led several media members to criticize the list, saying Chubb should rank much higher than seventh.
Nick Chubb:

-led all RBs in broken tackles last year
-#1 in PFF's elusive ranking
-plays for a team that just added one of the best run blocking tackles in football
-has a head coach who loves to run the ball

I will buy all of the stock, tysm

— Mina Kimes (@minakimes) July 9, 2020
McCaffrey is the first running back to earn a 99 rating since then-cover athlete Adrian Peterson in "Madden 25," which came out in August 2013.
In 2019, McCaffrey rushed for 1,387 yards and 15 touchdowns while having 116 receptions for 1,005 yards.
McCaffrey rated 91 overall last season, when he was tied for fifth-best running back in the league.
With an 83 overall rating last season, Henry wasn't even the highest-rated running back on the Titans.
Dion Lewis had a higher rating than Henry.
However, Henry went from tied for the 22nd highest rating among running backs to second after a 2019 season where he had 303 carries for 1,540 yards and 16 rushing touchdowns — each leading the NFL.
The following running backs dropped out of the top 10 from last year: No. 1 Todd Gurley, tied for third Melvin Gordon III, tied for third Le'Veon Bell, tied for seventh Kareem Hunt and tied for ninth Devonta Freeman.