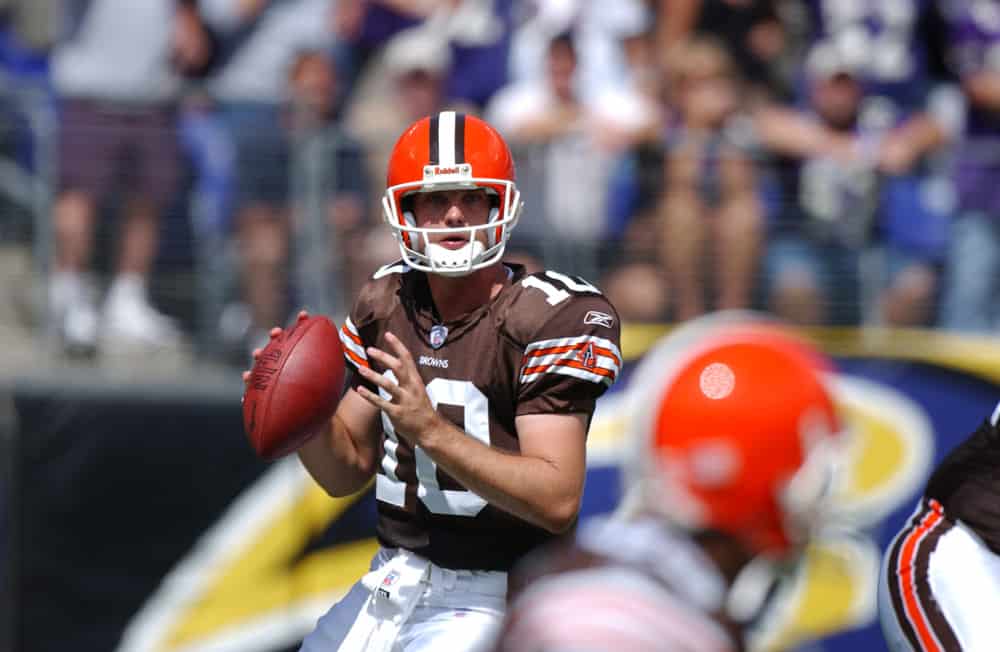 For this list, we've put together the 25 greatest Browns free-agent signings since the NFL adopted free agency in 1993.
This means we do not include signings from the early days of professional football like Otto Graham.
For the purposes of this list, we are not including players snatched up by the franchise as the USFL folded.
Over nearly 30 years of NFL free agency, the Browns haven't always gotten it right.
The number of times a free agent has made it to a second contract is low.
However, there are quite a few signings that they have gotten right.
Those men are on this list.
Take a look and see what you think.
25. Britton Colquitt
Britton Colquitt came to the Browns as the latest in a strong line of special teams players.
He was coming off six seasons with the Broncos in which they made it to the Super Bowl, winning Super Bowl 50 the previous season.
He left the Broncos as the franchise leader in 11 statistical categories.
The Broncos loss was the Browns' gain.
Colquitt initially signed a one-year deal worth $1.7 million.
Colquitt was called upon to punt 83 times during the 2016 season and averaged 45.3 yards per punt.
This was a nearly 2-yard increase in his average form the year previous.
With one successful year under his belt, Colquitt was given a four-year extension.
I love the #Browns! Even their punter – Britton Colquitt – kisses the away crowd goodbye. 🔥 @CJMcCollum pic.twitter.com/XGSpaYmnJI

— Jordan Schultz (@Schultz_Report) December 16, 2018
His numbers went up during the 2017 season while punting less.
He was one of the very few bright spots for the history-making 0-16 2017 Browns.
Colquitt set a career-high for average yards per punt, 47.6, and matched his career-long with a 67-yard punt.
2018 saw Colquitt drop in production.
Both his total yards and average dropped in 2018 and he had two punts blocked.
On the bright side, Colquitt did blast a 79-yard punt during the season.
The following offseason saw Colquitt battle it out with the man who would become nicknamed "The Scottish Hammer", Jamie Gillian.
Colquitt lost that battle and was cut.
He was then signed by the Minnesota Vikings for the 2019 season.
Colquitt did have a viral moment in Cleveland as he starred in a local commercial for solar panels.
Commercial with Browns punter Britton Colquitt has to be purposefully awful, knowing it would go viral pic.twitter.com/n4iIaUzeGb

— Darren Rovell (@darrenrovell) November 10, 2018
24. Tom Tupa
It took Tom Tupa a few years to make it back to his home state, but he eventually made it.
After a few years in Arizona and Indianapolis, but the Brecksville native and former Ohio States Buckeye quarterback landed in Cleveland ahead of the 1993 season.
The crazy thing about Tom Tupa is that he wasn't just a quarterback.
He was also an accomplished punter, which is what the Browns signed him to do.
Tupa's 1992 season with the Colts was the final of his 16 in the NFL where he was used primarily as a quarterback.
Tupa did not play in the 1993 season, having been cut by the Browns after they signed him.
However, Tupa did resign with the team in November of 1992 after Vinny Testaverde was injured and Bernie Kosar was released.
He saw no action.
In 1994, Tupa made NFL history when he scored the first 2-point conversion in the history of the league.
Tupa ran in a faked extra-point try in a Week 1 matchup with the Cincinnati Bengals.
He would score a total of three two-point conversions in 1994, earning himself the nickname "Two Point Tupa."
25 years ago today Browns' punter and holder Tom Tupa scores the first two point conversion in NFL history. The league added the two point try for the '94 season. @BIGPLAY_dave @KevG163 @Browns @11W #WednesdayThoughts #Browns #NFLKickoff pic.twitter.com/CRlbm7GXg2

— Johnstone (@JStoneTrivia86) September 4, 2019
Tupa was in Cleveland for two seasons and punted for averages of 40.3 and 43.6 yards per punt respectively.
In 1996, Tupa left the Browns to join the New England Patriots.
23. Karlos Dansby
In 2014, Karlos Dansby signed a 4-year, $24 million contract with the Cleveland Browns.
Dansby was coming off a season in Arizona where he had been named a Second-team All-Pro for the first and only time in his career.
The #Browns officially welcome Karlos Dansby!! pic.twitter.com/deU451SEra

— Cleveland Browns (@Browns) March 12, 2014
At 32, the signing could have been seen as a risky one for the Browns, but he had just had a career year so the warning signs were ignored.
The Browns were in a sticky situation though, after releasing D'Qwell Jackson.
They needed to find a replacement and Dansby was seen as the best possible replacement, despite his age.
During Dansby's time in Cleveland, the Browns were bad, going 10-22, but Dansby was solid.
In 2014, Dansby registered 93 tackles, 3 sacks, and an interception.
The Browns hovered around playoff contention but ended up 7-9 on the season.
In 2015, Dansby finished with a team-leading 108 tackles and a team-leading 3 interceptions.
The Browns were never in contention and finished 3-13.
Pick-6!
Karlos Dansby picks off Matt Schaub and returns it for a 52-yard TD. Browns take the lead, 20-17. #BALvsCLE pic.twitter.com/ZFyTRYOvzK

— Respect My Blog (@respectmyblog) December 1, 2015
Following the 2015 season, Dansby was cut by the Browns.
When asked about it Dansby replied, "It's time for me to go get a ring."
Instead, he signed with Cincinnati two weeks later.
Dansby is often criticized as being a disappointment in Cleveland, but it's more accurate to say he was the man on the boat trying to bail water as the boat started to sink.
He played hard and did his best to help the team win.
22. Josh McCown
It seems like Josh McCown has played for nearly every NFL team over the course of his lengthy career, but in truth, it's only a third of them.
Yes, Josh McCown played for 11 NFL teams, and one in the United Football League, over the course of his 18-years professional career.
Near and dear to Browns fans hearts was his stop in Cleveland for the 2015 and 2016 seasons.
When McCown joined, he was immediately named the starter.
He immediately endeared himself to Browns fans when on his first drive of the season he launched himself towards the endzone, only to be tackled short, fumbled and was ruled out of the rest of the game with a concussion.
It's the effort that counts though, right?
In honor of Josh McCown retiring, I give you the greatest highlight of his Browns career. Josh McCopter.

This is when you earned the stripes on your helmet Josh. pic.twitter.com/bwHhXSM0mk

— Craig Lyndall (@WFNYCraig) June 18, 2019
McCown didn't return until Week 3 of that season, but in his return, he played well.
During Week 5, McCown was named AFC Offensive Player of the Week with 457 yards passing in the Browns first victory in Baltimore since 2007.
QB Josh McCown is the AFC Offensive Player of the Week.
457 Pass Yds, 2 TD in @Browns 33-30 win over Ravens. pic.twitter.com/WOuE59btXv

— NFL on ESPN (@ESPNNFL) October 14, 2015
It was during that stretch of games that McCown became the first Browns quarterback to pass for more than 300 yards in three straight games.
Small, but frequent, injuries kept derailing McCown's and the Browns' season.
McCown record a superb passer rating of 93.3 for the year, but the Browns finished with a 3-13 record.
McCown entered the 2016 season as the backup after the team signed broken toy, Robert Griffin III in the offseason.
As could have been expected, Griffin injured himself in Week 1 and McCown was back under center momentarily.
McCown himself broke his collarbone in Week 2 and was forced out for about two months.
At various stages of the season from then on McCown shared quarterbacking duties with Cody Kessler and Robert Griffin III.
He finished the season with 1,100 yards and 6 touchdowns in 3 starts.
That offseason he was released by the Browns.
21. Joe Jurevicius
Like any good Cleveland boy, Joe Jurevicius eventually made his way home.
A native of Cleveland, Jurevicius played his high school football at Lake Catholic High School in Mentor.
He went on to catch passes for Joe Paterno at Penn State before making the jump to the NFL in 1998.
By the time he made his way home to the Browns in 2006, the pattern was set.
Jurevicius would take the Browns to the Super Bowl.
See, Jurevicius had played in 3 Super Bowls already, one with each team he had played for.
He Lost Super Bowl XXXV with the Giants, won Super Bowl XXXVII with the Buccaneers, and lost Super Bowl XL with the Seahawks.
Surely Browns fans didn't think Jurevicius' arrival to Cleveland meant the Browns were automatic Super Bowl contenders, but it didn't hurt to dream.
We like a good "hometown boy leads the local team to glory" story in Cleveland, don't we?
Joe Jurevicius #84
Vintage #Browns 2007 pic.twitter.com/j4KMiqmkRV

— Vintage Browns (@VintageBrowns) January 13, 2019
Well, it wouldn't be the happiest of reunions for the two parties.
For two seasons Jurevicius was what he'd been his whole career.
He wasn't a dynamic game-breaking playmaker who would score on every play, but he was a dependable, sure-handed receiver.
He caught 40 passes for 495 yards in 2006 and 50 passes for 614 yards in 2007.
He recorded the third-most 3rd-down receptions in the league in 2007, which proved to be his final season in the league.
In 2008, Jurevicius spent the preseason recovering from knee surgery.
Shortly after the surgery, he developed a staff infection in his knee, which required an additional 5 surgeries to eliminate the infection.
He missed the entire 2008 season but vowed to return in 2009.
It wasn't to be as the Browns released him in March of 2009.
20. Andrew Hawkins
It's not very often the Browns get a chance to sign champions to their team, even if they are Grey Cup Champions.
Andrew Hawkins took the long road to the NFL.
After playing his college ball at the University of Toledo, Hawkins spent two seasons in the CFL with the Montreal Alouettes.
He played sparingly but won the Grey Cup in both of his seasons in Canada.
Finally given the chance in the NFL, Andrew Hawkins played three solid seasons in Cincinnati before joining the Browns.
Hawkins signed a 4-year, $13.6 million deal with the Browns in 2014.
BREAKING: Browns acquire former Bengals WR Andrew Hawkins pic.twitter.com/8QvJ94fDCM

— Cleveland Browns (@Browns) March 18, 2014
His first season in Cleveland was a good one, catching 63 passes for 824 yards and 2 touchdowns.
Just a reminder that team finished 7-9 and narrowly missed out on the playoffs.
It was a career year for Hawkins, who set career highs in receptions and yards.
Unfortunately for Hawkins and the Browns, it would be far and away his best season in brown and orange.
Injuries limited Hawkins to just 8 games during the 2015 season and as imagined, all his numbers dropped.
He caught just 27 passes for 276 yards.
The #NFL want players to keep celebrations to a minimum. This is how Cleveland Browns' WR Andrew Hawkins reacted pic.twitter.com/5rPfHbgS1i

— Sporting Index (@sportingindex) October 10, 2016
Hawkins played in all 16 games during the 2016 season but was unable to recapture the success of his first season in town.
He caught 33 passes for 324 yards.
After the 2016 season, Hawkins retired and went on to co-host a very successful podcast with Brown legend Joe Thomas called The ThomaHawk Show.
19. Donte Whitner
The Browns have a terrible history of ignoring the talent factory just down I-71 in Columbus, but they eventually got it right when they signed Donte Whitner.
Whitner, a Cleveland Glenville High School graduate and former Ohio State standout, signed a four-year, $28 million deal with the Browns in 2014.
He had an instant impact, starting all 16 games and recording 106 tackles and 1 interception.
Whitner was named to the Pro Bowl as a reward for his stellar play.
It was his second Pro Bowl selection, the first coming in 2012 with the San Francisco 49ers.
GIF: Joe Haden's tip drill to Donte Whitner #Browns pic.twitter.com/eOiz9j7Vll

— August Fagerstrom (@AugustFG_) November 2, 2014
The following year Whitner was unable to replicate the same levels of production.
He still played well, recording 81 tackles and 1.5 sacks, but injuries limited him to 14 games.
It was clear to the Browns front office that this was the beginning of the end for Whitner and he was released in the offseason.
Former Buckeye Donte Whitner forcing a turnover for the Browns leading to a touchdown. #GoBucks pic.twitter.com/8OCmhe1t04

— Land-Grant Holy Land (@Landgrant33) October 26, 2014
Whitner would go on to spend one final season in the league with the Redskins where he started 9 of 11 games before landing on injured reserve with a quad injury.
Whitner would retire after the 2016 season.
18. Eric Steinbach
There's nothing quite like taking a free agent from a division rival and having him make the Pro Bowl in his first year with your team.
That's exactly what happened with Eric Steinbach and the Browns when they signed him away from the Cincinnati Bengals in 2007.
Steinbach was coming off a career in Cincinnati where he had missed only one game and had turned himself into one of the best offensive linemen in the league.
When he entered free agency in 2007, he was rated as a top-five free agent that cycle.
Today's random #Browns player: Eric Steinbach pic.twitter.com/bCXR1U5foc

— James Mastrucci (@Jimmmitude) September 26, 2017
The Midwestern boy must have loved living and playing in the Buckeye state because he chose to take a trip up I-71 and sign a 7-year, $49.5 million contract.
At the time, that was one of the richest deals for an offensive lineman in the league and a major win for the Browns.
Steinbach backed up his new deal immediately, making the 2008 Pro Bowl as an alternate at guard.
He helped the Browns to a 10-6 record and a second-place finish in the division, their best record since their franchise's rebirth in 1999.
Steinbach would play just four seasons in Cleveland, but he missed just two games over those 4 seasons.
During his time on the Browns offensive line, Steinbach gave up just 12.5 sacks in 62 starts.
Steinbach was released in 2012 after missing the 2011 season with a back injury.
He briefly signed with the Miami Dolphins in 2012 but chose to retire before the season began.
17. Ryan Tucker
Ryan Tucker started his career in 1997 with the St. Louis Rams.
After 5 seasons helping to protect the "Greatest Show on Turf" offense, and pick up a Super Bowl win along the way, Tucker signed with the Browns in 2002.
With the Rams, Tucker had been a consistent performer for the team.
He has played or started in all 16 regular-season games in his final three seasons with the team so the Browns were hoping for more of the same.
It started out that way in Cleveland for Tucker, starting 14 games and 16 games in his first and second season with the Browns.
In 2003, his second season, Tucker was the only offensive player to take part in every single snap.
It was after that season that the absences started to pile up.
Some because of injuries, some because of off-field issues.
A knee injury forced Tucker to sit out all but 7 games in 2004. 2005 was a return to health and a full 16 game season.
Hangin' w/ my TE & RT @Browns game! Aaron Shea & Big Tuck Ryan Tucker are true @browns! pic.twitter.com/6AOgMTjOSG

— Mark Munch Bishop (@MunchCleveland) December 23, 2018
In 2006, Tucker started 9 games before being placed on the non-football injury reserve list, which was later announced as an undisclosed mental disorder.
Before the 2007 season, Tucker was suspended for the first 4 games of the season for testing positive for a banned substance.
Tucker missed the entire 2009 season after being placed on injured reserve and was due to be suspended a further 8 games of the 2010 season but he chose to retire instead.
Tucker started out as a vital cog in the Browns offensive line, but as the years went on he became more of a liability than he was worth.
16. Benjamin Watson
When Benjamin Watson retired in 2019 he did so as one of the best tight ends of his generation.
His time with the Browns was no exception to that.
Watson signed a 3-year, $12 million deal in 2010 that reunited him with his former defensive coordinator and wide receivers coaches Eric Mangini and Brian Daboll.
When he arrived in Cleveland those two men were the head coach and offensive coordinator, respectively.
His impact was felt immediately.
In 2010, Watson led the team in receptions, receiving yards and was tied for the most receiving touchdowns.
It's not very often that happens to a tight end.
He finished the year with 68 receptions for 763 yards and 3 touchdowns.
Mangini was fired following that year and the Pat Shurmur regime took over.
This, combined with a late-season concussion that limited him to just 11 starts, he saw a drop in production from the year before.
#Browns TE Benjamin Watson (@BenjaminSWatson) is on the cover of this week's game program pic.twitter.com/JtwQndz5

— Dan Murphy (@DMurph_BrownsPR) November 2, 2012
Watson finished with 37 receptions for 410 yards and 2 touchdowns.
2012 would be Watson's final season in Cleveland.
Now he wasn't the only quality tight end in the room, despite retaining his starting job.
Watson was joined by rookie Jordan Cameron and Alex Smith.
Jordan Cameron would go on to a Pro Bowl season just a few years later.
Watson finished the 2012 season with 48 receptions for 501 yards and three touchdowns.
He would sign a free-agent deal with the Saints following the season, as the Browns looked to further the development of the younger and cheaper, Jordan Cameron.
Watson would go on to play for 7 more seasons.
15. Orpheus Roye
There haven't been too many transactions between the Browns and Steelers over the years.
Even in free agency, players tend to go outside the rivalry when it comes time to find a new home.
One exception to that is the massive defensive lineman, Orpheus Roye.
Roye was drafted out of Florida State by the Steelers in 1996 and spent the first four years of his career in the Steel City.
While as a member of the Steelers, Roye was a solid, if unspectacular, performer.
He started all 16 games only the season before he joined the Browns, in 1999.
In Cleveland though, Roye was a star, the centerpiece of the defense.
Roye was the first-choice starter whenever he was healthy, which was most of the time.
Roye averaged over 50 tackles a season in every season he was able to play 15 or more games.
Roye's best season came in 2005 when he exploded for 88 tackles and 3 sacks.
Roye had transitioned from tackle to end and the effect was instant.
The change in position may have come too late for Roye though, as the following season he played in just 9 games due to injury.
He returned in 2007, his final season with the Browns, but recurring knee injuries robbed him of the acceleration that he had shown in his incredible 2005 season.
Roye returned to Pittsburgh for one final season in 2008, where he played in just 6 games but found himself on a Super Bowl-winning team.
14. JC Tretter
Not only was JC Tretter a great free-agent signing, but he was also a bargain too.
After spending four seasons in Green Bay with the Packers, Tretter made the move to Cleveland in 2017 on a 3-year, $16.75 million contract.
Not a bad price for a starting center in the NFL.
Through three seasons in Cleveland, Tretter has started all 48 games the Browns have played, actually being on the field for every offensive snap the Browns took through his first two years with the team.
His consistent play despite the lack of success on the field earned Tretter a new contract in November 2019 worth $32.5 million over three years.
It's likely that if the Browns had played better, Tretter would have received at least one Pro Bowl nod by now.
Among 33 qualifying centers through seven weeks, #Browns JC Tretter ranks:

–1st in pass blocking grade (85.2)
–6th in pass blocking efficiency (98.9)
–7th in offensive grade (70.1)
–T-9th in run blocking (65.3) pic.twitter.com/ID3BOyDTcN

— PFF CLE Browns (@PFF_Browns) October 26, 2019
When you think you have your franchise quarterback, it's important to protect him.
In resigning Tretter, the Browns committed to the all-important quarterback/center relationship.
Tretter has been a calming, stabilizing component to a young, but talented Browns offense.
Throughout his career, JC Tretter has shown leadership both on and off the field.
In March 2020, Tretter was elected as President of the NFL's Players Association.
He replaced outgoing president, retired offensive tackle, Eric Winston.
13. Brian Hoyer
Signing with the Cleveland Browns in 2013 was a homecoming of sorts for Brian Hoyer.
A native of the Cleveland suburb of Lakewood, Hoyer had been a two-sport start at St. Ignatius High School where he would win a state title in baseball and star for the football team.
After four years of college ball at Michigan State and 3 seasons in the NFL with New England, Pittsburgh, and Arizona, Hoyer finally made it home and agreed to a backup role with the Browns.
Little did he know that he wouldn't be third-string for long.
Hoyer got the starting nod in Week 3 of the 2013 season after an injury to starter Brandon Weeden.
Hoyer would lead the Browns to wins in his first two starts, and started the third, as Weeden remained injured.
Tragedy struck in that third start as Hoyer tore his ACL in the Thursday night game against Buffalo.
His promising season was over.
With the release of Weeden, Hoyer was the incumbent starter heading into the 2014 season.
That was until the Browns drafted Johnny Manziel in the first round.
Coach Mike Pettine declared the starting job was up for grabs.
Hoyer won the job to start the 2014 season.
Through seven weeks the Browns were 4-2 with two incredible tight losses and Hoyer was playing well.
During Week 5, Hoyer had led the Browns in a 26 point comeback win, the largest in franchise history.
Browns win! Brian Hoyer leads Cleveland back from down 25 to beat Titans, 29-28.
Hoyer: 292 Pass yds, 3 TD, Int pic.twitter.com/uX7eq1xyWH

— SportsCenter (@SportsCenter) October 5, 2014
After a 4-2 start, the Browns began to struggle and so did Hoyer.
He was briefly replaced as the starter by Manziel but regained the job when Manziel got injured.
The Browns ended the season with a 7-9 record, and Hoyer's contract expired, making him a free agent.
The fairytale homecoming was over; a stark reminder that football is a business.
12. Derek Anderson
Sure, Derek Anderson was drafted by the Ravens but he was with them for such a short amount fo time we won't hold it against him.
Anderson was drafted in the 6th round of the 2005 NFL Draft, but was waived on September 20, having never played in a game for the Ravens.
The Browns picked him up and placed him on the depth chart behind Trent Dilfer and Charlie Frye.
He did not see any action for the Browns in 2005 either.
He finally saw the field in 2006 after starter Charlie Frye injured his wrist.
He appeared in five games and threw for nearly 800 yards.
By Week 2 of the 2007 season, Anderson had played his way into the starting job.
During that campaign he was able to exact revenge on the team that kicked him to the curb, sweeping the season series for the first time since 2001.
Anderson was stellar throughout the season, leading the Browns to within one game of making the playoffs.
The team finished with a 10-6 record.
Anderson finished the season with 3787 yards and 29 touchdowns.
He was named to the Pro Bowl after Tom Brady dropped out due to injury.
People forget that Derek Anderson led the Browns to a 10-6 record

— Clem (@TheClemReport) January 8, 2018
Despite his breakout season, Anderson went into free agency uncertain about whether the team would resign him.
With homegrown first-round pick Brady Quinn waiting in the wings there were rumors the front office was ready to turn the keys over to Quinn and cut Anderson free.
Despite these rumors, the Browns resigned Anderson.
He was never the same in a Browns uniform though.
He suffered a concussion early in the preseason and by November 2008 Anderson would be benched for Quinn.
Anderson would return in 2009 to compete with Quinn, essentially in a job share.
Anderson played in 8 games, throwing 3 touchdowns and 10 interceptions.
The Browns slumped to a 5-11 record.
Following that season he signed a free-agent deal with Arizona.
Anderson had one of the best seasons a quarterback has had in Cleveland since the return in 1999, but like so many players in that time, he was a one-hit wonder.
11. Kelly Holcomb
Kelly Holcomb was never anyone's idea of a great quarterback.
He was undrafted out of Middle Tennessee State in 1995, played for the Barcelona Dragons in the World League of American Football, and was briefly on the practice squad of the Tampa Bay Buccaneers before finally landing a full-time job in the NFL.
Holcomb's first job was with the Indianapolis Colts, where he played in 5 games in 5 seasons, all during the 1997 season.
Despite not impressing in Indy, the Browns picked him up after hiring Bruce Arians away from Indianapolis to become the Browns offensive coordinator.
Signed as a backup to Tim Couch, Holcomb looked good in his one relief appearance, going 7-12 for 114 yards and a touchdown.
With Couch failing to impress through his first two seasons, Holcomb saw more of the field.
In 2002, Holcomb played in four games, started two, throwing for 790 yards and 8 touchdowns.
Kelly Holcomb pic.twitter.com/aEzuTpzXCN

— RandomNFLPlayers (@RandomNFLPeeps) January 11, 2019

This season is most remembered for his strong performance in the Browns one playoff game since their return in 1999.
In the Wildcard Round against the Steelers, Holcomb threw for 429 yards and 3 touchdowns.
Despite this, the Browns still managed to lose, 36-33.
Despite the playoff performance the year before, Holcomb was forced to split time with Couch in 2003, starting 8 games and playing in 10.
The playoff magic was gone though, as Holcomb threw ten touchdowns and 12 interceptions.
Holcomb spent one final season in Cleveland and was forced back to the bench when the team signed Jeff Garcia in 2004.
Holcomb spent a few more seasons in the league with Buffalo and Minnesota before retiring in 2007.
He may not have been a great quarterback, but for a moment, he gave Browns fans hope.
10. Gary Barnidge
Gary Barnidge was a fifth-round pick of the Carolina Panthers out of the University of Louisville.
In his 5 seasons in Carolina, Barnidge was mostly used on special teams and never had more than 12 receptions in a single season.
Yet after he made the move to the Browns, he never had less than 13.
Something changed for Barnidge in 2015.
Barnidge had a massive year in 2015, catching 79 passes for 1043 yards and 9 touchdowns.
The journeyman tight end had developed a rapport with his quarterback Josh McCown, and proved to be a safety valve for Johnny Manziel and Austin Davis, who replaced the injured McCown.
Barnidge's 2015 numbers earned him a trip to the Pro Bowl and a place in Brown's history.
His 9 touchdowns tied Ozzie Newsome's record for most Browns touchdown receptions by a tight end in a single season.
This Gary Barnidge touchdown catch is ridiculous #Browns pic.twitter.com/DiSbatFugT

— Steve Noah (@Steve_OS) October 11, 2015
He was rewarded with a three-year extension worth $4 million per season.
Unfortunately, Barnidge would complete just one year of that deal and was released after the 2016 season.
He retired shortly after being released but can hold his head high for his career in Cleveland.
He caught 160 passes for 1938 yards and 13 touchdowns.
Not bad production for a guy the Browns signed originally for $1.25 million per season.
9. Paul Kruger
Paul Kruger came to the Browns after 4 successful seasons in Baltimore with the Ravens.
During his final season in Baltimore, 2012, Kruger became an important part of a Ravens defense that would carry their team to another Super Bowl victory.
Kruger made two crucial sacks in Super Bowl XLVII.
That offseason, Kruger signed a 5-year $40 million contract to move across the division to the Browns.
The #Browns just announced they agreed to terms with FA DE Paul Kruger. RT! pic.twitter.com/gsc2zT7VFp

— Cleveland Browns (@Browns) March 13, 2013
The Browns defense had recorded a pitiful 4.5 sacks the entire season the year before so Kruger was an essential free agency pickup.
During the 2013 season, Kruger started all 16 games, recording 47 tackles, and 4.5 sacks.
Kruger's sack total alone matched the Browns output from the year before.
Kruger had a career year the following season.
In 2014 Kruger recorded 11 sacks, 36 solo tackles, and 17 assists.
He added 4 forced fumbles and started 15 of 16 games.
If the Browns record had been better, Kruger probably would have received a Pro Bowl selection.
Paul Kruger: The true heir to Asgard?

Let's get this spin-off going, @Marvel. pic.twitter.com/3aQ2qCiva3

— Cleveland Browns (@Browns) August 18, 2015
Kruger continued to start for the Browns in 2015, but his production fell off a cliff.
Despite starting 15 of 16 games for the Browns, Kruger's recorded just 27 total tackles and 2.5 sacks.
It is likely no coincidence that the Browns won just 3 games that year.
Kruger was released during the final week of preseason ahead of the 2016 NFL season, ending his time with the team three seasons into his five-year deal.
8. Terrelle Pryor
There is no denying that Terrelle Pryor is an incredible athlete.
After playing quarterback at Ohio State, Pryor made the jump to the NFL.
When being a quarterback in the NFL didn't work out, Pryor reinvented himself as a wide receiver.
At 6'4", 227 pounds it wasn't a stretch to see Pryor making a smooth transition.
Pryor was signed by the Browns in 2015 but was waived just days after making the final 53-man roster.
He was then resigned in December after a season-ending injury to Josh McCown.
During the offseason, Pryor made tremendous growth in his development as a pass-catcher and was named a starter at the position for the 2016 season.
During Week 3 of the 2016 season, Pryor took snaps at both wide receiver and quarterback after Robert Griffin III and Josh McCown were out injured.
Pryor finished the game with 144 receiving yards, 35 passing yards, and 21 rushing yards, including one rushing touchdown.
He was the first player since Frank Gifford in 1959 to have at least 120 receiving yards, 30 passing yards, and 20 rushing yards in a single game.
Pryor finished the season with 77 catches for 1,007 yards and four touchdowns.
His 818 air yards ranked seventh among all receivers in 2016.
Browns on the board after Terrelle Pryor mossed a dude for a 44-yard reception. #ProBowl pic.twitter.com/vdjlTNUxqs

— Eleven Warriors (@11W) September 11, 2016
Fully established as an NFL wide receiver, Pryor hit the free-agent market and signed a deal with the Redskins.
Terrelle Pryor wasn't in Cleveland very long, but he is one example of a player coming to Cleveland looking to prove himself and then actually doing it.
7. Vinny Testaverde
The career of Vinny Testaverde is an interesting one.
Testaverde was the number one overall pick out of the University of Miami in 1987, where he was a National Champion and Heisman Trophy winner.
Despite finishing his career in the top 10 in NFL history in most passing statistics, he was never considered a great quarterback.
Those inflated statistics are due mostly to his longevity, having spent an unthinkable 21 seasons in the league.
It could be said, however, that his best seasons came with the Cleveland Browns franchise.
Well, sort of.
Testaverde signed with Browns in 1993 and spent half of his first season as the backup to his former Hurricane teammate, Bernie Kosar.
After Kosar was released by Bill Belichick, Testaverde took over the starting job, where he lasted for three seasons.
During that time, Testaverde led the team to the playoffs in 1994, where they won the AFC Wildcard game against the New England Patriots and then lost to the Steelers in the Divisional round.
#Browns QB Vinny Testaverde scrambles in 1995 AFC Wildcard – the last time #Browns won a playoff game. #BALvsCLE pic.twitter.com/K0x4CY3zbO

— Retro Sports (@RetroSports411) December 1, 2015
In three seasons in Cleveland, Testaverde threw for 7255 yards and 47 touchdowns.
Testaverde's best statistical season in Cleveland came in 1995 when he threw for nearly 3,000 yards, 17 touchdowns, and just 10 interceptions.
The team was then shipped off to Baltimore.
We said his best seasons came with the Browns franchise.
They came with the same team, just in a different city.
He made the Pro Bowl in 1996 and 1998 with the Ravens.
Just further proof that Art Modell is the worst person in Cleveland sports history.
6. Kevin Zeitler
When Kevin Zeitler signed with the Browns, he became just another in what's becoming a tradition of linemen who played their college ball at the University of Wisconsin playing for the Browns.
Beyond the Badgers connection, Zeitler was a huge pickup for the Browns.
Cleveland, not often a choice destination for free agents, landed a big one.
The best offensive lineman in the group chose to make the trip up I-71 form Cincinnati and become a Brown.
Sure, the mammoth five-year, $60 million contract they offered him helped too.
That deal made Zeitler the highest-paid guard in the NFL.
He earned it during the two seasons he was in town.
Paired with Joel Bitonio and J.C. Tretter, the trio became one of the strongest interior blocking groups in the league.
Kevin Zeitler led all guards this season – allowing a pressure just once on every 58.0 pass-blocking snaps. pic.twitter.com/eamqvflBDC

— PFF (@PFF) January 15, 2019
Zeitler was robbed of a trip to the Pro Bowl in both of his seasons with Cleveland, mainly due to the team's disappointing play overall.
Proof of how important Zeitler was is in the play of the offensive line after he was traded.
Zeitler was one of the key pieces in the trade with the Giants that brought Olivier Vernon to the Browns.
The Browns got a playmaking weapon on defense but failed to replace their protection for their young quarterback.
It's no secret that protection issues contributed to Mayfield's struggles in year 2.
But it's hard to replace the best guard in the league.
5. Chris Gardocki
You don't often see punters on any sort of all-time greatest lists, but Gardocki is an exception.
Chris Gardocki punted for the Browns for 5 seasons after joining the team in 1999 from the Indianapolis Colts.
Before entering the NFL, Gardocki spent three years at Clemson University.
Incredibly, Gardocki left school after his junior year and entered the NFL draft.
The move paid off and Gardocki was selected in the 3rd round by the Chicago Bears.
Eventually, Gardocki made his way to Cleveland, where he spent the longest tenure of his career.
During his time in Cleveland, he punted a total of 20,220 yards for an average of 43.4 yards per punt.
Despite only playing for the team for 5 years, Gardocki is third all-time in punting yards.
Gardocki's most memorable moment as a Brown came in 2000 when he was roughed by Steelers linebacker Joey Porter.
The event left Gardocki motionless, but once he regained his senses, Gardocki flipped off Steelers coach Bill Cowher twice.
The action was caught on television and Gardocki was fined $5,000.
Give me Chris Gardocki any day of the week @browns #🐐 #Browns pic.twitter.com/biWbEqru8W

— v4micajr (@v4micajr) August 29, 2016
On the flip side, the Browns punter earned a spot in the hearts of Browns fans, that is until he joined the Steelers in 2004.
4. Pepper Johnson
Pepper Johnson joined the Browns in 1993 from the New York Giants, where he had spent the first seven years of his career.
In 1990, Johnson was both an All-Pro selection and a Pro Bowler with the Giants.
The linebacker spent three seasons in Cleveland playing for the Browns.
Imagine looking across the line, seeing this, and knowing he was coming for you.
Pepper Johnson #52
Vintage #Browns pic.twitter.com/JUWyGNIiXF

— Vintage Browns (@VintageBrowns) January 6, 2019
Like a few of his Giants teammates, Johnson made the move from New York to Cleveland to play for his former defensive coordinator, Bill Belichick.
He was one of 8 Giants to make the move to the shores of Lake Erie to play for Belichick.
While in Cleveland, Johnson would find similar success to his time in New York.
In 1994 and 1995, Johnson would set career highs in tackles, with 122 and 130 respectively.
Johnson would once again make the Pro Bowl in 1994.
Johnson was very reliable during his time in Cleveland, playing in all 48 games during those 3 seasons.
Under the guidance of Belichick and leadership on the field of Johnson, the Browns would make the playoffs in 1994.
The beat Belichick's future team, the Patriots in the Wildcard round, only to lose to the Steelers in the Divisional round.
Sep 2, 1993: The @Browns signed free-agent, friend of Belichick, OSU alum, Pro Bowler, and 2x SB champ, Pepper Johnson. You had me at Belichick. pic.twitter.com/iyO6SreEjD

— Sad CLE Sports (@SadCleveland) September 3, 2018
In 1995, the Browns moved to Baltimore, and Johnson moved on as well.
He eventually caught back up with Belichick as a member of the Jets and wound up working on his staff with the Patriots from 2000-2013.
3. Jamal Lewis
Signing Jamal Lewis was a no brainer for the Browns.
Not only was he one of the league's best running backs but he terrorized the Browns for six seasons as a member of the Baltimore Ravens.
It was against the Browns in 2003 that Lewis broke Corey Dillion's single-game rushing record with a 295-yard day.
Battle for Ohio 2007, Jamal Lewis runs wild and the Browns hold on to win #Brownspic.twitter.com/nLPROVxlOg

— CleWest (@erjmanlasvegas) March 27, 2020
When he joined the team in 2007, Lewis picked up right where he left off, rushing for 1304 yards and 9 touchdowns.
It was his first 1,300-yard season since 2003.
The Browns narrowly missed the playoffs in 2007.
Today in 2007, the Browns' Jamal Lewis on the cover of Sports Illustrated – finishes the year with 1,304 yards and the team goes 10-6 (their best season to date since rejoining the NFL in 1999). #TodayInSports #Browns #BrownsCamp pic.twitter.com/8ydNEXbeO5

— #TodayInSports (@TodayInSports3) August 6, 2018
Lewis didn't slow down much in his second season, topping 1,000 yards yet again.
The signs of decline were present though as his average yards per carry dropped to 3.6 from 4.4 the year before.
He also only punched the ball in the end zone 4 times.
His final season in Cleveland was somewhat of a disappointment.
It was like his body knew he hit the magic 30 number that ends running back's careers because he managed just 9 games before being put on injured reserve.
That would be Lewis's final season in professional football as he retired at the end of the season.
Lewis was somewhat of a leader in the locker room.
While in Cleveland he challenged his teammates to be better professionals and change the culture of losing.
He once publicly criticized his teammates for what he perceived as giving up in a game.
2. Phil Dawson
Phil Dawson is one of the greatest Cleveland Browns of the 21st century and the franchise's second greatest kicker.
There's no shame in that when the club's greatest kicker is Lou Groza.
Dawson had bounced around some practice squads in 1998 after going undrafted out of the University of Texas in 1998.
Dawson finally found a job in Cleveland in 1999.
HAPPY PHIL DAWSON DAY:

On 4/3 we like to make an excuse & CELEBRATE one of our favorites since the team returned in 99':

The one & only Phil Dawson!

When 4️⃣ came in for a FG, it was almost a guaranteed 3️⃣!@phil_dawson_4 | #Browns pic.twitter.com/unNV7a4l6W

— BrownsAccess (@BrownsAccess) April 3, 2020
Dawson quickly got his place in the "new" Browns history books as he scored the team's first points on their return back to the NFL.
While the franchise struggled on and off the field around him, Dawson was one of the only bright spots.
He currently ranks as the 7th most accurate field goal kicker in NFL history.
Dawson is the franchise's all-time leader in field goals, consecutive field goals, and most field goals in a game.
Perhaps Dawson's greatest contribution to the team was his longevity.
Dawson spent 14 years with the Browns.
These were some of the worst teams in the franchise's history, but no matter how bad it got you could always count on Phil Dawson.
Phil Dawson describing the greatest fake field goal rushing touchdown celebration in NFL history. [1999, colorized] pic.twitter.com/O9X7sCgseK

— Dawgs of War Podcast (@DoWPodcast) April 17, 2020
When Dawson left the Browns in 2013, he was the only remaining member of the 1999 Browns team that remained in the league.
Sure, Dawson spent a few years playing in San Francisco and Arizona at the end of his career but he is a Brown through and through.
Dawson signed a one-day contract with the Browns in order to retire with the franchise in 2019.
1. Jamir Miller
Jamir Miller was not just one of the Browns greatest free-agent signings of all-time, he was the greatest Brown in the post '99 era for a long time.
He signed with the Browns before the 1999 season, having played for the Arizona Cardinals for the first 5 seasons of his career.
The Cardinals drafted him with the 10th overall pick out of UCLA in 1994.
He was a solid pro for the Cardinals over those 5 seasons, gradually earning more playing time and eventually consistently recording over 90 tackles a season at linebacker.
However, it was his move to Cleveland in 1999 that made him the centerpiece of a defense.
Miller rewarded that faith by taking his career to the next level.
@MattFontana83 @MikeRizzo22 Pro-Bowler Jamir Miller tore his right Achilles' tendon and was never the same. #Browns pic.twitter.com/eYU3ZrPNvG

— Ed_in_Columbus (@ed_in_columbus) June 25, 2019
In his first two seasons in Cleveland, Miller recorded 113 and 118 tackles, respectively.
He was a monster.
But it was his final season with the team, in 2001, where he reached his peak.
Splitting time between linebacker and defensive end, Miller had 99 tackles and a career-high 13 sacks.
He also added 14 pass defenses, forced 4 fumbles and made an interception.
At the end of that season, Miller was rewarded by becoming the first Browns player in the new era to make the Pro Bowl and be named to the All-Pro team.
It would be until Braylon Edwards in 2007 that the Browns would have another player selected to the All-Pro team or the Pro Bowl.
Leave a note in the comment section to let us know what you think.
Did we leave someone off?
Is someone ranked too low?
We'd like to hear from you.