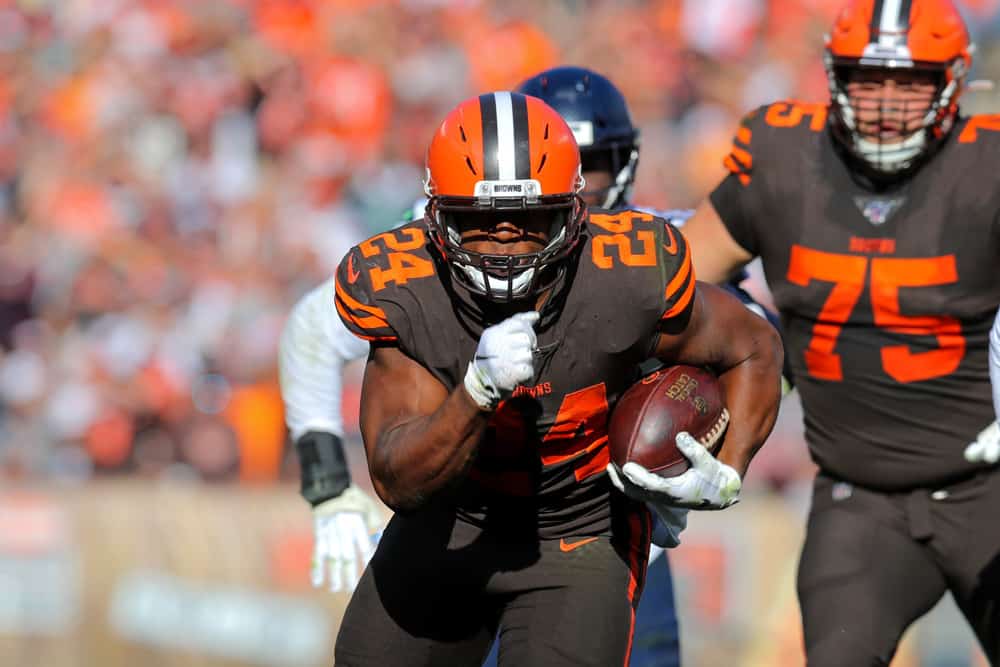 Cleveland Browns fans should be expecting the organization to run the ball much more this season.
New head coach Kevin Stefanski uses a run-first type of system and that worked well with the Minnesota Vikings last season.
He is expected to continue pounding the rock with the two-headed monster of Nick Chubb and Kareem Hunt.
Both players have already made a name for themselves in a short period of time in the league.
Last season, the Browns used Chubb as a workhorse, but that was under then-coach Freddie Kitchens.
It was fairly one-sided with Hunt doing most of his damage in the passing attack.
However, Stefanski may have a different plan in place for these two backs in 2020.
2019 Rushing Numbers
Last season, Chubb saw a majority of the work in the backfield.
Often times, Chubb would see around 15-20 carries per game depending on the score.
He rushed for 1,494 rushing yards on 298 attempts with eight touchdowns last season.
He nearly won the rushing title if it wasn't for Tennessee Titans running back Derrick Henry having a monster game during the regular season finale.
Chubb landed himself in the Pro Bowl and made his mark as one of the best young running backs in the league.
That being said, it's going to be tough for Hunt to take away carries from Chubb in the backfield.
Usually, Hunt is mostly used in the passing game since he flourishes in that spot.
Most yards per target (RBs) w/ 50+ targets since 2017:

◽ Austin Ekeler – 8.6
◽ Miles Sanders – 8.1
◽ Kareem Hunt – 7.9
◽ Derrick Henry – 7.5 pic.twitter.com/zYvCZ5OJzq

— PFF Fantasy Football (@PFF_Fantasy) July 17, 2020
Hunt only saw a handful of carries out of the backfield each game last season in Cleveland.
He finished with 179 rushing yards on 43 attempts through eight games.
Those aren't great rushing numbers, but Hunt finished third on the team in receiving yards with 285.
It was all Chubb in the running game last year, but that could very well change in 2020.
Hunt Getting More Carries?
As mentioned before, Stefanski loves running the ball, so expect the Browns to adopt a run-first mentality on offense.
Chubb was fantastic last season, but they didn't have Hunt for the first eight games of the season.
Hunt was suspended during the beginning of the year, so Chubb was asked to do it all by himself.
Hopefully, the off-the-field troubles are behind Hunt and he can play a full 16-game season in 2020.
Hunt has proven to be a reliable running back in the NFL, but has hurt himself with some bad mistakes off-the-field.
In 2017, Hunt rushed for 1,327 yards on 272 attempts and eight touchdowns with the Kansas City Chiefs.
As a rookie, Hunt made the Pro Bowl and won the rushing title in the same season.
There is absolutely no doubting his ability to run the football.
Kareem Hunt is a DAWG pic.twitter.com/E8foxSzOj4

— Athlete Tweets 🔥➐ (@AthleteTweetts) March 24, 2020
The Browns need to decide how they plan to split up the carries between the two next season.
Chubb is clearly the No. 1 back and should get at least 15 attempts per game.
However, the Browns need to get Hunt involved in the rushing game as well.
Next season, Hunt should be getting close to 10 touches a game in the backfield.
He has been reliable in the passing attack, but Hunt can be such a dangerous runner as well.
The Browns shouldn't waste a talent like Hunt and only give him 3-4 carries a game.
Hunt needs to get enough carries to really showcase what he can do and hopefully give Cleveland the best running back duo in the league.