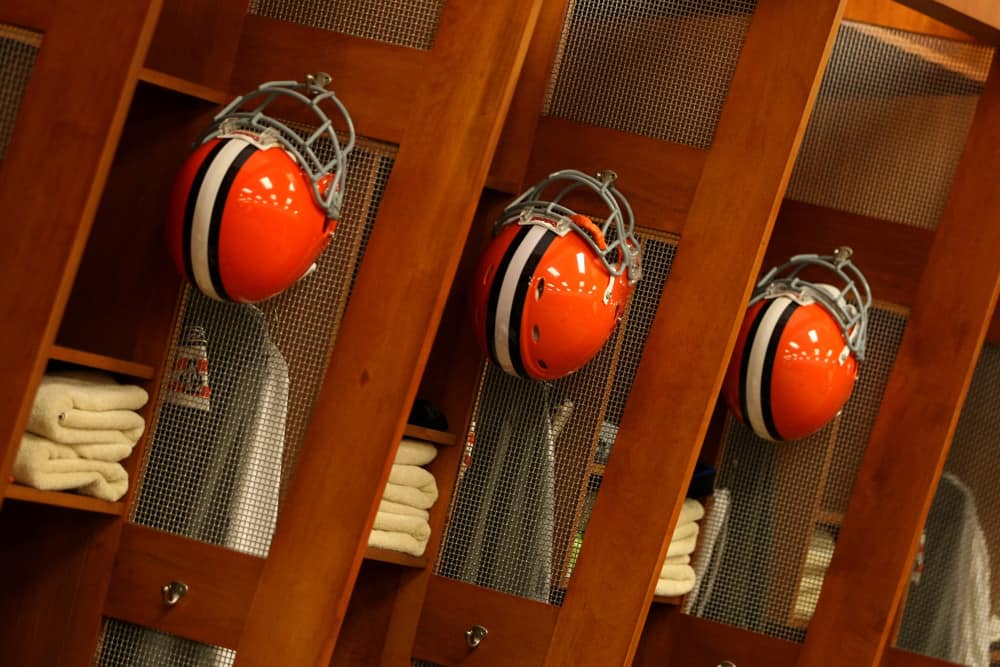 The Cleveland Browns are five games away from ending their season.
Without a doubt, 2021 has been a year of utter disappointment for Cleveland.
What should have been the next step for the franchise has instead turned into misfortune and disaster.
A fully loaded roster with talent for miles in August has turned into question marks as the off-season approaches.
Cleveland has some difficult decisions to consider for 2022.
To make room for the next iteration of the Browns, familiar faces will have to be jettisoned.  Here are two players the team should move on from in '22.
1. Austin Hooper
When Hooper arrived in Cleveland before the 2020 season, he was one of the best tight ends in the NFL.
In 2018, Hooper hauled in 71 receptions for 660 yards and four touchdowns for the Atlanta Falcons.
The following season he had 75 catches for 787 yards and six scores, all career highs.
Hooper was signed by the Browns to add a short-yardage receiving threat for Baker Mayfield and supplement David Njoku.
Instead, except for a big game here or there, Hooper has become an afterthought in Cleveland.  Starting 13 games in '20, he had 46 receptions for 435 yards and four scores.
So far this year, Hooper has 28 receptions for 261 yards and two touchdowns.
Name a player making more for not producing than Austin Hooper. Geesh

— Dustin Fox (@DustinFox37) November 29, 2021
He is projected to finish the 2021 season with 37 receptions for 348 yards and three total scores.
If that holds true, those stats will be the lowest since his rookie year in 2016.
It's not that Hooper has been a bust in Cleveland.
As a matter of fact, the 13 games he started last year were a career-high.
Hooper has bailed Cleveland out of some tough games.
If anything, his low stats could be attributed to the offensive scheme, the quarterback, or the fact the Browns have three quality starting tight ends.
Hooper went from Matt Ryan in Atlanta to Mayfield in Cleveland.
Baker's injuries and inconsistencies this season have hurt all Browns receivers.
Also, after threatening numerous times that he wanted to leave the organization, Njoku committed in August to staying.
It can be argued that Njoku is the more athletic tight end of the duo and the guy the Browns will want to hang onto long term.
In addition, Cleveland has Harrison Bryant, who is talented in his own right.
Hooper would prove to be a valuable trade piece for a team in need of a starting tight end.
I'm 100% game on trading Austin Hooper. This needs discussed more than it is

— Did Dolans Sell The Team ? (@DidDolansSell) December 3, 2021
In return, the Browns could receive draft picks and/or another player of need.
Or, they can bundle acquired Hooper picks in exchange for more draft capital.
Since the Browns would owe Hooper a pile of cash, he would need to be traded after June 1 this summer.
That would save the team over $7.5 million in 2022 cap space.
2. Jarvis Landry
Much like Hooper, Landry's production has dipped since 2020.
In 2019, his first year with the Browns, Landry was a beast, hauling in 83 receptions for 1,174 yards (a career-high) and six touchdowns.
His numbers in the last two seasons have shrunk, but that can be attributed to injuries and Mayfield's issues this season.
Landry is a top flight receiving threat and is still considered one of the best pass catchers in the game.
Unfortunately, 2021 has been a nightmare for him.
Landry's injury earlier this season, and the Browns' offensive struggles, have led to a career-low 33 receptions.
#Browns  WR Jarvis Landry said knee is better and he'll be able to play Sunday pic.twitter.com/PYRm3CBWNW

— Cleveland Sports Talk (@CLEsportsTalk) October 28, 2021
Even more startling, he has not found the end zone as a receiver (he has two rushing touchdowns).
Landry had a 111 yard receiving day against the Ravens before the bye week.
However, that was his first 100+ yard receiving day dating back to last season.
As much as the Browns need good receiving threats, it might be time to move on from Landry.
OBJ's release last month sent a signal that the team is reassessing their current roster as well as the future.
#Browns WRs Jarvis Landry and Rashard Higgins saying goodbye to now #Rams WR Odell Beckham Jr. pic.twitter.com/r3arIl8Nmd

— Brad Stainbrook (@BrownsByBrad) November 13, 2021
Landry is only 29 years old and has good years ahead.
A trade should net at least a third-round pick in return.
Even better, a trade after June 1 means the Browns gain over $15 million in 2022 cap savings.